A Sunday bike ride around Eastbourne
It was a sunny Sunday on May 8 when the temperature reached 26 degrees in London. The weather was excellent for cycling all over the UK. We planned to take our bikes and go to the south of England and cycle along the seaside.
The white cliffs in Eastbourne's countryside were very seducing. We were not ready for a one-day round-trip ride of 14 hours between London and Eastbourne, especially the day before Monday! We planned instead to cycle around 50 minutes to Clapham Junction train station in London and get a train to Eastbourne.
On Sunday morning, we woke up early and gathered what we needed in two backpacks and left home. We cycled through the city and along the river Thames. London streets were quiet and with almost no traffic.
It didn't take us longer than what Google Maps showed to reach the station. When we arrived at the station, Bruno took the right exit, while I passed it. The street was clear and I could have just stopped turned around easily, but I don't know what I was thinking in that moment, I pressed the brake handles sharply and fell off my bike. Bruno ran to help me, because a car was moving towards me. I saw the car and stood up. At that moment I couldn't realise where it hurt, I was just shocked. I couldn't understand what just happened. Bruno asked me if I needed to see a doctor, I just remember that I said "no, lets buy the tickets and go to Eastbourne". He was not sure if it is a good idea or not, I assume because he saw how I fell. But, I was sure, I wanted to be on schedule, I could feel some pain, but I knew it wasn't anything serious.
Honestly, I thought if I didn't go, I would have lost the chance of having a beautiful day. I knew that if I would have stopped my journey I would have had pain for a few days but no nice memory, but If I would have gone I would have suffered for few days but it could create an unforgettable memory for the rest of my life.
We bought our tickets and went to the platform. We had 30 minutes to spare, so we had breakfast there, where I was discovering the wounds and scratches on my body. I tried to ignore them and keep them clean. I was also a bit shocked and couldn't speak much, Bruno, my caring husband was trying to cheer me up until we got into the train. I started to feel better and when we alighted and I felt almost normal.
We left the station and cycled towards the sea, where we stopped for a beverage and refreshment. We bought drinks, and started our adventure, cycling uphill towards the Beachy Head road. The road was very steep, alternating uphills and downhills. Going downhill was the fun part of the trip, because we didn't need to pedal and bikes were going really fast, and we could just enjoy the stunning views around us. At some point we stopped and carried our bikes to the green area alongside the edge of the cliffs. The view was impressive, we had lunch there and took some photos.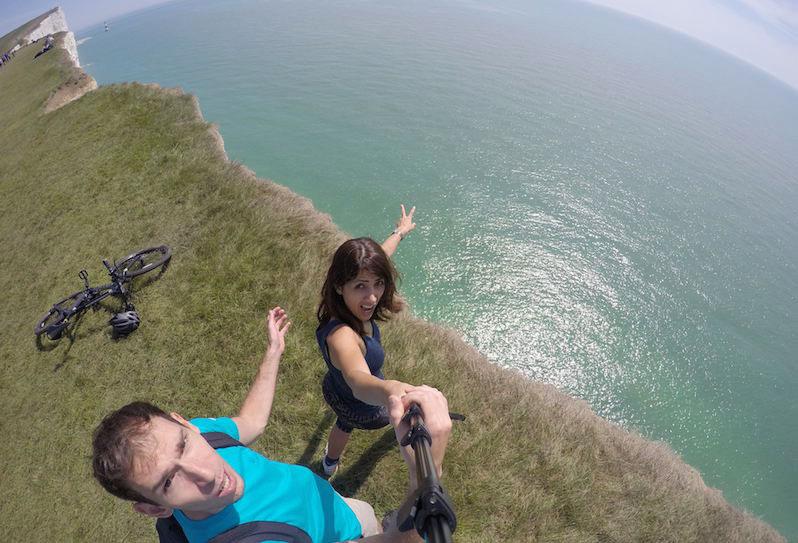 On the way back, the fun part became the hardest part. I was struggling quite a bit, I am not sure if it was because of pain or tiredness. But, we both did it and went back to the city seafront. We locked our bikes and strolled around until Bruno saw a fish and chips restaurant and begged me to stop there. I was full after our packed lunch, but didn't mind to share some cod with him. We got our food and had it on the pier. We couldn't finish it so we shared it with some seagulls as if they were our guests.
Soon after it was time to catch the train back to London, we hopped on our train and took some rest, we still had to cycle back from Clapham Junction to our home after arriving there. Unfortunately the last cycle was not as peaceful as the one in the morning, the traffic was quite heavy and we had a few stressful situations racing against bus drivers, but we finally made it safely.
Needless to say, Bruno slept very well that night, while I was struggling to find the right position due to my numerous bruises.