Florence, without any doubt, is one the most popular touristic cities in the world. It is hard to find someone who has never heard of this city. Even those who don't travel much have probably heard the name or saw a photograph on social media or a footage on TV or at the cinema.
You can then imagine that Florence is definitely on many travellers' wish list, including me. Since there are a lot of places on my bucket list, I had to prioritise it, especially, after visiting Milan.
When I visited Milan, I fell in love with it, then I used other opportunities to go back and visit it again. Talking about the places you love with others is normal, and I was always talking about how gorgeous Milan is and how much I enjoyed my time there, but most people I spoke to kept telling me that "Milan is not beautiful, you should visit Florence instead to see real beauty". You can imagine after hearing this sentence continuously, how much I wanted to explore Florence.
If you are my follower you can see how often we travel to Italy, but most of the times we travel to the north to meet up with our family and friends. Despite the number of road trips we took in Italy, we couldn't fit a trip to Florence until August 2016, when we planned a trip to Tuscany.
Staying in beautiful Tuscany
Tuscany, with its beautiful landscapes, mountains, historic cities and protected nature reserves, located in the centre of Italy, is one of the most popular destinations amongst international tourists.
We were with two of our friends and booked a villa in a mountain not too far from the village of Castelnuovo. The place was extremely tranquil and beautiful and surrounded by nature. Our plan was to explore around the area and visit Lucca, Le Cinque Terre, and have a day trip to Florence.
Day trip to Florence
We started our day trip by stopping on the way in a cafe for breakfast. What I really like to do when I am in Italy is to have breakfast in a cafe, no matter where you go, you can always get fresh croissants with different flavours and a nice cup of coffee or hot chocolate. We had almost 2 hours to drive before getting there. It might sound tiring but the road was far beyond beautiful. We went through many vineyards and the view of the mountains was amazing.
We arrived in Florence at around 11 am and the first mission was to find a parking spot for the day. The mission quite soon became a challenge. After a 30 minutes search, we finally found a place which was unlike other parking garages. We didn't have to park our car, we just needed to give the car key and get a ticket! Since there was not enough space, the staff had to scramble the cars around all the time during the day. Parking in Florence is not cheap at all, four Euros per hour, but the good point is that there was a cap of 24 Euros, which is ok if you want to leave your car for a day.
San Lorenzo Market
We walked into the San Lorenzo Market. This huge outdoor market expands on either side of the street with stalls vending souvenirs, clothing, various leather products including jackets, hat, bags, wallets and purses. If you like something, but you think the price should be cheaper, don't hesitate to haggle. You and the stall owner would eventually agree on a price.
We continued our way until we reached Piazza del Duomo (Cathedral square) where there are some of the city's monuments including the famous Cathedral complex. The cathedral's construction began in 1296 and completed in 1436. This amazing complex is listed on the UNESCO World Heritage site. You can imagine how beautiful a cathedral that took almost 140 years to build can be. We wanted to go inside and learn more about it when we saw the extraordinary long queue and our plan changed. Probably we had to wait a whole day to get in. Definitely, August is the busiest time to visit Florence. If you have a plan to visit this city, avoid the crowd to enjoy it more.
Pinocchio and a chess shops
We were strolling around the centre when a chess shop got our attention. The shop was not only selling chess sets, but also art. Most of the chess sets were handmade and each piece has the signature of the artist with the date of when it was crafted. Each group of pieces were presenting a country's army which was involved in the second world war.
In another street, we found a Pinocchio shop. Walking around the shop looked like bringing up all good memories of my childhood and watching the cartoon. Everything is the shop was made with wood. It is worth spending some time there if you like Pinocchio as much as I do.
Eating in a local restaurant
It was time to eat. It was important for us to have a good pizza in a local restaurant. With the help of Foursquare, we find a place. Since most of the restaurants were packed we had to wait a little bit.
We ordered two different types of pizza. The restaurant was a family business and didn't have enough waiters. There was a lady who treated us like her guests. We couldn't feel this was her business, we felt like we were in her own home and she was our host. Despite being slow, she was so friendly and helpful and the pizzas were so tasty and tender.
Ponte Vecchio
After lunch, we headed towards the Florence bridge, Ponte Vecchio. It was really easy to find. It didn't look like any other bridge I have seen before, a lot of shops were built onto it. Nowadays, there are only goldsmiths and jewellers, but before 1593, there were various more shops including butchers, fishmongers and tanners.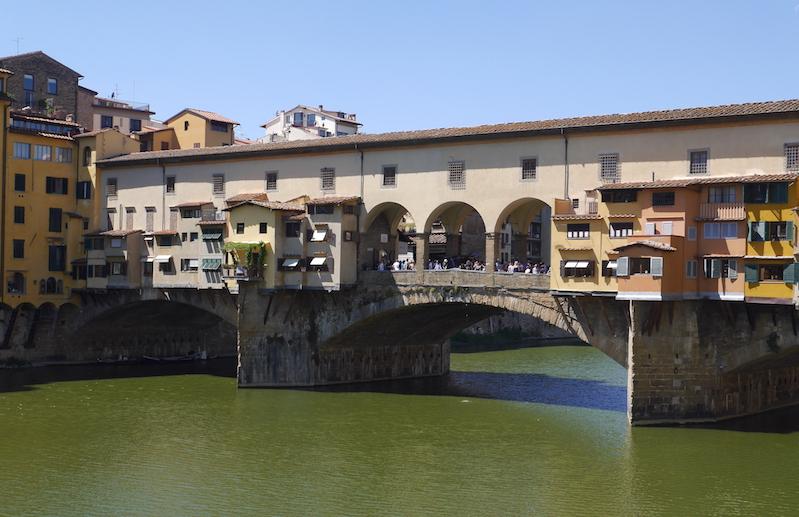 Surprisingly beautiful and Shopping
We went back to the centre and walked around, going through different streets. Each corner had something to surprise us with its gorgeous architecture.
I also like shopping, and there are a lot of options in Florence. Apart from the famous street brands which you can find anywhere, there are many small boutique shops with unique design and the classic Italian style.
You might ask me what I think about Milan after visiting Florence. I definitely still love the delightful city of Milan and admire its beauty as much as before. But I cannot say which one is the most beautiful because they both have their ways to charm me.
This piece has been written by Mansoureh Farahani, Founder of Travel With Mansoureh