Traveling to Prague has been our first trip to eastern European. Fortunately, visiting this city didn't let us down and encouraged us to visit more places in the region.
Prague, capital of Czech Republic, looks like a city which is straight out of fairy tales with an old castle, beautiful bridges and colourful buildings.
We went to Prague for a weekend break in July 2016. We heard about the beauty of the city before and our expectations were quite high.
We arrived around midnight there, a taxi driver (which we booked in advance) was waiting for us at the airport to escort us to our hotel. On the way to our hotel, he gave us some more information about the city, what to do and where to eat.
We couldn't wait more to explore Prague, so as soon as we had breakfast we left the hotel to stroll around.
Dancing House
We walked towards the Vltava River where a unique design building caught our eyes. The building, called Dancing House, had been constructed between 1992-1996.
The top floor is open to the public, but we preferred to watch it from the outside. We took some photos there, then proceeded by walking along the riverside.
A Saturday Market
Next to the river, there was a street flea market, where there were vendors selling fresh fruits, fresh juices, various drinks, snacks, food and other products. The market was lively, in a corner there was a band playing music, on one side a couple was baking bread while on the opposite side someone was frying some kind of mash potatoes.
There was also a boat connected to the market where there were second-hand goods for sale. Apparently, the market takes place every second Saturday of the month, from 9 am to 4 pm.
Vysehrad Castle
After visiting a market we headed towards Vysehrad or it's best to call it "Castle on the heights". The castle is located on top of a quite high hill a little far from the centre. We had to walk for more than 15 minutes to reach the top of the hill, where we had a stunning view over Prague, probably the best overlooking the city we could ever have.
There is a huge and beautiful park where you can stroll around or if you like to learn about history, there are some exhibitions and the Church of ST. Peter and St Paul to visit.
Visiting Vysehrad and the park is free of charge and you can go any time of day, but for exhibitions you should purchase different tickets.
Zorbing and Eating Along River
On the way back, zorbing on the river attracted our attention. The weather was good for any outdoor activities, we and other tourists watched a funny zorbing competition on a river. Honesty, it was really funny, they were trying hard but they couldn't move at all.
We watched them for about 10 minutes and then headed to a restaurant with an overview of the river. While we were eating our lunch, we saw a couple of groups of young boys who dressed up for a stag party. Apparently, Prague is very popular for stag weekends' parties amongst Brits.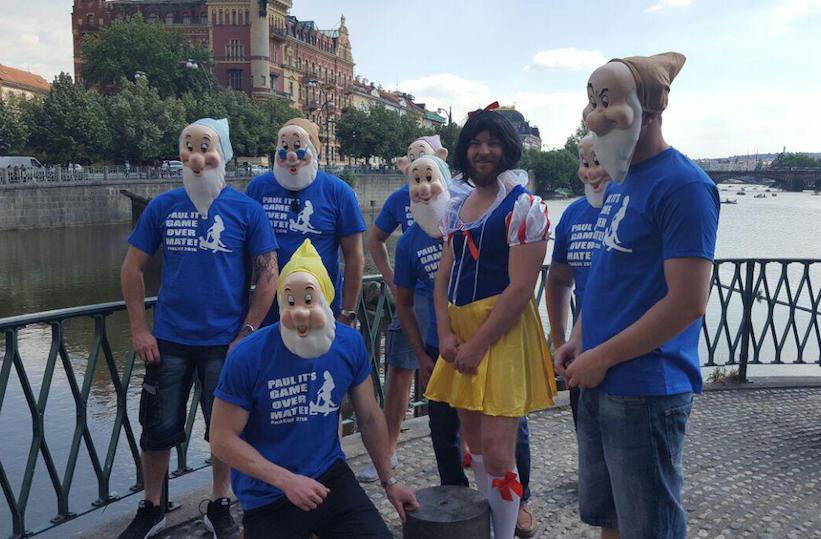 Old Town Square
After sightseeing around the river we strolled into the old town. We went through its narrow streets where we found ourselves in the middle of many colourful and well designed buildings, full of character. Some of them look like museums, art galleries or historical places, but they are normal shops, cafes and bars.
Walking through the gorgeous narrow streets gave us aesthetic pleasure. After a while, we stepped into the Old Town Square, one of the top touristic places in Prague, where there are magnificent churches and historical buildings. The history of the square goes back to around 700 years ago (12th century).
The square has a lot to offer, but amongst all the attractions, the 600-year-old Astronomical Clock is a must see.
Charles Bridge
After few minutes walk, we were back on the river bank. But this time we decided to cross the river by strolling into the most famous historic bridge in Prague, Charles Bridge. You can find a lot of things in Prague named after Charles IV (1316 – 1378), King of Bohemia and the Holy Roman Emperor.
Prague Castle
At the end of the bridge, we continued our way towards the Prague Castle. The way to the castle was steepy and we had to walk uphill for more than 15 minutes to reach the largest coherent castle complex in the world (according to the Guinness Book of World Records). The complex includes gardens, cathedrals and royal residences.
Food and Beer
We went back to the city centre and had a Czech dish for dinner, it was a steak with cream and jam on the top and covered by a brown creamy sweet sauce. The food was eatable, but definitely not my favourite, I don't usually like sweet dishes as my main course.
We found out that you can get beer everywhere or any time of day in Prague. Czechs drink more beer per capita than any other country in the world. So it's no surprise that Prague's cafes serve beer or people would drink beer in the morning.