Taking a tour is the best way to explore the Cotswolds villages and learn about their history. During our two-day tour, we visited one of the most beautiful villages in the UK and the largest stone circle in the world. You can find about the details of the tour and where to stay in the Cotswold in this post.
When it comes to exploring the UK, where we are based at the moment, we usually travel by ourselves instead of going on a tour or hiring a guide. To be honest, there is no particular reason, when you live somewhere for quite some time, you are convinced that you know your place very well and you don't really need a guide, but this mindset can be easily argued against. We never thought we would need to go on a tour to discover new places in the UK until a company named Rabbie's Tour contacted us and invited us to choose one of the tours they offer.
If you followed us for a while, you know we are always up for an adventure or a trip. In other words, we are unable to say "no" if we can travel to a new place.
Booking the Cotswolds tour
Rabbie's offers one, two, three or more day tours. We opted for a weekend gateway in England and chose a two-day tour from London to the Cotswolds, Bath, and Oxford since we have never visited the Cotswolds before, but we heard a lot of good things about the area. The tour doesn't come with the accommodation, so we booked our accommodation in the largest town in the Cotswolds, where we were supposed to stay for the night.
Starting our tour in London
The pickup location was next to London Victoria's train station, on the opposite side of Victoria Coach Station. Finding the minibus was straightforward and we were welcomed by our driver, who was also our guide for the next two days.
Avebury and Cherhill White Horse
We started our journey on time at 9 am. While driving through some neighbourhoods in London and our knowledgeable guide told us quite a few stories and gave us interesting information about each of the areas we were driving through.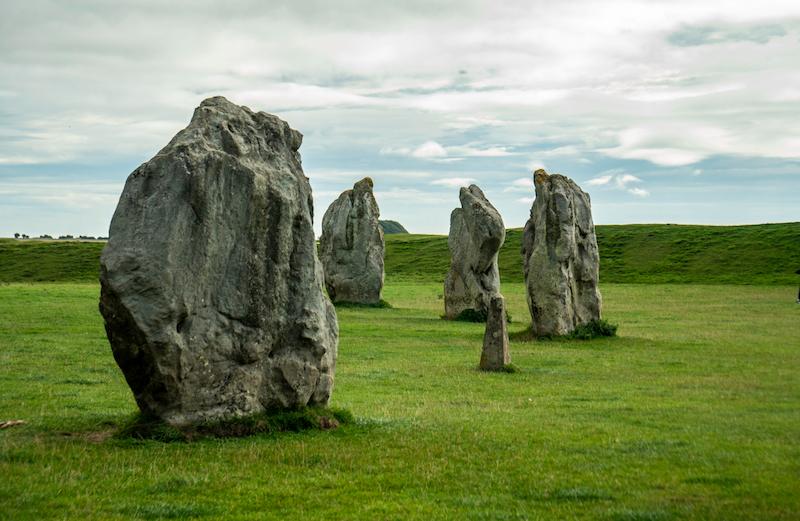 Our first stop was Avebury, where we wandered among the standing stones. Avebury and Stonehenge are both in the World Heritage properties list. We discovered that Stonehenge is the most famous architecturally sophisticated prehistoric stone circle in the world, and you should buy a ticket to visit, while Avebury is the largest stone circle, where you can stroll around the stones for free.
The second stop was a short one to take photos of Cherhill White Horse, which is an 18th-century hillside art, that can be seen for miles around.
Visiting Lacock Village
The third stop of our tour was Lacock village, a quintessential English village, where looks quite the same as it did 200 years ago. Some parts of our group had lunch there, but we wandered the old streets, timber-framed cottages and local shops.
We could see products in front of the residents' houses, things like wine, vegetables, fruits and a price tag on them. This meant visitors could take whatever they liked or wanted and just put the money in the box. I have never seen anything like that anywhere else before.
We also found a group of classic and beautiful cars in the village. The cars were on a tour around England, it was just a pleasant coincidence we were both there at the same time.
Bath
Bath is famous for its natural hot springs, the Roman Baths Museum, and its 18th-century Georgian architecture.
I had been to Bath once before, but it was Bruno's first visit. When we arrived there we were both quite hungry and went for lunch straightaway after getting off the minibus. There are a lot of nice restaurants and cafes in the city and finding good food was effortless. After lunch, we strolled around the city centre and walked on the famous Pulteney Bridge, which is one of only four bridges in the world to have shops across its full extent on both sides. Robert Adam, the designer of the bridge, visited Florence and Venice and that is why you can see some similarities between Bath and Florence's bridges.
Where to stay in the Cotswolds
Cirencester was the last stop on our first day and where we all stayed overnight. Our driver dropped us at the hotel we booked for ourselves and gave us all the information we needed to explore the town on our own, then left to drop the other passengers at their hotels.
Cirencester, the largest town in the Cotswold District, is an ancient Roman market town, but, unfortunately, when we got there the market was already closed. Since our hotel, the Kings Head Hotel, was in the centre, we had some time to visit the Parish Church of St John Baptist, the historical church of the town and we later headed to an English pub for some fish and chips.
You can book the hotel, Kings Head Hotel at Booking.com here.
Bibury, a beautiful village in the Cotswolds
We woke up early the day after and had breakfast at our hotel. We packed our things, checked out, and waited for the minibus to come and pick us up. We didn't have to wait long and in no time we were on the minibus and ready to start the second day of our tour.
Our driver informed us the day before that Bibury can get very busy and, for that reason, we all had to be early risers. We were lucky with our group, everyone was punctual so we headed to Bibury on time.
Bibury is a delightful village with the renowned 16th-century cottages. Some people would say "Bibury is the most beautiful village in England". I am not sure whether this is true or not, I just know that Bibury looked like one of the most picturesque villages I have ever seen. If you ever end up being there, you will come back with lots of beautiful photos.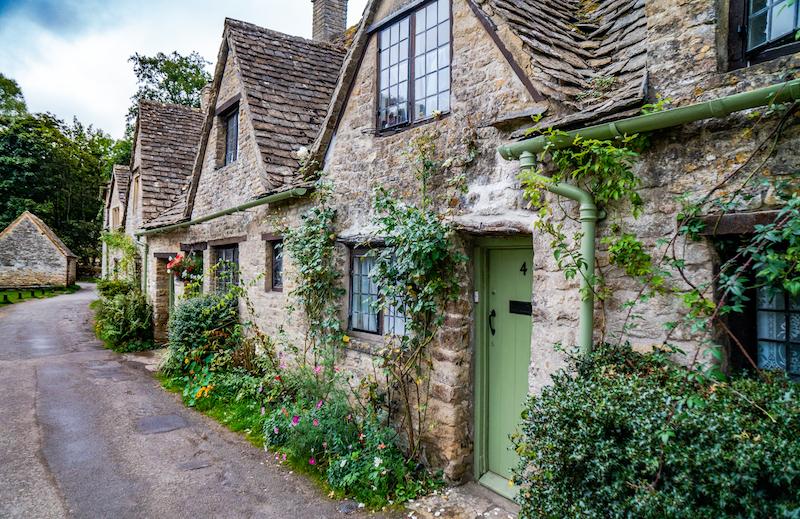 Stow-on-the-Wold
We left Bibury for Stow-on-the-Wold, the highest market town in the Cotswolds, where you can do endless shopping. Instead of going shopping we walked into St Edward's Church, where we discovered a door flanked by yew trees. Our guide explained to us: "Tolkien was inspired by this door for the Lord of the Rings because he used to live around here".
After visiting a church we went to an English tea room to rest for a while.
Bampton Village
The ancient market town of Bampton has featured prominently in the popular TV drama Downton Abbey. I must confess that I haven't watched the series, but most of the people in our group did, so for them, it was really exciting to be there. We also enjoyed learning about the location and taking some photos of the place.
Oxford
Our last stop before heading back to London was Oxford. We both had been to Oxford a few times before, so we didn't spend much time exploring the city, instead, we went for a nice lunch and a short walk in the centre.
We then got back to the bus and headed to London. We were glad we took part in the tour, we learned more about the English culture, visited some new places, and had some fun. Our driver provided us with a lot of information and made our journey cheerfull with his jokes and entertaining attitude.
We both noticed the Cotswolds have more to offer than just beautiful English villages. As you already know we are both interested in wildlife and nature. we found out there is a wildlife park in the area. The Cotswold wildlife park is home to more than 260 species and animals. We would need a whole day to be able to explore the 160 acres of landscaped parkland. We are looking forward to go back and explore more.