Nice, in the French Riviera, is one of the most beautiful cities in the south of France, it lies on the Mediterranean Sea coast in the south of France, between the Italian border and Cannes. The pretty beaches and scenery attract many sun seekers during the summers. Since we were in the north-west of Italy, we decided to go and visit it.
There is a train that goes to Nice, but we preferred to take a road trip. We drove across the mountains, went through many tunnels while we enjoyed the spectacular coastal scenery on the seaside. The road, between Italy and France, is in a good condition. We arrived there in the afternoon, it was a sunny and hot day in mid-July 2015.
Nice can be really busy during the summers, so finding a car park in the centre or near the beach won't be an easy task. Moreover, some hotels don't have parking, including the hotel we booked, but there were public parking and the reception of our hotel gave us a letter, which helped us to get 20 percent off for a 2-day parking stay.
Restaurants and places to eat
We were hungry, so we headed to the centre, where there were many restaurants and places to eat. I was hot and wanted to cool down, that is why I went for a salad with the following ingredients: apples, tomatoes, walnuts, blue cheese, eggs and leaves, which was tasty, while Bruno went for fried food.
Nice is where you can eat all sort of dishes, from Italian to French ones, from seafood to burgers or even fusion. Nice is, in particular, famous for seafood dishes. So, we gave it a try and would recommend you to do so. Usually, the restaurants have a menu in three languages: English, French and Italian. Some of the restaurants are pricey, keep in mind that Nice is not a cheap city, and be ready to spend some money.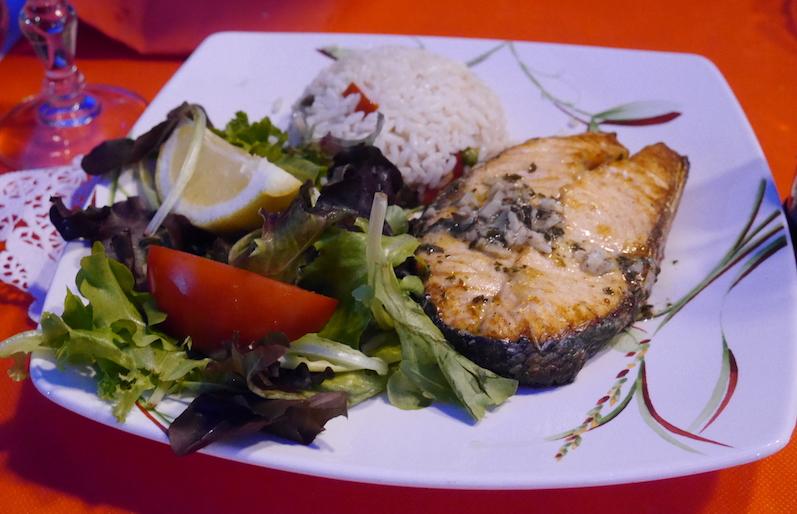 Le Château Nice
We relaxed on the beach for a while and then we strolled around the Promenade des Anglais, a lively area, where usually tourists flocked. Some tourists were relaxing, others were jogging or biking and others like us were just wandering around.
We walked next to the shore towards the Le Château Nice. We hiked up the stairs, we stopped nearby the waterfall for a few minutes and continued until we reached the top, where we had a panoramic view of the city. It is quite a long walk, and if you are not up for it, you can still get to the top by taking a lift.
Château de La Chèvre d'Or and Jardin Exotique
The day after, we spent some time on the beach and said goodbye to the beautiful Nice. We headed to Château de La Chèvre d'Or , which means "Castle of the Golden Goat". The castle is between Nice and Monaco on the highest peak of the Eze village with a breathtaking stunning view overlooking the Mediterranean Sea. Visiting the medieval castle is free, but if you want to stay longer and don't want to book a room, you can go for fine dining.
After visiting the castle, we walked to the Jardin Exotique of Monaco, which means "Exotic Garden of Monaco". Visiting the garden costs 7.20 Euros, and it is worth seeing. The garden is home to a wide variety of exotic plants.
This place is hilly, so you should be ready for a walk and to climb some stairs. If you visit it during the summer, like us, you should carry water or drinks, because the garden would be hotter than other places in the area. We walked around the garden while we enjoyed watching the sea beneath us.
We continued our way to Italy on a coastal road. We went through Monaco, but we didn't notice that we officially just drove through another country! Yes, Monaco is the second-smallest independent state in the world with a population of 37,000.
Even though by that time we didn't know we were in Monaco, we appreciated its delightful beauty.