Canterbury in Kent, home to the famous Canterbury Cathedral, is only 100 km away from London. This means you can get here in less than 2 hours by train. Even better, a high-speed train takes only 50 minutes. This is why Canterbury makes for such an ideal day trip from London.
The historic English city of Canterbury has been on the world map for a very long time. It was here that St. Augustine converted the first Anglo Saxons in 597. His final resting place St. Augustine's Abbey together with the Canterbury Cathedral and St. Martin's Church is a UNESCO Heritage Site today.
The city is rich in history and culture. And there are a lot of interesting things to do in Canterbury even on a short day trip from London.
Read also: Top 12 Most Beautiful Villages and Towns in Kent
How to get to Canterbury from London
You can get to Canterbury either by train or by car. London to Canterbury trains are quite frequent and run from Victoria, Charing Cross, and St Pancras International. A journey on the usual train takes about 1 hour and 50 minutes whereas, on the high-speed one, it is only about 55 minutes.
You can also get to Canterbury from London by car. Even though a drive can take up to 2 hours, you can easily find parking in Canterbury's city centre.
Read also: 28 Best Days Trips From London
Things to do in Canterbury
Depending on where you alight, Canterbury East or West, you can shuffle the attractions below and customise your own Canterbury day trip itinerary. Or you could you just get off at Canterbury East, admire the restored Roman walls in front of you, and head to the Canterbury Castle, a five minutes walk from the station.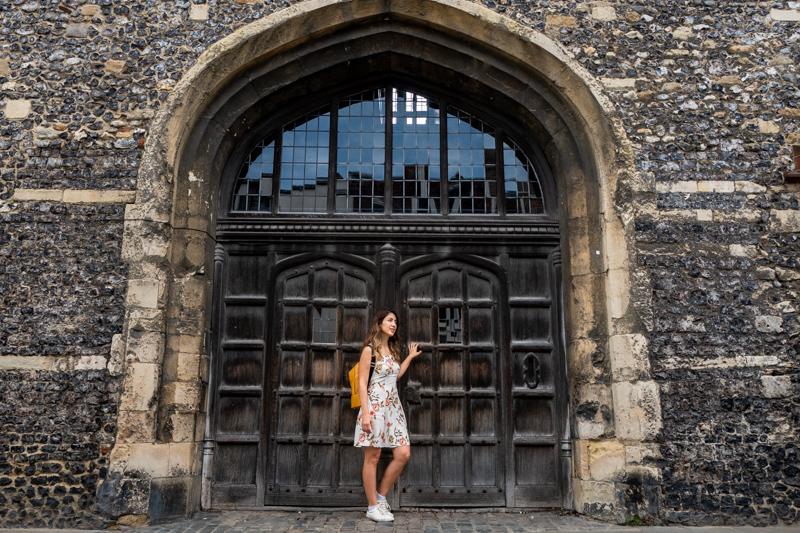 The best part about Canterbury is that all-important sights are close by and do not require a lot of walking around.
Take a peek at the remains of Canterbury Castle
One of the oldest Norman castles of England, the Canterbury Castle has had its fair share of history and intrigue. It was erected in the 11th century, became a prison in the 13th, was abandoned and demolished in the 18th.
The lower half of the keep and a few towers remain today. It is definitely not the most glamorous castle you will ever see. But you can spend a few moments here pondering over what the structure may have seen over the many hundred years of its existence.
Take a tour of Canterbury Tales
On a Canterbury day trip, visiting the Canterbury Tales Attraction it is an absolute must. See the famous tales by Chaucer come to life in a medieval English setting only a few minutes away from the castle.
The tour begins at the Tabard Inn and ends at the shrine of St. Thomas Becket. You will be led by costumed guides as you walk alongside Chaucer's pilgrims and learn about five interesting Canterbury tales in a fun and entertaining way.
This attraction is the very best thing to do in Canterbury if you are travelling with kids here. You can book the Canterbury Tales guided tour in advance.
Dig into ancient history at the Roman Museum
The Canterbury Roman Museum is an absolute delight for history lovers. It houses the remains of a large Roman house, beautiful mosaics, precious jewellery, and unusual glassware from the ancient times. The museum also organises many temporary exhibitions and workshops.
Visit the famous Canterbury Cathedral
A stone's throw away from the museum is the Canterbury Cathedral, one of the most important places to visit in Canterbury. It is the Mother Church of the worldwide Anglican community as well as part of the city's historic centre.
With more than 1400 years of Christian history, an influential role in Magna Carta negotiations, and being the exact spot where Archbishop Thomas Becket was murdered in 1170, the cathedral has seen it all.
Today, the cathedral is an inspiring reminder of all this history as well as a proud symbol of Romanesque and Gothic architecture. A Nave roof and stained glass on the Nave and Western Towers are especially striking.
You can also take special tours of the Cloister, Chapter House, and Water Tower. The Cathedral is open every day from 9 am – 5 pm except for Sundays. Hours may differ across seasons. Make sure you check out the opening hours and entry charges on the official website before planning for your trip to Canterbury.
Roam the grounds of King's School
A short walk away from Canterbury Cathedral is the oldest operating school of England, The King's School. The school has been at the same spot ever since the arrival of St. Augustine in 597 AD. You can only get the guided tour of the school if your child is interested in studying there.
Take a picture at crooked Sir John Boys House
A day trip to Canterbury would be incomplete without a visit to the crooked Sir John Boys House, one of the most photographed buildings in Canterbury. The crooked house with a severely crooked door tilts to the side at an unimaginable angle. Feels like it could topple over anytime. No doubt, it is a fascinating little stop for all visitors to the city.
Sir John Boys House is located at the end of Palace Street, which is pretty close to the cathedral. Nowadays, it houses a charity bookshop and is free to enter.
Explore the ruins of St. Augustine's Abbey
St. Augustine's Abbey is an English heritage site and part of Canterbury's UNESCO heritage centre. It is located to the east of Canterbury Cathedral and right outside the city walls. It is home to one of the most important religious sites of England.
Ruins of the abbey and other buildings are now accessible by grass paths and gravel walkways. You can also visit an exhibition that traces the story of the abbey and its founders and check out the museum that contains excavated artefacts. With virtual reality headsets, you can have a firsthand experience of life in the abbey.
You can visit St. Augustine's Abbey on a joint ticket with Canterbury Tales. The official website provides more information on opening hours and entry charges.
The Church of St. Martin
A little further ahead is the Church of St. Martin, the oldest church in England. It was probably used by the Romans in the 4th century and still bears a number of Roman artefacts on its walls. In the 6th century, St. Martin's Church was regularly used by Queen Bertha for her prayers.
Interesting places to see within the church include the chancel which is the oldest part of the church, the nave which dates from the time of Queen Bertha, and an exquisite 900-year-old font. You can visit the church for free on Tuesdays, Thursdays, and Fridays from 11 am to 3 pm.
End with a relaxing Canterbury boat tour
One of the most enjoyable things to do in Canterbury is to take a historic river tour on the Great Stour. These tours are designed for visitors of all ages. Your tour guide will take you through the rich history of the city and point out to the finest architectural and historical sights. Of course, it will come peppered with local myths and amusing gossip.
Where to eat and drink in Canterbury
If you are looking for some great places to eat and drink in Canterbury, there are numerous options to choose from. We have mentioned, below, a couple of our favourites.
The Café du Soleil: Café du Soleil is a creative food restaurant located on the banks of the River Stour. Their food is inspired by cuisines from southern France, Italy, and the Pacific.
One Pound Lane
: One Pound Lane is another popular restaurant that serves food all day. Their dining receipts provide complimentary entry to some of Canterbury's famous attractions.
This post contains affiliate links and if you click one I may receive a small commission at no extra cost to you.