It's no surprise Kent has held its title as the "Garden of England" for more than 400 years. This beautiful county is home to stunning sandy beaches and some spectacular areas of Outstanding Natural Beauty.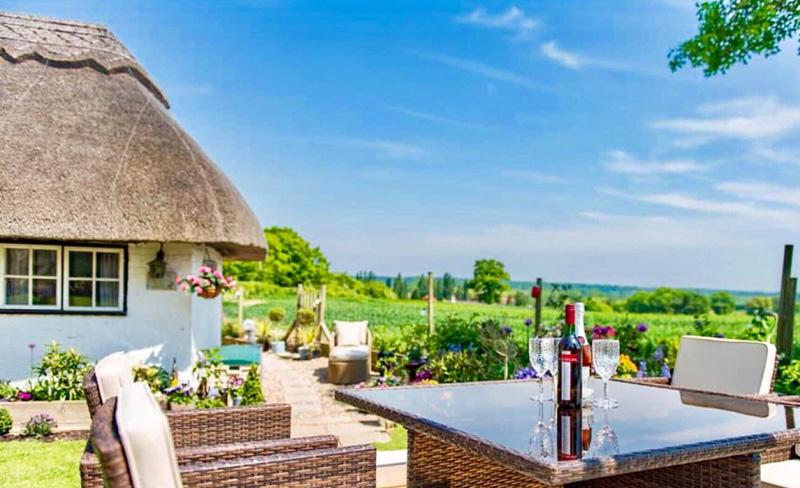 There are a lot of pretty towns and villages in Kent which are not only popular amongst local tourists but also international visitors. Kent has plenty to offer and it is an excellent destination for all types of travellers. There are also various types of fantastic accommodation in Kent, but why not stay in a cool place with a hot tub? Luckily for you, I have put together a list of amazing options for Airbnb properties in Kent including cottages and cabins.
This post contains affiliate links and if you click one I may receive a small commission at no extra cost to you.

Most romantic lodges with hot tubs in Kent
The Lookers Legacy
If you are looking for a luxury rural retreat, this is the place for you. This romantic self-catering property was originally a Shepherd's hut, but now, it is a well-designed modern lodge with a hot tub surrounded by open countryside. While in bed, you can enjoy views across the Romney Marsh through your full-length window.
It is perfect for walking and cycling with a footpath to the local 14th Ferry Inn, serving a delicious seasonal menu.

Location: Tenterden
Rooms: 2
Price: From £300 per night
Guest review: "This hidden gem was perfect for our week away. Hidden in the vineyards we got some well needed time out in the countryside. With some great stormy weather, we still managed to use the hot tub under the sky's as it's well sheltered in the alcove. Trekking from camber sands to Rye was great fun, and only a short drive away. Plenty to do and a very detailed guest guide at the house to give you plenty more options. Hosts responded quickly to any questions and left us to it. Check-in was super simple." Stuart, February 2020.
The Romantic Fishing Lodge
Resting alongside St Andrew's Lakes, this romantic one-bedroom Fishing Lodge sits in Halling, Kent, on the doorstep of the Kent Downs. This cottage is an ideal place for couples who are looking for a romantic and relaxing retreat in the countryside. Its fully equipped kitchen is perfect for preparing comfort food.
This traditional log cabin offers stunning views of the lake where you can go for open-water swimming. You can go for a walk or a bike ride in the morning and later in the afternoon you can enjoy the outdoor wood burning hot tub.

Location: Halling
Rooms: 2
Price: From £80 per night
Guest review: "Beautiful lodge in a beautiful location - the shower and the hot tub is the only quips we had, aside from that, we loved the place!"Rahad, January 2022.
The Lodge: self-catering holiday let with hot tub
If you are looking for a romantic gateway, this lodge ticks all the boxes. This cosy wooden cabin with a cute garden and a hot tub is located in an Area of Outstanding Natural Beauty in Thurnham. It is a perfect place for walking and cycling, or even just relaxing.
Location: Thurnham
Rooms: 2
Price: From £200 per night
Guest review: "I booked the lodge as a surprise for my boyfriends birthday, the perfect romantic getaway! The lodge was so clean, warm and welcoming! The hot tub was the perfect addition to our stay and then had a selection of movies to watch in the evening! Just such a lovely place to stay and we will be returning! Julie was very quick with responses and easy to communicate with! Best Airbnb stay we've had!" Ellie, September 2020
Foxhill Lodges with Hot Tubs
Fancy a relaxing stay on a working farm? Try the Foxhill Lodges located in the rural village of Sturry. These three wooden lodges have all you need for a romantic weekend away. Each lodge comes with an en-suite shower room and its own private decking area with outdoor seating and a private hot tub with amazing views of the countryside.

Location: Sturry near Canterbury
Rooms: 2
Price: From £170per night
Guest review: "Just had a two night stay for my partner's promotion & had an amazing stay. The log cabin was amazing, the pictures really don't do it justice. Mike and Suzie were incredible hosts and went above and beyond (especially the welcome basket) thank you so much for a lovely weekend away!" David, February 2022.
The best Airbnb with hot tub in Kent for family holidays
Detached thatched cottage in Kent with hot tub
This gorgeous cottage with its beautiful garden is a must-stay for those who are looking for spending a relaxing time with families or a group of friends. Staying in this 500-year-old luxury cottage with a contemporary twist is a delight. You can simply soak in the 6-person hot tub with a beautiful view of the open fields or sit on the conservatory and watch the sunset.
Guest reviews: "As a group of girls enjoying a mini break away, the cottage was excellent. Incredibly clean, very cosy and comfortable with plenty of space. We especially enjoyed the hot tub and lounging in the kitchen with a glass of wine watching tv. Pauline was a great host and communication was easy and simple. We thoroughly enjoyed our stay." Sophie, October 2020.
Amazing cabin retreat with hot tub
For a hot tub experience with views across the glorious Greensand Ridge and Kentish countryside, head to Sutton Valence and stay in this lovely cabin. This Airbnb is situated in a working apple farm, where you will be able to walk around. This place with its high standard furniture can be an ideal place for families or couples.
Guest review: "Excellent venue. One of the cleanest I've stayed in with very up-to-date decor. The host was communicative and check-in/out was very well managed. The hot tub and outside area was second to none. I can't recommend this place enough." Liam, October 2020.
Deerson Barn
This beautiful self-catering barn conversion with views over the surrounding countryside is an absolutely delightful retreat to unwind. From the garden, you will be able to see horses roaming, sheep grazing or rabbits jumping around. You can take a walk through ancient woodland and head to the nearby village of Preston, where you can find restaurants and shops. When you are back, do nothing more than seeing the evening out in your cottage's hot tub.
This place is suitable for up to 8 guests, offering 3 bedrooms with 4 beds. This luxury property also comes with free WiFi and Netflix.
Spitfire Barn with hot tub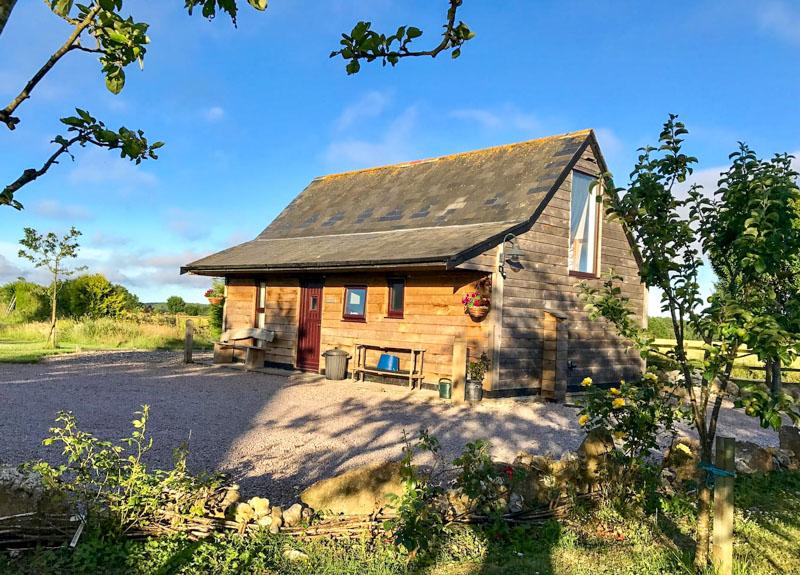 This lovely self-catering barn conversion is located in West Hougham village, close to both Dover and Capel-le-Ferne. If you are a couple or a small family looking for a rural retreat, this is your place. Take a book, settle into your private hot tub and admire the beauty of the surroundings. Don't forget to bring your flip flops and bathing suits.
Guest review: "A little gem of a place, perfect for our family of 4. We felt tucked away, yet were so close to lots of attractions and the hot tub was fabulous as the wind blew in our faces and our bodies stayed wonderfully warm - a real treat to let the pressures of everyday life drift away. The property is very well equipped; everything you need to cook (including sharp knives which is always a bonus), comfy beds and great wi-fi plus lots of basic supplies such as washing up liquid, toilet rolls and handwash which was much appreciated. We highly recommend Spitfire Barn as a great place to stay to explore Kent." Judith, November 2020
The most unique Airbnb in Kent with hot tubs
Wooded Bubble tent
Wooded Bubble is one of the most unique Airbnbs in the UK, located on a farm near Maidstone in Kent. A stay in this fully equipped unusual lodge is an unforgettable experience. You can relax on the wood-burning hot tub and enjoy the view or wrap up in a duvet and spend the night stargazing from this bubble.
Guest review: "Liz was a great host and had left out a bottle of Prosecco and breakfast for us. The tent and hot tub were both fantastic, we would definitely recommend." Imogen, September 2020.
The Little Yurt Retreat: a rural city centre break
Surprisingly, this beautiful yurt is located in Canterbury, only a 15-minute walk to the centre. If you want to go to the countryside or the beach, you are just a 10-minute drive away. This luxurious authentic yurt is perfect for couples or small families who are looking for a relaxing holiday while not being far from the city centre.
Guest review: "A truly magical stay as a surprise for my boyfriends birthday and he absolutely loved it! Peter & Natalie have thought of everything and all the little extra touches did not go unnoticed. The yurt itself is gorgeous and the bath tub in front of the fire & candles provided a wonderful, relaxing evening. If you are looking for a romantic & relaxing evening away I would highly recommend."
Shepherds hut
Fancy a romantic break or an escape from the bustle of life with a unique experience? You can stay in this shepherd's hut to relax and unwind. Outside, you can relax in the seating area, prepare food on a gas BBQ or sit in the hot tub and enjoy the view of the countryside.
Guest review: "Lovely tucked-away spot with total privacy, we stayed three nights and spent the majority in the hot tub (even when it lightly snows one morning the water was still 35 degrees+) Fantastic little getaway would recommend and possibly return in summer." Hannah, January 2021.
Secluded Airbnbs with hot tubs in Kent
Secluded rural retreat with wood-fired hot tub
This pump house in the North Downs Area of Outstanding Natural Beauty is one of the best Airbnbs in Kent offering a comfortable and relaxing stay. You can simply cosy up in front of the wood-burning stove while drinking hot chocolate or sit outside next to the fire bowl. Before heading to the king-size bed, you can soak into the wood-burning hot tub and watch the stars (if the sky is clear).
Guest review: "If you're looking for a rural retreat or a break from the chaos of modern life, then Gwen's place could not be more perfect. Right in the middle of nature with all the comforts and cosiness that a country lodge can bring; the wood-burning hot tubs are absolutely wonderful, the walks are beautiful and the soft smell of smokiness from the burning logs completes the whole experience." Emily, November 2020.
Two Byre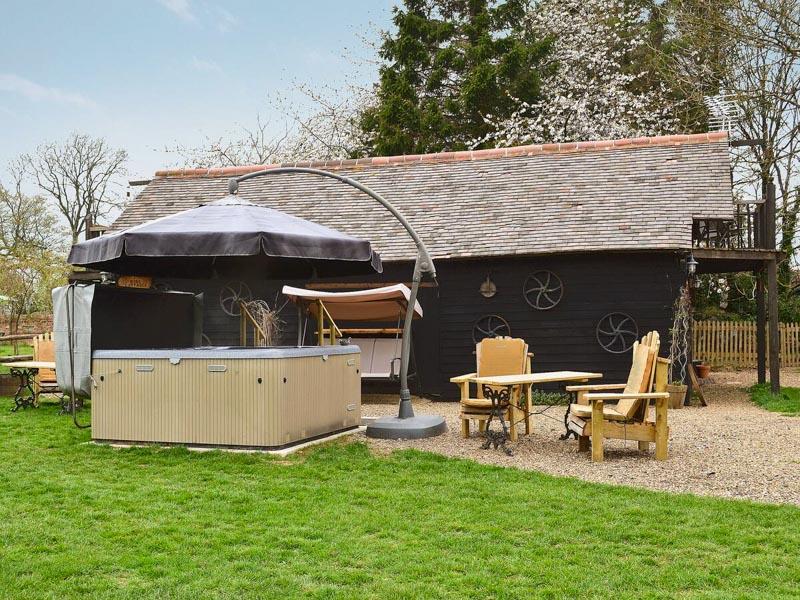 This cute self-catering cottage in Stelling Minnis is an ideal holiday base to explore Kent's countryside and some of its towns including Canterbury and Dover. You can stay here all year round since it has a central heating system. You can also use the hot tub or go for a massage in the massage centre on-site to unwind.
Guest review: "Garden area was incredibly relaxing, we enjoyed it very much and made good use of the hot tub during our stay. The cottage was clean and cosy, however smaller than expected." Alice, August 2020.

Woodside cottage: a remote retreat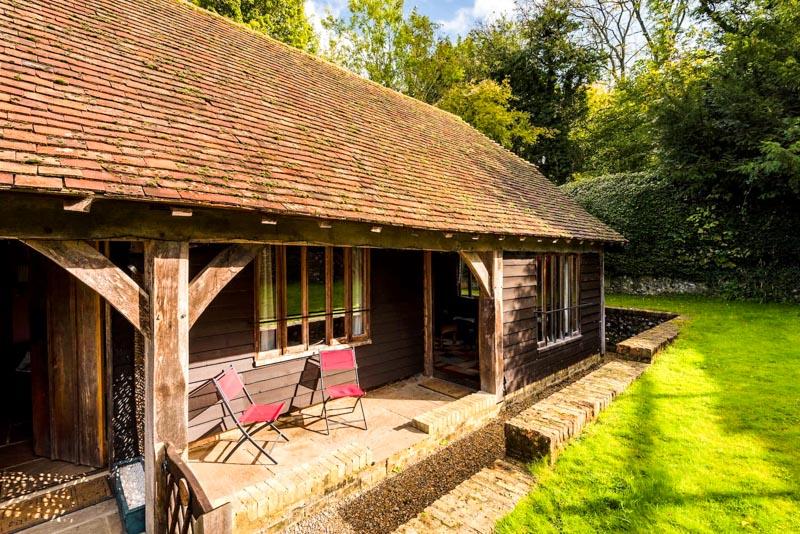 This cottage is an ideal place for those who are looking for a remote, magical and peaceful Airbnb in Kent. It is situated at The Lost Village of Dode, and only five miles away from historic Rochester. This charming cottage with its character and contemporary furnishings offer the guests a relaxing and fantastic stay. The hot tub is a bonus, which makes it a perfect place for a romantic getaway.
Guest review: "A beautiful location, has such a special feeling about it. The grounds are spectacular allowing for a wonderful couples break to enjoy walks and waking up to an impressive view of Dode Church and the grounds" Nour, November 2020