Wales is home to some of the most beautiful landmarks and breathtaking scenery in the UK. Wales has it all, no matter whether you are interested in history, a cultural trip, an adrenaline rush or just want to relax and unwind.
I have travelled to Wales multiple times and every time to a different part. I, with the help of my fellow travel bloggers, put together a list of some of the best places to visit in Wales to help you plan your trip to Wales.
This post contains affiliate links and if you click one I may receive a small commission at no extra cost to you.

Brecon Beacons National Park
If you can only visit one place in Wales, the place must be Brecon Beacons National Park. It is one of Europe's most beautiful areas, situated in the south of Wales. It is less than 30 miles from Cardiff, 100 miles from Birmingham and only a 3-hour drive from London.
The Brecon Beacons is famous for its range of mountains and magnificent upland formations. It is also home to amazing waterfalls, beautiful caves and stunning lakes.
There are various mountain biking tracks, horseback riding trails and hiking paths. One of the most popular walks in the park is the 4-waterfalls trail, but if you are up to a challenge, you can book a tour and summit Pen y Fan, the highest peak in South Wales.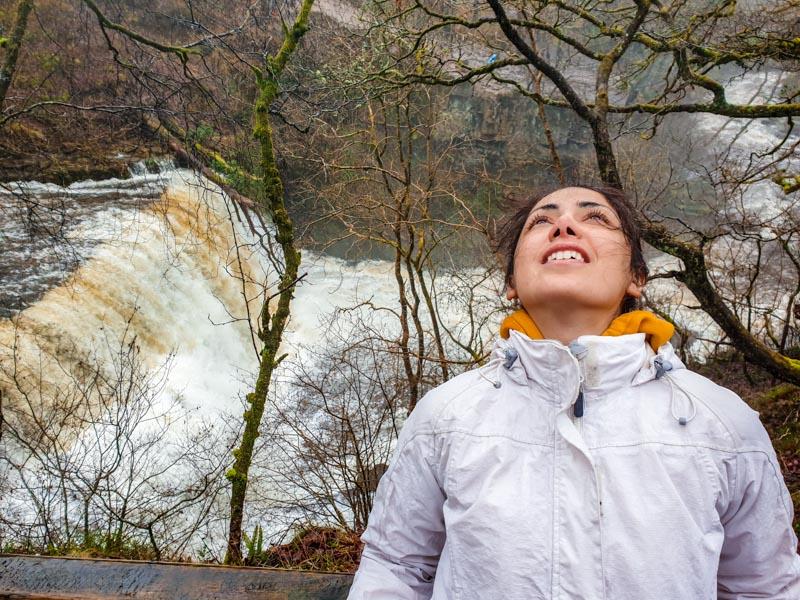 If you are looking for fun organised group activities, you can go canoeing, kayaking, canyoning or if you want something unique you can take the 4-hour guided night hiking in the Brecon Beacons. You can check the availability here.
There are plenty of places to stay within the national park, including hotels and B&B, but if you are looking for self-catering accommodation, you can check Vrbo.
You can also read: The 15 Best Lodges in Wales with Hot Tub
Cardiff
Recommended by Cath from Passports and Adventures
You can't visit Wales and miss out on the capital, Cardiff. As one of the top places to visit in Wales, Cardiff is a city that has a relatively small centre and lots to offer to its visitors. You can even visit Cardiff with kids and find plenty to keep them entertained.
Cardiff Castle is a great place to start your sightseeing. With a Norman Keep, elaborately decorated Castle Apartments, and castle walls that hold a secret, this is a Cardiff attraction not to be missed. Just across the road is the National Museum, and behind the castle is Bute Park, a lovely place for a stroll.
Outside of the city centre, Cardiff Bay is a must-visit and if you'd like to explore a living museum, head to St Fagan's, the Welsh National Museum of History in which you can see buildings from across Wales spanning more than 1000 years.
Cardiff City centre is easily explored on foot and there is a good public transport system. Places for food and drink are plentiful, as are hotels. For budget-friendly accommodation stay in a Premier Inn, but for luxury, stay in the voco St David's Hotel which has incredible views across the Bay, check the price here.
Snowdonia
Recommended by Kat from Wandering Bird
If you enjoy hiking or outdoor pursuits, one of the best places to go in Wales is Snowdonia.
Snowdonia was the first established National Park in Wales and is home to some of the highest peaks in the UK, including the famous Mount Snowdon.
As well as mountains, the park contains open land and even over 30 miles of dramatic coastline and beaches. There are also lakes, rivers and villages all contained within the park's boundaries.
If you enjoy hiking, climbing Mount Snowdon is one of the highlights (on a clear day you can see Ireland from the top) or just spend some time exploring its lower slopes. For history lovers, head to the impressive Caernarfon Castle- one of the best castles in the UK. There's also the Snowdon Mountain Railway- a historic bit of track.
There are plenty of places to stay within the National Park, including many hotels, hostels and BnBs. If you are visiting Wales with a motorhome, remember that you can't wild camp within the park, but there are plenty of great motorhome campsites in North Wales to enjoy.
Top tip: always expect rain in Wales. Even in the middle of summer. Be sure to pack plenty of layers and if you are hiking, take appropriate supplies in case the weather turns.
Conwy
Recommended by Anuradha from Country Hopping Couple
Conwy is a stunning medieval market town located on the north coast of Wales, sharing River Conwy with town Deganwy. Surprisingly for such a small town, there are plenty of things to do in Conwy and the surrounding regions.
One of the main reasons tourists flock to Conwy is to visit Conwy Castle. A classic example of 13th-century military architecture, Conwy Castle is a UNESCO World Heritage Site. But Conwy is more than Conwy Castle, and not many tourists know about this, as they visit Conwy only to explore the Castle.
For more authentic experiences, visit Conwy Suspension Bridge that is now part of the National Trust. Alternatively, take a 1.3-mile walk over Conwy Town Walls, yet another well preserved defensive walls from the 13th century. Explore the busy streets of Conwy Town or visit Britain's Smallest House that is located along the quay.
Conwy is also an ideal location to base if you want to explore the North Coast of Wales, Anglesey, or even North Snowdonia. Whether you want to go on a weekend holiday or spend a week-long vacation, Conwy is a perfect place to visit.
Glan Heulog is a great, budget-friendly accommodation in Conwy, located only a stone's throw from Castle. If you are looking for a hotel with a spa, you can stay at The Quay Hotel and Spa, check the price and availability here.
Anglesey
A trip to Anglesey island is a must when you are in the north-west of the country. This beautiful island is accessed by two bridges: the 19th-century suspension Menai Bridge and the 20th century Pont Britannia Bridge.
One of the main things to do in Anglesey is hiking on the 125-mile coastal path. Of course, walking the whole path will take you more than 8 days, but you have many options for a short walk to enjoy the scenery.
You can also visit Beaumaris Castle, one of the most popular attractions, which is located on the east side of the island. The construction of this unfinished castle began in 1295.
Make sure to check out South Stack Lighthouse and go to the Dingle Nature Reserve where you might be able to see red squirrels (if you are lucky).
There are plenty of accommodation options on the island, if you are looking for something unique, you can check Coastal Pods, the perfect place for glamping. But, if you are looking for a luxury stay with great reviews from its guests, you can check availability at Gwesty Gadlys Hotel.
Pembrokeshire Coast National Park
Did you know that Pembrokeshire Coast National Park is the only UK's national park that is completely coastal? I know, this makes this national park pretty unique and one of the best places to visit in Wales.
Another interesting fact is that there is a Blue Lagoon in Pembrokeshire which is a popular place for coasteering. If you are lucky you can see seals resting on the rocks here too.
As you can guess by the National Park's name, one of the best things to do in Pembrokeshire is walk along the coastal trail, which is a 186 mile (299 km) path. Although you might not be able to complete the whole path on a short visit, you can walk a smaller section of the path.
There are also some stunning beaches here, where you can go swimming (if it is sunny and warm) or paddleboarding in the sea.
If you plan to visit the northern part of the National Park, make sure to visit Strumble Lighthouse. You are not allowed to climb up into the lighthouse, but it is still beautiful from the outside and you can take many nice pictures with the ocean view.
St Davids
Recommended by Angela from Where Angie Wanders
St Davids in Pembrokeshire is the smallest city in the UK and is named after the patron saint of Wales who lived in the area in the 6th century. It is a charming city with a main street lined with local delicatessen stores, coffee shops and ice cream parlours all leading to the city's main attraction St David's Cathedral.
The cathedral is breath-taking and is approached via a steep pathway from the roadside. It is here that Saint David is laid to rest – his shrine can be seen inside the cathedral. In the 12th century, St Davids has declared a place of pilgrimage and it was declared that two visits to St David's Shrine were equivalent to one visit to the Vatican in Rome!
Back to the 21st century and visitors can also enjoy walks in the nearby countryside, visit the Gothic medieval ruins of the Bishops Palace and make a stop at Oriel Y Parc Gallery to admire national works of art as well as that from local artists and craftsmen.
Llangollen
Recommended by Elizabeth from The Fearless Foreigner
Llangollen in North Wales is one of the best places to visit in Wales. It's worth a visit due to its location along the River Dee and Llangollen Canal. Walk along the canal for a couple of hours and you will reach the Pontcysyllte Aqueduct.
This "stream in the sky" crosses 125ft above the river. In the early 1800s, it was created as an industrial waterway. You can cross the aqueduct on the sidewalk next to the water or in a boat. The coolest way to explore has to be in a canoe though! A guided canoe trip along the canal and across the aqueduct is an exciting way to see the beautiful scenery in this region of the country.
The lovely little town of Llangollen is also worth a visit because of the town itself. Take the Llangollen bridge into the quaint main street that is lined with shops and places to eat. Several museums are also in the town to visit such as the Plas Newydd Historic House and Gardens. Learn about the two feisty women who used to live there.
Whether you stay in Llangollen or in the nearby bigger city of Wrexham, make sure to spend at least a day in Llangollen!
Ceredigion
Recommended by Heather from Conversant Traveller
Ceredigion is one of the lesser-known, but one of the most beautiful places to visit in Wales, with sweeping sandy bays, craggy cliffs, and tranquil inland valleys to explore. It's the perfect mixture of countryside and coast. It is an ideal destination for a rural UK getaway. There are fishing towns like Cardigan and Aberaeron to visit, with their picture-postcard harbours and colourful houses lining the streets.
For something wild and windswept, head to the coves of Mwnt, Penbryn or Lochtyn for beach strolls without the crowds, and fabulous views out along the coast.
Wildlife enthusiasts love taking boat trips in Cardigan Bay to see the dolphins and other marine creatures or visiting the RSPB bird hides at Ynys-hir. Inland there's the Devil's Bridge Falls along the sleepy River Mynach and organic cheese farms and gin distilleries which offer tours and tastings.
When it comes to accommodation, there are plenty of guest houses and hotels to choose from. But if you want to get back to nature with a little luxury thrown in, one of the best places to go glamping in Wales is Felin Geri Safari Lodges, with its private hot tubs and gloriously green valley setting. You can read the guest reviews here.
Caernarfon Castle
Recommended by Alexa with 52 Perfect Days
Caernarfon Castle is a medieval fortress in Caernarfon, Gwynedd, north-west Wales dating back to the late 11th century. This fortress-palace on the banks of the River Seiont is part of King Edward I of England's castles which also include Conwy, Beaumaris and Harlech. They are a World Heritage Site, but because of scale and architectural drama, Caernarfon is the most impressive.
Caernarfon Castle is recognised as one of the greatest buildings of the Middle Ages. Caernarfon Castle is massive and need's a lengthy amount of time to explore properly. The Royal Welsh Fusiliers Museum is located within several floors on one side of the castle and the top of each tower offers different panoramic views. This castle is where the Prince of Wales has been crowned since 1911, including Prince Charles and one day, Prince William.
The closest hotel to the castle is Black Boy Inn and the closest 5-Start hotel is Lastra Farm Hotel & Restaurant.
TIP: If you're planning on visiting numerous castles, consider the Explorer Pass for savings, as the British Heritage Pass doesn't work in Wales.
Skomer Island
Recommended by Anna from Really Wildlife
Skomer Island is a dream for wildlife lovers visiting Wales. It's located off the coast of Pembrokeshire National Park, making it possible to spot seals, rabbits and plenty of sea birds. During the summer months, visitors will be treated to sightings of one of the cutest species of bird in the world - the puffin! Around 22,000 of these adorable creatures breed, nest and live on the island, returning from flights at sea with mouths full of sand eels to feed their young.
There are plenty of walking trails over the 3km square island, taking in beautiful views over the rocky cliffs, bright blue sea and back to Wales. The boat journey from Lockley Lodge is another highlight. Make sure you pack your camera!
With few facilities on the island, you'll need to take your own food and drink, and take all your rubbish home with you.
Most visitors choose to stay on the mainland, as there's only one B&B on the island itself - but that comes with its own perks! You can enjoy night time walks and close encounters with the birdlife after all other visitors have headed home.
Tenby

Recommended by Helen from Holidays from Hels
Tenby is a pretty-as-a-picture seaside town, lined with brightly coloured Georgian houses overlooking its historic harbour and golden sands.
Entrance to the town is by way of a 5-arched gatehouse which forms part of Tenby's medieval city walls, complete with crenulations and arrow slits. Once inside, wander through a maze of cobbled streets and browse boutique shops and cafes.
Interesting things to do in Tenby include visiting the Tudor Merchant's house hiding in the town centre, or the Napoleonic fort on the tiny St Catherine's Island. For the more adventurous, inspect the tidal caves beneath it in a semi-submerged coasteering session around its base. Boat trips take visitors to the monastic Caldey Island where perfume is made from locally grown flowers.
Tenby is surrounded on all sides by award-winning beaches. After a day on the sand, head over to the wooden decked beachside restaurants at South Sands for dinner with a view.
Stay at No: 1 The Esplanade, a beautiful period property, for fabulous sea views and direct access to the beach. For families, the Kiln Park caravan park is a great option for your Pembrokeshire holiday.
Llechwedd slate mines
Recommended by Bec from Wyld Family Travel
There are so many amazing places to stay in Wales that you will not be short on a magnificent stay but if you are looking for a unique stay in Wales then glamping at the Llechwedd Slate mines is for you.
Located just out of Blaenau Ffestiniog you will find the amazing glamping tents situated on the side of the mountain overlooking the old unused slate mine. While there is no mining there now it has in recent years been bought back to life as a top tourist attraction in Wales. The old slate mine is now the home to underground tours, tours of the old slate mines and buildings high in the mountains by truck, ziplining across the mines, mountain biking trails, epic hiking spots and last but not least the Glamping tents.
The Glamping tents are a destination in themselves and are a perfect place to stay for everyone including couples and larger families on a getaway. The tents all have their own bathroom facilities and a small kitchenette where you can prepare a meal. The deck is the perfect way to end a day, sitting and watching the sun go down over the unique landscape is an experience you will never forget.