When I hear about Greece, I think of beautiful islands with white houses and blue water. I am sure that I am not alone, you probably know Greece because of its popular islands, too. We planned our trip to Greece together with some friends, also bloggers, from all over the globe and we all wanted to do and see as much as we could. We started our journey in Greece from Athens (you can read about our experience here), we then headed to Meteora and we also stayed in Mykonos for a few nights. After all that, we went back to Athens, where we had the chance to visit other islands. We knew we wouldn't be able to visit all of the beautiful Greek islands, but we had the opportunity to take a day cruise and visit three of them: Hydra, Poros, and Aegina. Apparently, this day trip is not only popular amongst tourists, but locals love it too.
The VIP Experience
We went for this excursion with Evermore Cruise. As you can imagine, a day-trip usually starts very early and this one wasn't an exception. We had to be at the Marina Kalitheas Harbour at 7:30 am.
Once we got our passes, we found out we were VIPs on the cruise, making the experience even more unique. We had three hours in the VIP lounge before our first stop at Hydra. Our friends stayed awake and enjoyed the selection of finger food accompanied by soft drinks, tea, and coffee, while Bruno and I took a nap. We had a very busy schedule in the previous days so we took advantage of the extra time to recover some sleep in order to fully enjoy exploring the islands.
First stop: Hydra Island
We woke up before arriving at our first stop, where we had 2 hours to explore the island. Hydra is a unique island where no cars or motor vehicles are allowed apart from garbage trucks and ambulances. Donkeys and mules are the only available transportation on the island. We didn't really need any transport and decided to walk around instead.
We walked to the top of a hill, where we visited a monastery. On the way back we took a lot of photos since Hydra is a very picturesque island where you can find an endless amount of Instagrammable spots.
You should also know that Hydra has become even more popular for being a location of the movies "A Girl in Black" in 1956 and "Boy on a Dolphin" in 1957.
Second stop: Poros
Once we got on board our lunch in the VIP lounge was ready, and we enjoyed our food while moving towards the next stop. We docked at the Poros Island Harbour, where we could see Poros' mainland from the distance.
We had less than an hour to explore the island, so we headed directly towards the historical steps which led us to a clock tower, where we had a breathtaking view of the island and the sea surrounding it.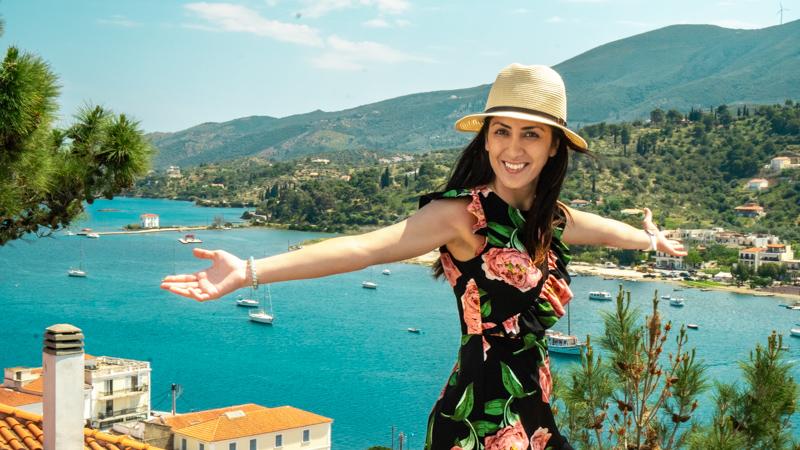 Poros island would be a great location for a weekend gateway or a day trip from Athens. If you don't want to visit the other islands, you can reach it in less than an hour by speedboat or by ferry if you don't mind the 2 and a half hours transport time.
Third stop: Aegina
After getting back to the ship we were offered the opportunity to enroll for a cultural tour in Aegina, but we decided to explore the island by ourselves instead.
Aegina was island closest to Athens and it is a common weekend destination for Athenians. Aegina is also famous for having one of the best pistachios in the world. The ideal soil composition and the great climate made this island a great place to grow pistachios. You can find various shops and stalls in the streets that sell pistachios or other products made with pistachios.
We walked around the seafront and found a cute cafe, perfect to relax at the end of a tour. We also found different types of desserts with pistachios flavour on the menu. We tried some pistachios cheesecake, and we all loved it.
After going back to the cruise we went to the bridge (the room from which the ship can be commanded) and met the captain. We had a great view of the sea from there. We docked at the port while the sun was setting down, so we also ended our great day by enjoying a beautiful sunset.