London is one of the most fun cities in Europe. It is quite difficult to get bored in London, the city has a lot to offer. Most people are familiar with the most popular attractions in London such as the London Eye, Buckingham Palace, Big Ben and Tower Bridge. If you want to visit the touristy spots and get a glimpse of London you can read my ultimate London itinerary travel guide.
If you are in search of more unique experiences and want to have fun in London, you may want to try some of the unique things to do in this article's selection.
Apart from myself, who lives in London, I asked my fellow travel bloggers who also live in London or have explored London with locals to help me put together the most fun activities and unique places to visit in London.
You can also read: 28 best day trips from London
This post contains affiliate links and if you click one I may receive a small commission at no extra cost to you.
Visit 221B Baker Street
The house at 221B Baker Street in London is the fictitious address of the world-famous detective Sherlock Holmes.
According to the stories written by Sir Arthur Conan Doyle, Sherlock Holmes and Doctor Watson lived at this address between 1881-1904. The house, built in 1815, is open as a museum to display the life and times of Sherlock Holmes.
You can take the London Underground to the tube station Baker Street, where you should be able to spot Sherlock Holmes's logo directing you to the famous house.
You can enjoy a virtual tour exploring the world of Sherlock Holmes by walking through his bedroom, sitting on his armchair, putting his hat on and posing for photos.
The entrance fee for adults is £15 and for children is £10.
Take a Lunch Cruise on River Thames
If you're looking for a unique and unforgettable way to see London, then the Lunch Cruise is an experience not to be missed. The combination of good food and stunning views makes for the perfect day out in London.
Starting from Tower Pier, the London river cruise lunch takes you on a leisurely journey along the Thames, passing by some of London's most iconic landmarks including the Houses of Parliament, Tower Bridge, and the Tower of London. The cruise lasts for one hour and forty-five minutes, giving you plenty of time to sit back, relax, and take photos.
While the stunning views of London's riverside landmarks are certainly a highlight, the food served onboard is also something to look forward to. The two-course lunch is delicious, featuring a roasted supreme of chicken as the main dish. If you're a vegetarian, don't worry, there is a vegetarian option available as well.
Once you've finished your meal, head up to the open deck for 360˚ views of the river. You can enjoy uninterrupted views and capture the best photos of London's iconic sights. It's the perfect way to see the city from a unique perspective.
Afternoon tea bus tour
Recommended by Greta Travels
If you're looking for fun and unique things to do in London, you have to add an afternoon tea bus tour to your London bucket list.
B Bakery puts together two great British classics; traditional afternoon tea and red double-decker bus tours, to create a new and unique experience!
The tour starts at Victoria Station and will drive past all the main landmarks of central London, amongst which Harrods, the museums of South Kensington, Hyde Park and Buckingham Palace. The tour lasts around 2 hours, depending on how much traffic there is.
As the bus drives around London, you will get to taste some afternoon tea classics such as cucumber sandwiches, scones and lemon meringue tarts, but also some more original treats such as smoked salmon blinis and tiny chestnut mushroom quiches.
Prices range from £45 to £65 per person depending on what table in the bus you want to be seated at. The top deck is more expensive but will also have better views. There is no set dress code.
The afternoon tea bus tour gives you the opportunity to have a unique experience, touring around some of London's most famous landmarks while enjoying a lovely traditional British meal.
Harry Potter Walking Tour
Recommended by Nomadic Vegan
If you're looking for Harry Potter-related things to do in London, a great place to start is by taking the "Tour for Muggles" walking tour. This tour covers all the main filming locations used in the various Harry Potter films, as well as a few other locations that did not appear in the films but probably served as inspiration for J.K. Rowling.
When booking the tour, everything from the website to the emails I received really made me feel like I was planning a visit to the wizarding world. The tours are conducted by the Department of Tourism and Muggle Relations with the aim of educating muggles about the existence of witches and wizards. I was informed that my tour guide would be Luke Lestrange, the nephew of Bellatrix Lestrange!
Luke was extremely knowledgeable about all things Harry Potter, and he made the tour a lot of fun for adults and kids alike. Tours run twice daily from Tuesday to Sunday and cost 16 pounds for adult muggles and 14 pounds for young muggles.
Feeding Parakeets
Recommended by Lauren from Always Find Adventure
Feeding the ring-necked parakeets at Kensington Gardens next to Hyde Park is such a fun and unique thing to do in London all year round. These birds are large and green, and spend time in the trees around the park, but are generally located in this one spot because people come to feed them there. One or a few at a time will come directly into your hand, arm, or shoulder.
This experience is free! All you need is to bring food such as apples, sunflower seeds, or peanuts. You can conveniently find these items in the Hyde Park Superstore closeby.
I suggest wearing a jacket or clothing that you don't care about just in case of 'accidents.' Also, bring napkins and hand sanitiser to clean your hands afterwards.
Getting there: Lancaster Gate Station is the most convenient London underground stop. Walk towards Kensington Gardens and find the Peter Pan statue. It's to the right of the Peter Pan statue among the trees.
Spun Candy, candy-making classes in East London
Recommended by Globetotting
London's best answer to Willy Wonka's Chocolate Factory can be found at Spun Candy. This candy-making workshop is the best way to spend an afternoon for anyone with a sweet tooth. The workshops are located in east London, near the city. The classes last from one- to three hours and are led by a team of talented candy makers who will be teaching you everything you need to know about making sweets.
There are various workshops on offer from simple lollipop-making and creating candy flowers to cooking crunchy honeycomb and mastering the art of crumbling fudge. Perhaps the most challenging – particularly for those who struggled with art at school – is the Candy Face Making classes. During this 90-minute class, you learn to make a life-size lollipop that looks just like you – or anyone else that you choose.
The Spun Candy staffs are all hugely talented artists and sculptors and the shop is filled with lollipop faces of famous people. They will be on hand if your own self-portrait begins to look less Jekyll and more Hyde. Workshops start from £60.
Watching Wild Deer in Bushy Park
Recommended by James from The Travel Scribes
It's the second-largest Royal Park in London and one of the most beautiful – Bushy Park, a park surrounded by the suburbs of Teddington, Hampton, Hampton Hill and Hampton Wick.
A bit further out of London itself (it's really perched on the border with a neighbouring county, Surrey), it's well worth the trip as you are able to spend at least a few hours meandering its many walkways. You'll find glimmering ponds, and gardens but our favourite part is the grasslands which are home to huge herds of red and fallow deer. Deer watching is definitely one of the most fun things to do in London.
More than just deer spotting, you'll definitely see a lot of birdlife, with woodpeckers and kingfishers often to be seen in the park. It is also one of the original locations for the famous London Park Runs so if you fancy a quick jog around the park with hundreds of other amateur runners, get down there on a weekend.
Other sights include the Diana Fountain, a bronzed statue of goodness designed back in 1637 and situated at the heart of Chestnut Avenue, the road that bisects the park itself.
If you're more a formal gardens enthusiast, a trip to Bushy Park should definitely be combined on your London itinerary with a trip to Hampton Court Palace, a stone's throw away from the park.
The Palace, a favourite hangout for King Henry VIII (the park was actually his hunting grounds) - boasts some of the most beautiful gardens in London which are actually free to visit every morning between 9.00 and 10.00 am.
One New Change Viewpoint
Recommended by The Thought Card
The Roof Terrace at One New Change is one of my favourite viewpoints offering the best views of London. Not only is admission free, but since it's open from 6 a.m. to midnight daily, you can enjoy sunrise and sunset or visit as many times as you like throughout the day.
Take the lift to the sixth floor and take in breathtaking views of London's skyline (squint to see London's Eye in the distance) and enjoy a close up of St. Paul's Cathedral, one of London's famous landmarks. Afterwards, grab a cocktail and tapas at Madison's Restaurant and Bar or shop at any of the high-end retailers at the mall.
Brick Lane market
Recommended by A Rai of Light
Located in the heart of East End, Brick Lane market is one of the better street markets and a particularly fun thing to do in the city. Here you will find a variety of independent vendors offering a great array of items. Everything from traditional London souvenirs and gifts, to antiques, vintage clothes, books, and organic handcrafted items.
The market is also a real treasure for food lovers, featuring cuisines from around the world. A big feature of Brick Lane Market is the Sunday Upmarket and Backyard Market, situated inside the Old Truman Brewery. A popular choice for art lovers and bargain hunters, the market runs on Sundays from 10 am - 5 pm.
There are often numerous street performers and musicians around, adding to the already vibrant and busy atmosphere. It is easy to get to from central London with Aldgate East being the nearest tube station. Shoreditch High Street overground station is also a short stroll away.
The Old Operating Theatre
Recommend by Dagney of Cultura Obscura
The Old Operating Theatre is a unique place to visit in London, although it might not be for everyone.
So what is it? Dating back to 1822, it is the oldest surviving operating theatre in the UK and the original site of St Thomas Hospital. The theatre was used as a way to teach trainee doctors and nurses about procedures and medicine. Everyone would sit in the circular seating area to observe. This was, of course, well before the time of anaesthetic and antiseptic, and many of the theatres had quite high mortality rates.
In 1862, the Charring Cross railway was built through part of the St Thomas Hospital and it was relocated to Lambeth. The operating theatre was boarded up and forgotten about until 1957 when it was uncovered by accident. It was then converted into a museum.
Today visitors can climb the narrow staircase up to this fascinating slice of history and learn about the evolution of medicine. Tickets cost £6.50 for adults or £3.50 for children. It is highly recommended to book a seat for one of their weekend talks.
God's Own Junkyard, Walthamstow
Recommended by CK Travels
As seen in the movies and magazines, a secluded industrial estate in Walthamstow is home to God's Own Junkyard, a celebration and nirvana of neon signs. Started by Chris Bracey, who became renowned for making Soho strip joint signs (Soho London, not New York), this is a warehouse packed to the rafters with some of the most original and unusual 'lit' artworks.
From a Jesus with a gun too large luscious lips, there are provocative and stimulating sculptures and lights to suit all tastes. After walking around the installations, take a seat amongst all the objects and order a drink or snack from the onsite café bar (surely one of the most unique in London)?
God's Own Junkyard is open to the public for free, 3 days a week (Friday to Sunday). They request you don't use cameras (but the use of mobile phones for photography is ok). Instagram a-go-go!
Address: Unit 12, Ravenswood Industrial Estate, Shernhall Street E17 9HQ
London Banksy
Recommended by My Toronto My World
One of the unique things that you can do in London is to find some of the original Banksy street art pieces that are spread throughout the city. The artist has visited the city a number of times and many of the pieces remain visible (and in pretty good condition too).
There are over a dozen London Banksy pieces still available for viewing but some of them are in the outskirts of the city and are probably not practical for most itineraries. The ones within close distances to tourist/more common destinations include a rat under the London Bridge (one of his signature pieces), a rat and Thomas the Tank in Notting Hill, the Falling Shopper off of Bond Street in Mayfair, 2 pieces honouring Basquiat at the Barbican Centre and 3 pieces in Shoreditch.
Given that the pieces are mostly on public domain around the city, there's no price to see them which is great for those on a budget. There are also no restrictions on hours or dress codes but obviously seeing the pieces in the daytime is better for photography purposes.
The only real exception to this is the two pieces that can be found in the beer yard of Cargo (in Shoreditch). There is a gate that is closed when the business is not open. Their website doesn't have official hours but I've had the best luck in the early evening (around 6-7 pm).
Walking in Richmond Park
Recommended by Travel Lexx
Escaping London's hustle and bustle is no mean feat and while Richmond Park is hardly a locals' secret, few visitors make the easy journey to experience its delights. The largest of London's Royal Parks, it is a haven for walkers and cyclists, offering a range of routes suitable for all abilities.
There are numerous walking trails to stroll along and always a new, hidden corner of the park to discover. Check out Isabella Plantation with its 40 acres of woodland gardens or get a famous view of St Paul's Cathedral from King Henry's Mound. After over 100 visits to the park, I continue to find new things on my weekly walks! My favourite is the 11.7km Tamsin Trail that circumnavigates the park and takes around two hours to complete.
If that sounds like hard work, there are cafes dotted around the park offering refreshments. After exploring the park, make sure to linger in the area – Richmond is full of atmospheric pubs, riverside eateries and historic buildings – before catching your train.
Richmond Park can be visited all year round and is especially magical under the cover of snow. Pedestrian gates are open 24 hours so you won't get locked in.
The magical world of MinaLima
Recommended by Chronic Wanderlust
Wizards and Muggles, listen up! Not so hidden in the streets of Soho, you'll find a truly magical place that is open to all magic and non-magic folks. It's the house of Miraphora Mina and Eduardo Lima - short MinaLima.
Those two were responsible for the graphical props of the magical universe of Harry Potter and Fantastic Beasts. And here on Greek Street, they have created a unique experience that fills several floors of a small house that could just as well be located in Diagon Alley. Take your time and dive right in. You'll feel just as attending Hogwarts while observing the different graphic designs - I would have loved to move in.
The House of MinaLima is open daily from 10.30 am until 7 pm. The best time to visit is on a weekday in the morning. There is no entrance fee due. However, you'll want to budget for some magical souvenirs like a notebook looking like the Advanced Potions Making school book by Libatius Borage. You can even get an original Hogwarts letter addressed to yourself or someone deserving.
Eat Pie, Mash and Liquor – London's Original Street Food
Recommended by A Social Nomad
London's original street food dates to the 18th century when fast food was eel pie with potato mash. The eels came from the River Thames and were in plentiful supply and potatoes were cheap and filling.
The very filling pie and mash were served with liquor – which used to be the water that the eel was cooked in. Today's pie, mash and liquor in London, sees minced beef or vegetarian pies, the same mashed potato and liquor that's made of chopped green parsley and special family recipe ingredients.
Successful street food vendors opened pie and mash shops and you'll still find some of these original shops in London's East End. The oldest is Manzes at 87 Tower Bridge Road, Bermondsey.
To eat pie, mash and liquor in a proper East End London way you should cover your pie with liquor and then liberally sprinkle it with salt and vinegar.
Postal Museum & Mail Rail
Recommended by One Trip at a Time
Visitors to London will no doubt use the underground at some point, but did you know there is another underground railway in London? There is and it was built purely to carry the mail to avoid the congested streets above!
No longer used by the post office, the Mail Rail has been turned into an attraction as part of the Postal Museum where visitors can ride trains that transported the post across central London.
Once you've squeezed into the compact trains, they head off into the tunnels and you'll have a guided tour of some stations, a description of how the network was built, glimpses into other tunnels, and even a train graveyard.
At one station, the whole process is brought to life with projected animations on the walls to show what used to happen on this relatively unknown railway. It's a fascinating insight into the history of Mail Rail and a great chance to ride on such a tiny underground railway.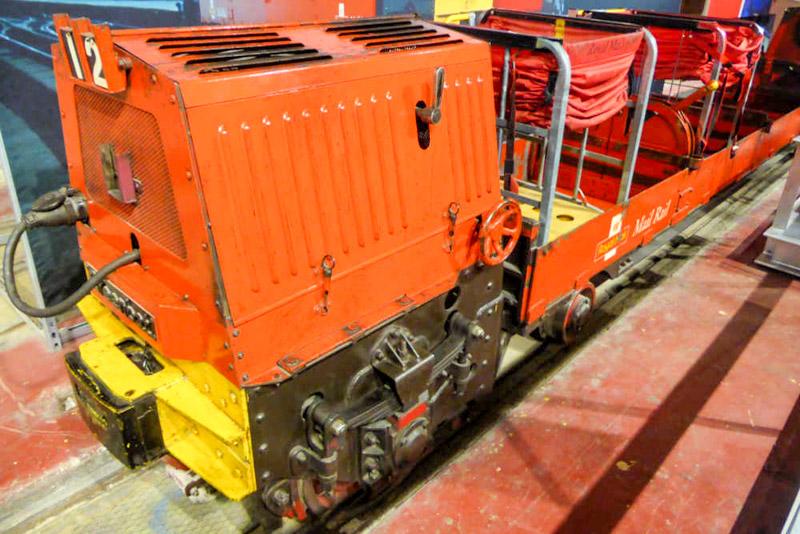 Once you've had a ride on the Mail Rail, you can head across the street to the Postal Museum. Here you can learn all about the history of the Royal Mail from the origins of the service, to its famous stamps such as the "Penny Black", to the design of its distinct letterboxes.
This is a great activity for rainy London days as it is all inside. Prices are £17 for adults with discounts for children, students, concessions, or if you purchase in advance online (which is best to do to guarantee your Mail Rail ride time).
Spitalfields City Farm
Recommended by Heather from Raulerson Girls Travel
Finding a 1.3-acre farm in the middle of London is a surprise. But an even bigger one is that Spitalfields City Farm is free of charge. Located by the Brick Lane Market, this farm and petting zoo is a unique and fun family activity to do in London.
It is open on Tuesdays through Sundays from 10 a.m. to 4 p.m. If you are coming to the market on a Sunday, take a detour and stop in and pet the animals. You can find donkeys, miniature donkeys, goats, sheep, ducks, chickens, bunnies, and one very fat and round pig.
In one area of the farm, you might even come across a wandering goat or a wayward cat. You can volunteer to work with the animals or in their gardens, come for an art workshop, or visit after school. The farm is completely run on charitable donations. Be generous when you visit to keep this wonderful farm in operation for generations to come.
Highgate Cemetery
Recommended by It's all trip to me
London is a city of wonders and one of the most visited destinations in the world. Alongside its many must-see attractions, London boasts quite a few quirky ones too. A visit to Highgate Cemetery, an enchanting graveyard dating back to the Victorian Era, is definitely one of the most fun experiences you can have in the UK capital.
Highgate Cemetery was built in the 19th century when the city's population exploded from 1 million to more than 6 million and the need for large burial grounds for the dead became prominent. Nowadays, although still a functional graveyard, Highgate Cemetery is also an oasis of lush greenery and gorgeous architecture in the heart of London.
The cemetery is divided into two sections: the East and the West. Among the two, the West Cemetery is by far the most impressive for being home to spectacular monuments and sculptures.
Visiting the West Cemetery is by guided tour only. The latter costs £12 per adult and lasts about 70'. During the tour, one can listen to the stories of many of the cemetery's most famous residents as well as marvel at the splendid architecture.
The best time to visit Highgate Cemetery would be spring or summer so as not to let bad weather get in the way of an otherwise marvellous walk among century-old trees, wildflowers and pieces of art of the utmost beauty.
Geocaching around London
Recommended by The Silver Nomad Blog
For a totally free and fun way to see more obscure parts of London, try Geocaching. If you like solving clues and riddles, Geocaching is for you. It has been around for 20 years and with over 2,000 caches in central London, you may have walked past them and not even realised.
Geocaching is basically an international treasure hunt. People hide caches which are added to the list on the Geocaching.com website and app. These caches can be little boxes, tiny magnetic capsules, they can be virtual, where you are learning facts and observing erosion of buildings, stones, pavements or walls. Some caches are so small they only hold a paper logbook which you sign to say you have been there; others have trinkets or toys that you can swap for one of your own.
There are geocaches to discover all over London: Buckingham Palace, Trafalgar Square, Camden Market, The British Museum. Find them in Leicester Square, Hyde Park, Paddington Station or even get yourself snapped on the webcam at the famous Beatles' Abbey Road crossing.
Geocaching does not have an age limit, children and adults of any age can join in and enjoy the seeking out. Careful though, it can get addictive!
Greenwich District
Recommended by Travel Photo Discovery
A visit to London's Greenwich district is a fantastic combination of what's old and new combined in London. Considered the heart of London's historic maritime past, Greenwich houses the grand maritime museum and also has so many fantastic places to visit around the old town centre.
You can get to Greenwich by bus, ferry or even metro system but it is fantastic to approach the town by water and see the glories of the city's maritime past with the Historic University of Greenwich visible from the water and the ultra-cool and modern 02 complexes also on the water's edge. If you are into the historic aspects check out the maritime museum, the Royal naval college and hospital, the Queens House and the impressive Cutty Sark ship that is now a living museum. For newer modern fun you can visit the 02, Emirates cable car, Excel and the Now Gallery and even a cool ecology park right on the water's edge.
The old town centre is fun to also explore with a cool farmers market that is a great way to see and mix with the local crowds. Or better yet explore the cool boutique stores and have a nice meal at a pub or any of the fantastic restaurants in the area after a nice tour of both old and new sections. For more inspiration, check out my post on visiting Greenwich borough here for more images and places to see in this fantastic district of London.
Museum of Brands, Packaging, and Advertising
Recommended by Travelers Universe
Notting Hill has more to offer than the Notting Hill Carnival, junk markets and colourful house facades. Here you can find one of London's hidden gems - the Museum of Brands, Packaging, and Advertising. This museum is a real gold mine for graphic enthusiasts and nostalgics!
The evolution of commercial packaging design is illustrated here. The museum offers a trip through time from Victorian times to the present day via 12,000 original packagings. You will see and understand how communication has evolved visually over the past decades.
In the foreground are ubiquitous English brands, with which you are still confronted every day on the British island. The museum was established by Robert Opie, a compulsive collector fascinated by everyday things. One day, he was eating a packet of Munchies and rather than throwing the packet away, he decided to keep it and preserve for posterity the history of the chocolate snack.
This is the secret of the museum's success. Packaging constantly changes but products rarely do, so each brand carries an emotional continuity that tugs on your personal experiences. Anyone interested in branding or packaging design will spend hours here!
Fine Dining at Sketch
Recommended by Knycx Journeying
While London has a rich history and culture, the city also has an exciting culinary scene. I had a friend who visited London for only a day and we decided to have a unique experience in Sketch. Located in Mayfair, Sketch is a well-known boutique restaurant that caters not only to your tongue but also to your eyes.
My suggestion, visit the restaurant for lunch as the pricing of their lunch menu is lower yet you still get to experience what the place has to offer. Don't forget to take a tour of the different rooms – the Lecture Room & Library is a sophisticated, exclusive and luxurious Michelin-decorated dining room.
The Gallery is a European Gastro-Brasserie in striking pink that's perfect for afternoon tea and photo-taking. The Parlour is a lounge for breakfast and evening cocktails. The Glade is a beautiful room painted with an enchanted fairy-tale forest by artist Carolyn Quartermaine. Finally, the toilets are capsules that make your bathroom trip so much fun.
Check out the Sketch website for the menu and prices, while they didn't have a strict dress code for the visit, I would recommend dressing up or wearing smart casual for the occasion.