Iceland is an island in the North Atlantic ocean with a population of approximately 357,000. More than 60% of Iceland's population live in Reykjavik, the capital city.
In total there are 63 towns and villages in Iceland and most of them are on the coastline.
Iceland is a unique place and it a great place for adventure and nature lovers. In this post, I share some fun facts about Iceland, so you can get more familiar with Icelandic culture, people and landscapes.
1. Iceland was one of the last places to be settled by humans
We, humans, probably saved the best for last. Iceland was one of the last places on Earth where we settled. Over 1,100 years ago Vikings from Norway discovered Iceland by accident.
2. Iceland is the safest country in the world
According to the Global Peace Index, Iceland is the safest country in the world for the 12th consecutive year. In Iceland, you don't need to worry about violent crimes. This country has one of the lowest crime rates in the world.
3. Iceland is home to 200 waterfalls
You can find waterfalls almost everywhere in Iceland. There are more than 10000 waterfalls around the country, and just over 200 of them are named. Some of these waterfalls are the most beautiful and most visited waterfalls in Europe.
4. The world's first elected female president was in Iceland
While many countries in the world never ever had a female president, Iceland had the world's first democratically elected female president in 1980. She (Vigdís Finnbogadóttir) served as the head of state for 16 years.
5. You can swim outside at any time of the year
Iceland, as you can guess from its name, is a cold country, but did you know that there are many outdoor swimming pools and hot springs around the country? No matter if the temperature falls below freezing, you can still swim in the heated pools or hot springs while being outdoors.
6. Icelanders don't have surnames
Icelanders have continued to use their traditional name system which doesn't have surnames. Their names look like this: first name + son of or daughter of + their father's first name.
There are some exceptions where kids can use their mother's first names instead of their father's.
7. 11% of Iceland is covered by glaciers
Glaciers are one of the main attractions in Iceland and there are 269 named glaciers in this country. Iceland is also home to Europe's largest glacier, which is located in the south.
8. Watch the Northern Lights in Iceland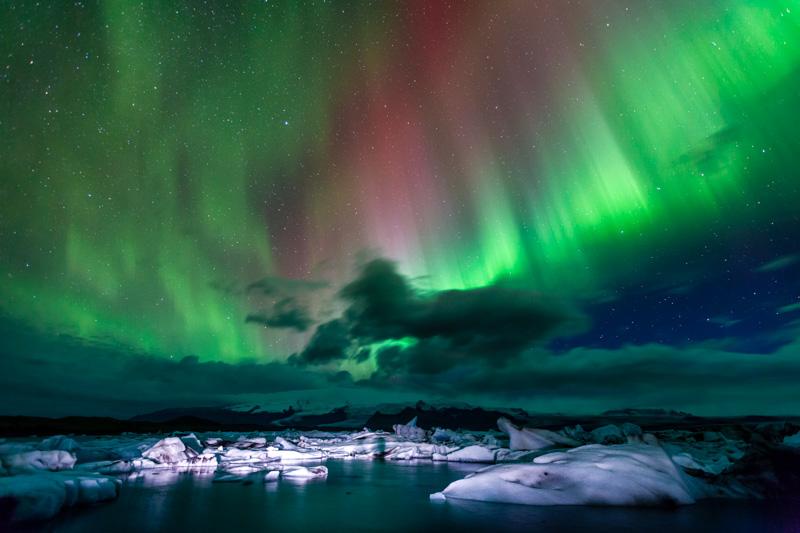 Iceland is one of the best places to watch the northern lights since it is very close to the Arctic Circle. Who doesn't like to witness one of the most natural wonders? If you plan to visit Iceland for this reason, make sure to be there between September and March. This period is the best time for northern lights viewing as the nights are longer.
9. There are no mosquitoes in Iceland
Are you looking to get away from mosquitoes? Iceland is your place. Iceland is home to approximately 1,300 types of insects, but there aren't any mosquitoes. No one knows the exact reasons, but scientists suspect that Iceland might not be mosquito-free forever, because of global warming.
10. Many Icelanders believe in elves
54% of Icelanders either believe in elves while others say "it's possible they exist". Elves are hidden small people who can make themselves visible at will. You might find it strange, but a former member of parliament even swore his life was saved in a car accident by a family of elves. If you want to know more about it, I recommend you to watch the comedy movie of the Eurovision Song Contest: The Story of Fire Saga.
11. Beer was illegal in Iceland until 1989
A century ago, Iceland banned all alcoholic drinks, but later, in the 1920s and 30s, the ban on wine and spirits was lifted. For some reason, beer was banned in Iceland until 1989, but now, beer is one of the most popular alcoholic drinks in Iceland.
12. 1 in 10 Icelanders publish a book
Iceland has the highest number of books and other publications per capita. There is a phrase in Icelandic that says "everyone gives birth to a book" and Icelanders showed that this is true. 10% of the country's population will publish a book in their lifetimes.
13. Iceland is home to 130 volcanoes
Iceland is one of the most volcanic places on Earth. There are approximately 130 active and inactive volcanoes in this country. And on average, there is an eruption every 5 years in Iceland. Much of Iceland is covered in lava fields.
14. Iceland is an eco-friendly country
Around 85% of the total energy use in Iceland comes from renewable resources. Geothermal power is the primary source of energy in this country. Icelanders also respect the environment by reducing food and packaging waste.
Iceland is a very clean and beautiful country, if you plan a trip there, make sure to respect the locals and the environment too.