We love adventure and travelling, but travelling abroad during weekends is not always an option. That is why we try to explore the UK as much as we can, trying to stay active by going on some weekend adventure trips.
There are numerous places in the UK where you can have a short break from the modern and digital world and do some physical activities.
In this article, I and my fellow travel bloggers share our list of the best places in the UK where you can seek adventures and outdoor activities.
This post contains affiliate links and if you click one I may receive a small commission at no extra cost to you.
Wasdale Head, Lake District
Recommended by Dave Chant
Nestled in the Western Fells of the Lake District lies Wastwater, England's deepest lake at 79 metres. Whilst tourists flock to Lake Windermere, adventurers should head here to find more of the true ruggedness and beauty of the area. This is a hiker's country, although the lake is also popular with scuba divers. With two days, I would suggest tackling the Mosedale Horseshoe and Scafell Pike.
The latter is England's highest peak at 3210 feet, but the Mosedale horseshoe is the real draw. It's 22.5km long, though there are many similar iterations. My favourite is to park at the Wasdale Head Inn (or on the green nearby), walk down the road, and tackle clockwise Yewbarrow, Red Pike, Scoat Fell, Steeple, Pillar and Kirk Fell.
Yewbarrow is not to be missed with beautiful views across the lake and a fine scramble off it. The steeple is slightly off route but a fantastic diversion. Finally, if Kirk Fell is too much for a day, then you can drop down Black Sail Pass before it. Wasdale Head Inn makes a classic stop for a Lakeland pint at the end.
On the second day, Scafell Pike is yours for the taking, either by heading up to Sty Head tarn and taking the more scenic Corridor Route or as a straight (and shorter) up and down Lingmell Beck.
Lack of public transport makes travelling by car the best way to explore. Stay at Wasdale Head Inn which has rooms, self-catered apartments and a small campsite, or at the National Trust campsite that welcomes tents, campervans and has pods to rent.
The Isle of Wight
Recommended by Mansoureh
England's largest offshore island is an ideal place for who is searching for weekend adventures and outdoor activities. The only way to get to the Isle of Wight is taking a ferry or a hovercraft.
If you have your own car you can stay in some rural areas, but if you want to rely on public transport, I would recommend you to stay in Newport where there are buses going to all parts of the island.
Otherwise, you can explore the island on your bicycle. There are more than 200 miles of cycling routes for all levels. All these routes take you to some of the most beautiful scenery in the UK. Cycling around the island gives you an opportunity to discover some hidden gems and an incredible sense of freedom.
If you fancy walking more than cycling, you are in the right place. There are various trails and footpaths for all levels. My favourite one is the route from Freshwater Bay. The length is 6 miles (9.8 km). Make sure you have your camera with you since this route takes you to The Needles, the most iconic point on the island.
When the weather is good, you can visit the Needles by kayak. Kayaking is another fun way to explore the Isle of Wight coastline.
Edinburgh hiking & Glentress biking
Recommended by Gemma, Everything Edinburgh
Although Scotland is known for its sweeping landscapes, most visitors think you have to head to the Highlands for an adventure trip when there's actually outdoors activities to do in and/or close to the capital, Edinburgh.
Firstly there are hiking routes in the city. Arthur's Seat is a relatively easy yet scenic hike which takes under two hours. This hill is the highest point in Edinburgh at 251 metres (823 ft).
The trek starts in Holyrood Park and while the incline can be quite challenging for those who have been hitting the whisky hard, it's a popular path done by families and tourists alike.
At the summit, you can see over the city to the Kingdom of Fife with the River Forth between the two.
Salisbury Crags, the cliffs by Arthur's Seat, is an even easier hike peaking at 46-metre (151 ft). Both routes are popular things to do for free in Edinburgh.
Looking for something more challenging? Let's move to the south-west of the city to the Pentland Hills.
The Pentland Regional Park's range is 20 miles with over 100km of signposted routes so there is plenty of scope for a morning, full-day or weekend hike with camping.
This regional park scales three local authorities and is partly privately owned so watch out for gunshots... by hobbyists.
Car parks can be found at different areas of the hills depending on your desired route. Public buses also operate from Edinburgh.
If biking is your preference, do the 30 miles drive from Edinburgh to Glentress. This myriad of biking trails and daredevil jumps are well used in the Tweed Valley Forest close to Peebles. While you're there, check out Go Ape, an assault course built up high in the trees.
If your preference is an indoor adventure, Edinburgh's Alien Rock climbing centre or the indoor skating rink, The Boardwalk, are worth considering. Both are located in Leith/Newhaven.
Public buses are available from the city centre.
Peak District
Recommended by Roshni
The UK's first national park, the Peak District, is the perfect place for an adventure-filled weekend getaway. From mountain biking to rock climbing, caving and hiking, the Peak District is full of outdoor activities to keep you busy.
One of the best places to base yourself is the charming and quaint village of Castleton in Hope Valley. Castleton is home to Mam Tor, one of the most famous hikes in Derbyshire and is easily accessible by train via Sheffield in only two and a half hours from London.
Castleton is also situated close to three of the best show caves and caverns in the UK, Speedwell Cavern, Peak Cavern and Treak Cliff Cavern.
One of the best value places to stay is the YHA Castleton Losehill Hall, a Grade II listed Gothic mansion, that has been newly renovated and is situated just a few minutes outside of Castleton village. There are a number of walks possible from the front door of the YHA, making it great for hikers.
Dunnet Bay, Scotland
Recommended by Charlotte Blackburn
Situated on the North East coast of Scotland and stretching over beautiful golden beaches there are plenty of activities to take part in for an adventure weekend.
As Scotland has less population in its entirety than Yorkshire, means that you're not going to be surrounded by hoards of people. That means that if you struggle with anxiety while travelling like me then this destination is going to be incredible for you.
Dunnet Bay is a surfers paradise. It is quiet, so fewer people to share the waves with, and great breaks. You might even occasionally be kept company with a seal! If you want to take a break from surfing, there is a huge coastline to walk along and explore. As well as plenty of birdlife to spot. It is such a relaxing place that you can get your fill of adrenaline whilst allowing yourself to soak up the atmosphere.
I would recommend going between March and May just before the midge season. As the further North you go the worse they get, and in beautiful weather, they come in clouds.
There is a small village nearby with places to eat, drink, shop and stay. Though I would always recommend staying at the Dunnet Bay Caravan Club site, which allows both tents and caravans on its site. As it is on the beach itself, it has great facilities and beautiful views.
Seven Sisters
Recommended by Eniko
The Seven Sisters Country Park is the perfect getaway for adventure and nature lovers. The Seaford to Eastbourne path is a popular hike near London with scenic views of the sea and the Seven Sisters Cliffs.
Visiting the park makes a great day trip from London, as it is easily accessible by public transport. You can take the train to Brighton or Eastbourne and then the local bus will take you to the Visitor Centre.
But hiking is not the only activity that the area has to offer. Buzz Active Cuckmere is a local outdoor activity centre. They run sailing, kayaking, canoeing and paddleboarding tours and courses.
The Cuckmere River is very quiet with the opportunity to spot wildlife. On the tour, you can even get some lovely views of the Litlington White Horse.
If you are more experienced, you can even paddle down the river all the way to the sea, where you will be greeted with the magnificent views of the white chalk cliffs. If you want to try a few different activities, you can spend the night at one of the local campsites.
Bikepacking in the Cotswolds
Recommended by Wendy Werneth
You know about backpacking, but have you ever heard of bikepacking? Bikepacking is a multi-day adventure in the outdoors on your bicycle. Instead of carrying all your gear on your back, you can let your bike serve as your porter, placing all your stuff in saddlebags that hang over the sides of your bike.
Vegan Adventure Holidays runs bikepacking micro-adventures in the Cotswolds on weekends from May to September. It's the perfect opportunity to step away from your digital devices and flickering screens for a weekend and get back to nature.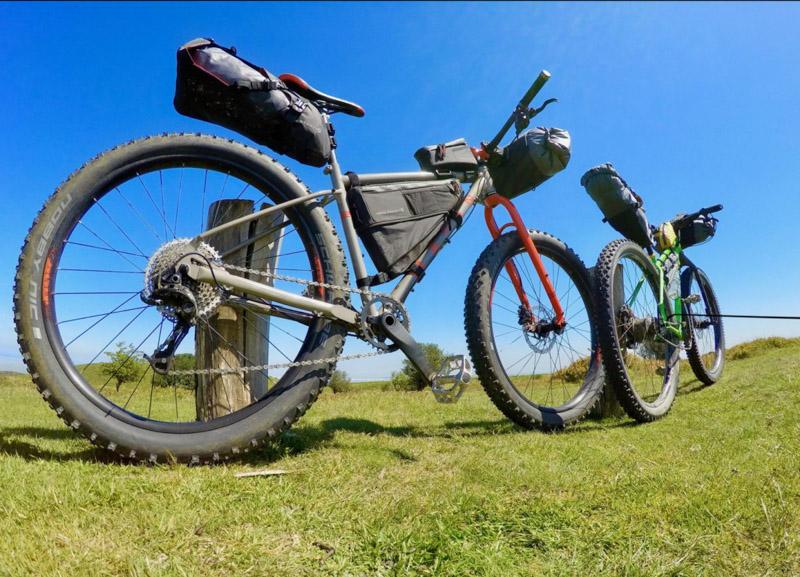 The Cotswolds are just over an hour away from London by train, and once you arrive the adventures begin. You'll get some invaluable tips about biking packing from an experienced instructor before setting off on your bike through the second largest protected landscape in the U.K. In the evening, enjoy a well-earned vegan campfire meal under the stars.
Isle of Skye
Recommended by Kat
If you like hiking, travel photography or nature, the Isle of Skye is a perfect adventure getaway.
There's so much to do, you definitely won't be able to see it all in a weekend- but there's an excuse to come back again!
For the adventurous, you can try kayaking, rock climbing or abseiling. You can also swim in natural rock pools or hike to the magical Fairy Pools.
You can hire bikes and cycle around the island- a great way to see some of the more hidden places (and find all the best pubs as you go!)
Skye is fantastic for anyone who wants to combine the outdoors with photography. The large skies are perfect for sunset photos. This is also a fantastic place for photographing the night sky as light pollution is incredibly low.
It's also amazing for wildlife sightings, both in and out of the sea. Stand quietly by the shoreline and you'll probably see otters, seals and dolphins playing in the shallows. We once had a wild dolphin in the bay within 20ft of us!
The weather is very changeable on Skye, so be cautious before you set off into the hills. There are plenty of tours and guides you can book if you'd like to see the best points. Make sure you bring warm clothing- it can get very cold throughout the year.
If you are creating your own 2-3 day Isle of Skye itinerary, make sure to include activities for dry and wet weather as the weather can be completely different from what was forecast!
The Forest of Dean & Wye Valley
Recommended by Richard
Located on the England & Wales border on the western edge of Gloucestershire lies the Forest of Dean & Wye Valley.
The Forest of Dean is a great place for adventurers to get active in ancient woodlands. The area is a popular area for walkers and off-road biking, with routes to suit any ability, you can even hire bikes on your stay from a variety of providers.
The Wye valley incorporates the beautiful River Wye, which is made up of limestone gorges and beautiful scenery. A canoe trip is a popular choice to appreciate the beauty of the area including experiencing some grade 2 rapids trips range from ½ day – 5-day experiences.
Symonds Yat village is home to many outdoor pursuit centres as well as kayak hire companies and is in the heart of the AONB. A top place to stay in the area is The Saracens Head a boutique bed and breakfast with a very good restaurant on-site, there are also plenty of campsites in the area for those that like to camp.
The Brecon Beacons, Wales
Recommended by Mansoureh
The Brecon Beacons National Park, in the south of Wales, is an excellent place for an adventure weekend getaway. This National Park offers a variety of outdoor activities for all fitness levels.
The best way to get here is to drive. The Brecon Beacons is just a three-hour drive from London and 30 miles from Cardiff.
There are different hiking trails, one of the most popular ones is the Four Falls Walk. You can start this 4.5 miles (7.3 km) route from the Cwm Porth car park. By taking the trail you will walk through some beautiful woodland that leads you to four stunning waterfalls. Make sure to have your waterproof jacket since you need to walk behind one of the falls.
There are numerous camping sites and accommodations in the park, my favourite one is Parkwood Outdoors Dolygaer which offers different types of accommodations including cottages, lodges, and chalets and it has a camping site too. When you stay here you can join some of the organised group activities like canoeing, kayaking, stand up paddleboarding, and white water rafting.
You can also head to the south where you can find Bike Park Wales. Here you can find several downhill mountain biking tracks. If you are new to mountain biking, you can also take a course here and enjoy riding in some green or even blue tracks.
Glen Coe, Scotland
Recommended by Kathi
Glen Coe is one of the most iconic places in the Scottish Highlands. Steeped in the bloody history of Clan rivalries and the Jacobite uprisings, this dramatic mountain valley is also jaw-droppingly beautiful.
Endless hiking trails criss-cross these lands and pose challenges for hikers on all levels. More experienced mountaineers might want to tackle the peaks framing Glen Coe: Buachaille Etive Mor, the Three Sisters or the ominous Aonach Eagach mountain ridge. But simpler walks are leading to Glencoe Lochan, the Hidden Valley or up the Pap of Glencoe.
Not into hiking? There are many other adventurous things to do in Glen Coe. From sea kayaking and standup paddling on Loch Leven to canyoning or climbing Scotland's only Via Ferrata in the nearby village of Kinlochleven. Glen Coe is also great for mountain biking, popular among paragliders and you could even try wild swimming!
Glencoe village is easy to get to by bus, but a car will give you the greatest flexibility to get to trailheads and other adventure activities.
If your budget allows it, I recommend staying at the historic Kingshouse Hotel at the entrance of the valley. There are also many options in Glencoe village ranging from campsites and glamping pods to traditional B&Bs and hot tub lodges.
Snowdonia, Wales
Recommended by Pauline
When it comes to adventure destinations in the UK, Snowdonia sets the standard!
Located in the North, Snowdonia is one of the 3 National Parks in Wales and there are so many things to do there!
The most popular activity is hiking Mount Snowdon, the highest peak in Wales. You can take one of the 6 paths up to the summit. Alternatively, you can also jump onto the Snowdon Mountain Railway.
But Snowdon is not the only place that offers amazing hikes. If you want to get more of those breath-taking landscapes, you can go to Penygader.
If you are a thrill-seeker, you will have plenty of options to choose from. Snowdonia is home to ZipWorld Velocity 2, the fastest zipline in the world! This amazing zip line starts at the top of Penrhyn Slate Quarry. You'll glide above a lake while looking at the Welsh coast on the horizon.
The best way to get to Snowdonia is by car. It will give you more flexibility. That being said, it's also accessible by train. The main station is Betws-y-Coed. From there you can head to the visitor centre and book tours.
Snowdonia is also a great place to go camping. You will find many campsites near Betws-y-Coed. If you'd rather a bit more comfort, you can also book a room in one of the B&Bs.
So pack up your tent and hiking boots, you're just about to explore one of the most beautiful national parks in the world!
Cheddar Gorge Trail
Recommended by Darek
The Cheddar Gorge trail, near Bristol, is one of our favourite walking routes in the whole United Kingdom – a perfect choice for an adventure weekend!
Cheddar Gorge is the largest limestone gorge in Great Britain. It is located near the village of Cheddar, in the southern part of the Mendip Massif, in the English county of Somerset. The rocks that make up the gorge are full of caves, and one of them found in 1903 the oldest human skeleton in Great Britain (9,000 years old), called the Man of Cheddar.
Cheddar Gorge, along with caves and the nearby village, is a popular tourist attraction attracting about half a million tourists a year. The route around the Cheddar Gorge is a great choice for anyone who wants to go for a solid walk and at the same time enjoy the beautiful views. Set off early in the morning to avoid the crowds of tourists.
Jurassic Coast
Recommended by Mal
Jurassic Coast is an excellent location for an active weekend away, and it happens to be a UNESCO heritage site, recognised for its unique beauty.
Jurassic Coast is located on the southern coast of England, and it stretches from Exmouth in Devon to Studland in Dorset. It's 2.5 hours away from London and 1 hour away from Southampton, and the best way to get there is going by car.
A great place to stay in the area is Durdle Door Holiday Park, where you can rent a cool skylight cabin! Take an epic hike along the coast taking in some stunning views of white cliffs, green fields and turquoise sea.
Visit Durdle Door, which is a natural limestone arch and a very iconic place! Walk from Durdle Door to Lulworth Cove for more gorgeous views. The village is very picturesque, and it has that English coastal vibe to it with cute souvenir shops and ice creams places.
From here, you can take a boat ride along the coast or if you're more of an adventure-seeking type, take part in coasteering and other activities including archery, mountain biking, orienteering and bushcraft.
Gower Peninsula, Wales
Recommended by David Angel
The Gower Peninsula is the adventure playground of South Wales. It was the first place in the UK to be declared an Area of Outstanding Natural Beauty back in 1956 and draws visitors from all over the world.
Most visitors come to enjoy the amazing Gower beaches, which are among the best in the world. Rhossili, Three Cliffs Bay and Oxwich are awesome, vast stretches of golden sand with gorgeous scenic backdrops to boot. However, Gower is also a great place for coastal hiking.
Rhossili is the endpoint for one of the best coastal walks in Wales, the Port Eynon to Rhossili hike. It's less than 6 miles (10 km) long in total, but it's the most challenging terrain in the region, with many a climb and descent. It passes some incredible cliff scenery and two beautiful remote beaches before finally reaching Rhossili beach.
There's a possible diversion walk out to the tidal island of Worm's Head, which you see on your left just before you turn for the final approach to Rhossili. If you plan to attempt this you need to know the local tide times, as the walk is only possible two and a half hours either side of high tide.
Gower is fairly easy to reach by car or public transport. Either way, you'll need to pass through or close to the city of Swansea on the way. It takes an hour and a half to drive from the Welsh capital, Cardiff, to Rhossili.
Hotel accommodation in Gower is quite sparse, with the Worm's Head Hotel in Rhossili and Oxwich Bay Hotel two of the best options. Gower is a hugely popular camping destination, and many bring their caravans for a few weeks each summer.
Yorkshire Three Peaks
Recommended by Daniel James
When looking for Adventure weekend gateways in the UK and looking to really challenge yourself be sure to visit the Yorkshire Three Peaks. Located in the Yorkshire Dales national park this is an adventure trail perfect for those who love the great outdoor.
If you arrive here in October, you can even take part in The Yorkshire 3 Peaks Ultra, which is a 70km marathon. However, on a normal day, you can do the 38.6km long walk, which includes 1585m of ascent where you will cover the three peaks (Pen-y-Ghent, Whernside, and Ingleborough) that makeup part of the Pennine range in the north of England.
No need rush though, this is not a race, you can do it all at your own pace. We set off from Sheffield at 6 AM to be able to arrive at the Yorkshire Dales for around 8 AM. From there, we started the adventure and it took us just under 10 hours in total. We stopped to take photos at every point we could so that added more time to our adventure.
I recommend that you arrive here as early as possible to ensure that you have enough time to complete the trail. Also, remember to pack a decent lunch and sufficient water so you can refuel along the way.
North Yorkshire Coastline
Recommended by Sinead
Hiking the North Yorkshire coastline is a great way to spend an active weekend outdoors.
There is an easy to follow, the dedicated coastal path running all the way from Saltburn by the Sea to the town of Filey. The path forms part of the 109 miles (175.418km) long Cleveland Way which starts in the inland Yorkshire town of Helmsley.
To get to the coastal path, travel to the city of York and then drive across the rugged landscapes of the North Yorkshire Moors National Park. You can pick up the coastal path anywhere along the coast but I would recommend starting in Whitby and walking in a southerly direction.
This is a stunning stretch of varied, dramatic coastline but you will also have the wind at your back! Hike along the windswept coastline savouring the clifftop views of the North Sea, past secluded bays, long sandy beaches and isolated lighthouses.
Look out for the seal colony at Ravenscar and keep your eyes open for fossils on the beaches. Break your journey in the pretty car-free fishing village of Robin Hoods Bay which offers quaint and atmospheric accommodation to weary coastal hikers.
Tenby, Wales
Recommended by Clemens Sehi
The small town of Tenby (Welsh: Dinbych-y-Pysgod) is located in the south of Wales on Carmarthen Bay. It has a dreamy centre and a beach that is particularly beautiful in the short Welsh summer.
Tenby is famous for its powder icing-coloured houses, hidden alleys and the everlasting sound of the waves crashing into the town's rocks. And this is exactly where the adventure takes place. You can easily spend time in Tenby going coasteering, which is a mix of hiking, swimming and cliff-jumping, hop on a jetski or challenge yourself in fishing. Not adventurous enough? Well, there is also a treetops trail and an amazing quad ride that awaits you in the valleys of Tenby.
After all this adventure it's time for a cosy evening. Start following the scent of fresh and homemade fudge that pulls over the cobblestones right to the centre of the cute city. The soft caramel candies are traditionally very popular in Wales. At the latest, the taste of a freshly tapped afternoon pint completes the Tenby experience.