As one of the most popular destinations in the Canary Islands, Gran Canaria boasts a range of accommodations to suit all types of travellers. However, for those seeking a more exclusive and sophisticated experience, adult-only hotels are a perfect choice.
With a focus on relaxation, privacy, and luxury amenities, adult-only hotels offer an escape from the hustle and bustle of everyday life and the tranquillity of an environment without children jumping around or splashing in the pools.
In this article, we put together a list of the best adult-only hotels in Gran Canaria, perfect for those looking for a peaceful and rejuvenating getaway. And if you're looking for more inspiration, be sure to check out our previous article on the top things to do in Gran Canaria.
This post contains affiliate links and if you click one I may receive a small commission at no extra cost to you.
11 Best Hotels in Gran Canaria for Couples
1. Occidental Roca Negra
Cordial Roca Negra, located northwest of the island, is a perfect hotel in Gran Canaria for couples seeking a romantic holiday. It features a swimming pool and a well-equipped spa. Each room has a balcony or terrace that offers a breathtaking view of the ocean, creating a perfect backdrop for a romantic getaway.
The hotel's location next to the charming village of Agaete is perfect for those who want to experience a more laid-back side of Gran Canaria. It is also just a short walk from natural pools, which are unique to the region and mostly known to locals.
In addition, Cordial Roca Negra has a stylish rooftop chill-out zone. The rooftop provides a unique spot for guests to relax and enjoy the stunning views of the ocean and the surrounding landscapes.
"The location was absolutely fantastic, especially waking up to the sea view from the balcony and the view of the mountains on the way to breakfast. It is only a short walk to the strip of restaurants by the port and to the old town. The buffet breakfast range was decent. The room was very spacious. The hotel is doing their bit to be environmentally conscious which is always a welcome bonus." - Shiv
2. Hotel Riu Palace Maspalomas
The Hotel Riu Palace Maspalomas is a 5-star adult-only accommodation in the southern part of Gran Canaria, offering celebrity treatment with world-class service.
The hotel is situated between two of the most famous beaches in the area: Playa del Inglés and Maspalomas, both of which are easily accessible.
All of the hotel's 350 rooms are tastefully decorated and designed to provide maximum comfort to guests.
The hotel features two outdoor swimming pools where guests can enjoy a refreshing swim or simply relax and soak up the sun. Plus, there is a wellness centre on-site that offers a range of treatments. For those who want to stay active, the hotel also has a gym where guests can work out and stay in shape.
"I've been to Gran Canaria a few times, however, this was the first time I stayed at the Riu Palace and I can say without a doubt I will be back. Yes, it's a bit more expensive but it was in my opinion, well worth every penny. The room with the sea view balcony was great - very spacious with a huge bed. The quality and range of food at breakfast and dinner was superb and the staff, from the maids to the waiters and the reception staff just lovely. Thank you for making my week there so wonderful - a stay here is now going to be a little treat to myself annually." - Seymour
3. Veintiuno Emblematic
Veintiuno Emblematic is one of the best adult-only boutique hotels in the heart of the old town of Las Palmas de Gran Canaria. This charming hotel offers guests a cosy and relaxing stay with exceptional services, and an exquisite breakfast on the rooftop. The hotel is located in a prime location that offers easy access to the city's main attractions.
Veintiuno Emblematic Hotels is situated in a historic building that dates back to 1780. The hotel boasts an outdoor swimming pool on the rooftop, which offers guests a stunning view of the historical Cathedral of Santa Ana. This is a perfect place to relax and unwind after a long day of exploring the city.
"Beautiful building very well maintained with lovely furniture. Location could not be better, in the heart of the old town. Roof top bar has amazing views. The breakfast was excellent with high quality ingredients." - Sean
4. Corallium Dunamar by Lopesan
Corallium Dunamar by Lopesan is another amazing hotel in Gran Canaria, ideal for couples looking for a romantic break. The hotel is surrounded by beautiful tropical gardens and boasts an outdoor pool complex.
Recently refurbished, this 4-star hotel is located just 200 yards from Playa del Inglés Beach in southern Gran Canaria. It is just a 10-minute walk from the lively Yumbo Centre, where guests can enjoy a range of entertainment and nightlife options. The Maspalomas Dunes, one of the most beautiful natural attractions in the area, are just a 20-minute walk away.
The hotel's restaurant offers regional and international cuisine, and there are two poolside snack bars where guests can enjoy a light snack or a refreshing drink.
"Nice big room but we were in an 'adapted' room so not sure what 'normal' rooms are like. Room was light and spacious, very clean and beds really comfortable. I did though notice that bed sheet had a tear in it but being picky! Breakfast was great but VERY busy. Great selection of good quality food. In a good location with LOTS of places to eat" - Marc
5. Hotel Cristina by Tigotan Las Palmas
Hotel Cristina by Tigotan is one of the most luxurious and elegant adult-only hotels in the heart of Las Palmas de Gran Canaria.
The hotel features an outdoor swimming pool, which is the perfect place to unwind and soak up the sun. Most of the rooms have a balcony with breathtaking views of the city and Las Canteras Beach.
It is just 50 yards from Puerto de La Luz Port, where ferries depart for Tenerife. The hotel is also within easy walking distance of some of the best restaurants, cafes, bars, and shopping in the city, as well as the beautiful Las Canteras Beach.
"The hotel location is excellent right on Las Canteras beach. We had a balcony room with a lovely view. Breakfast was very good with a wide variety of foods to suit all tastes. The porter who was on duty on our arrival (unfortunately his name eludes me) was friendly and helpful and really was the standout employee of everyone one we encountered during our stay." - Gillian
6. Hotel Faro, a Lopesan Collection
Hotel Faro, a Lopesan Collection is an exclusive adult-only 5-star hotel in Gran Canaria, located just a few steps from the southern end of Maspalomas Beach. The hotel boasts a perfect location that offers stunning views of the stretch of sand dunes and the ocean.
The hotel features two swimming pools, one of which is included in the hotel stay, while the other is located on the rooftop and is subject to additional charges.
Hotel Faro is also well-known for its excellent cuisine, with high-quality service provided in both the buffet restaurant and the à-la-carte restaurant.
"Perfect location on the beach with a promenade in front. Always a good sign when you are offered a drink on checking in. Adults only was a big tick for us. Staff were excellent - very friendly, knew our names and very professional

Restaurant was excellent with timed arrival so as to avoid any rush. Mixture of buffet and a la carte which suited is as the buffet was excellent not your typical mad rush to the buffet. Very tasteful and great choice of food at breakfast and evening meal. Nothing was too much trouble. Would definitely recommend - wouldn't hesitate to book again." - Pamela
7. Club Maspalomas Suites & Spa
Club Maspalomas Suites & Spa is an exceptional adult-only hotel located in the tranquil Campo International Maspalomas area of Gran Canaria, making it an ideal retreat for couples.
The hotel's centrepiece is a large swimming pool, which includes a semi-Olympic-sized lane, surrounded by an extensive terrace with hammocks and Balinese beds. This outdoor space provides an atmosphere of relaxation for guests to unwind.
Guests have free and unlimited access to the spa and the fitness centre. The spa includes a swimming pool with jets and waterfalls, a Finnish sauna, a Turkish bath, and an ice fountain.
"Restaurant and food superb - all staff were exceptionally friendly, efficient, and nothing was too much trouble. Everybody made to feel very welcome. Hotel grounds and facilities also exceptionally clean." - John
8. OCEAN HILL
Ocean Hill is a lovely adults-only hotel located in the charming town of Puerto Rico de Gran Canaria, a popular tourist destination on the beautiful island of Gran Canaria. The hotel is conveniently located just 1.2 km from the stunning Playa de Puerto Rico, one of the best beaches on the island, offering a peaceful retreat for adults looking to relax and unwind in a tranquil setting.
The hotel features a beautiful outdoor pool where guests can cool off and soak up the sun. Buffet and continental breakfast options are available every morning at the hotel, ensuring guests start their day off right.
For those looking to explore the local area, there are many popular restaurants nearby, serving delicious local tapas favourites. Guests can try Restaurante Guantanamo, Grill Costa Mar, or La Taberna Timanfaya, all of which are just a short walk from the hotel. The hotel also has a restaurant serving international cuisine, with vegetarian, dairy-free and gluten-free options available on request.
"Views are amazing! Staff are really helpful and friendly. Gym is great overlooking the ocean. Breakfast was really good with plenty of choice!" Jhon
9. Bohemia Suites & Spa
Bohemia Suites & Spa is a luxurious, 5-star adults-only hotel In Gran Canaria, located in the popular tourist destination of Playa del Inglés. This hotel is renowned for its celebrity treatment and world-class service, making it an ideal choice for those seeking a truly indulgent and relaxing holiday experience.
The hotel offers a range of spacious and stylish rooms, each decorated with vibrant colour schemes and olive-wood furnishings. Guests can choose from rooms with balconies or terraces, or larger rooms without balconies, all of which are equipped with modern amenities to ensure a comfortable stay.
Bohemia Suites & Spa boasts a range of excellent facilities, including two outdoor swimming pools, one freshwater and one saltwater, as well as two outdoor jacuzzis. Guests can also enjoy delicious cuisine at the hotel's rooftop restaurant, which offers creative local dishes and stunning panoramic views.
"Hotel, room and staff wonderful. Had junior suite with garden view but could also see the ocean. Breakfast experience best we have ever had.

Would be perfect if the hotel was based in the more up market area of Meloneras but we were able to get to that area easily and cheaply by bus, and even walked it once via the walkway through the Dunes." - Elizabeth
10. BULL Costa Canaria & Spa
Bull Hotel & Spa Costa Canaria is a luxurious seafront adult-only hotel in Gran Canaria, located in the tranquil area of San Agustín. With its outdoor pools, rooftop sun terrace, gym and spa, guests are guaranteed to have a memorable and relaxing stay.
The hotel's spa offers a wide range of wellness facilities, including a floating pool, water massage beds, a Finnish sauna, and a Hammam. There is also a jet pool, salt cabin and tanning beds. Guests can indulge in relaxation and beauty treatments, including massages, for an extra cost.
The Costa Canaria's buffet restaurant and poolside bar serve a selection of regional and international dishes, and the Salón Bar offers snacks, music, and cocktails.
"Location is great with direct access to the beach. Pool area is lovely and the sunbed system is a very good idea. Pool is heated during the winter months. Spa area is fantastic and the circuit is brilliant many other hotels would charge but its all included as an all inclusive guest. Food was very good especially in the pool bar, the hot stone steak was excellent. Gala dinner on Christmas day was exceptional so much choice. The staff that serve the outdoor area of the restaurant were also brilliant, extremely attentive. We had the suite with jacuzzi which was just amazing so worth paying for the upgrade." - Rebecca
11. Don Gregory by Dunas
Located in the San Agustín, Don Gregory by Dunas is one of the best adult-only hotels for those seeking a quiet and peaceful holiday. This 4-star hotel is situated right next to Las Burras Beach, offering stunning views of the Atlantic Ocean.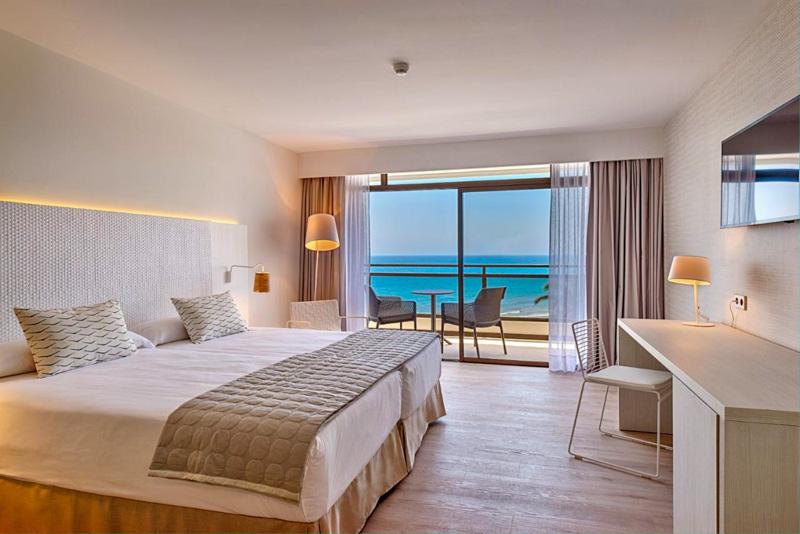 One of the highlights of this hotel is its outdoor swimming pool and gym, which are perfect for guests who want to keep fit during their stay. Don Gregory also has gardens and sun terraces that guests can enjoy.
For dining options, the hotel has a poolside snack bar and an on-site restaurant that serves buffet meals with regular themed dinners. Guests can enjoy a variety of dishes while taking in the stunning ocean views.
"What a great place to relax and tune out the world! The location is perfectly situated above an excellent beach, while also situated above the beach for people watching. The staff was incredibly hospitable, upbeat and made for a comfortable stay." - Bryan