Gran Canaria is one of the eight volcanic Canary Islands in Spain, it is located off the northwestern coast of Africa, in the Atlantic Ocean. Even though geographically it is closer to Morroco and the African continent, it is part of Spain and classed as part of Europe.
Gran Canaria is one of the prettiest places in Spain and it is a popular destination for holidaymakers. Perhaps most tourists travel to Gran Canaria for its beautiful sandy beaches, but this island with its ​​diverse landscape, beautiful mountains, stunning coastline and delicious cuisine has much more to offer.
The island has such a rich heritage and beautiful scenery that makes Gran Canaria an ideal destination for adventure seekers and culture lovers. There are plenty of beautiful spots and fun things to do here. So, to help you with planning your next trip, I want to share my favourite places and the very best things to do in Gran Canaria.
You can also read: Best Adult-only Hotels in Gran Canaria
This post contains affiliate links and if you click one I may receive a small commission at no extra cost to you.
How to get to Gran Canaria
Getting to Gran Canaria is pretty easy since this island is well connected to other European destinations via air and water. To get here you can fly from London or other major European cities.
Travelling overland is also another option, you can then take a ferry from mainland Spain or the nearby island of Tenerife to Gran Canaria.
The 15 Top Things to Do in Gran Canaria
1. Stroll around Las Palmas old Town
Las Palmas is the main city in Gran Canaria, and it is the largest city in the Canary Islands and the ninth in Spain. This city, with more than 500 years of history, has a lot to offer.
The very best thing to do in Las Palmas de Gran Canaria is to stroll around the old town which is divided into two parts: Vegueta and Triana.
Vegueta was the original settlement where life in Las Palmas de Gran Canaria began. In this part of the town, you will find the main historical buildings and museums. Did you know that Christofer Columbus lived here for a short while before heading to America? His home is now a museum, called Casa de Colon, and it is open to the public.
The most impressive building here is the Cathedral of Santa Ana. With a small fee of 1.50 Euros, you can go up the bell tower to have a panoramic view of the city. Good news, you don't need to climb any stairs, the lift takes you to the top.
In front of the Cathedral is a collection of bronze statues of dogs. No one really knows how they got here, but they became a tourist attraction.
There are different stories, one story says that they were given as a tip to the people who helped with the French cargo. The other story suggests that these statues were a gift from a wealthy British family to the town hall because they earned good money from the port. The best way to explore Vegueta is to join the walking tour with a local guide.
Just a few steps from the old town of Vegueta, you will find the neighbourhood of Triana. In the past, traders and wealthy people used to live here and now it is a residential area and the most lively part of Las Palmas de Gran Canaria. Make sure to check Calle Mayor de Triana, one of the most beautiful streets here. If you enjoy shopping, this street is your place.
Best Hotels in Las Palmas de Gran Canaria
VEINTIUNO Emblematic Hotels is located in the old quarter of Vegueta. Offering a cosy and relaxing stay with a daily exceptional breakfast on the rooftop. It is one of the best adult-only hotels in Gran Canaria.
Boutique Hotel Cordial Malteses is one of the best boutique hotels in the heart of Las Palamas Old Town. It sits just a short walk from Casa Colon and 3 miles from Parque de Santa Catalina.
Santa Catalina, a Royal Hideaway Hotel, located a 5-minute walk from Las Palmas Marina, offers a luxury stay. Guests have access to the outdoor swimming pool, a rooftop bar and the wellness centre.
2. Sample local dishes at Mercado del Puerto
Looking to try some delicious traditional dishes? You should visit Mercado del Puerto. This port market is one of the top places to visit in Gran Canaria and it is heaven for food lovers.
It was designed by the French engineer Gustave Eiffel, whose company is behind the design of the famous Eiffel Tower. The original market was built in 1891 as a city food market, but later in 1994, it was renovated into the building you see today.
Here you can buy a variety of fresh local products such as vegetables, fish, fruits and Canarian black potatoes. Moreover, there are a few food stalls here serving tapas. We went there as a group of friends and grabbed a table at Piscos & Buches. As a group, we got the chance to try a wide variety of tapas.
3. Walk barefoot at Playa de la Canteras
Just right next to Merkado del Puerto, you will find the beautiful Playa de Las Canteras. It is one of the top urban beaches in Europe and one of the prettiest beaches in Gran Canaria which stretches over 1.2 miles.
Walking barefoot along this golden sandy beach is one of the best things to do in Gran Canaria. It's no secret that walking barefoot on sand has many health benefits and it almost feels like having a foot massage.
Las Canteras is a popular place amongst both locals and international tourists. It is a perfect place for sunbathing and swimming. Changing rooms, toilets and showers are available here.
Best Beachfront Accommodation in Las Palamas
Living Las Canteras Apartment is located a stone away from the beach and a short walk from Parque de Santa Catalina. This spacious self-catering apartment is fully equipped and it is an ideal place for couples and small families.
BULL Reina Isabel & SPA is located right on Las Canteras Beach offering a rooftop pool with stunning views of the Atlantic Ocean. The rooms have balconies overlooking the beach.
4. Swim in Natural Pools at Agaete Piscina Natural
The natural pools located on the northwest of the island are true hidden gems. They were formed by lava millions of years ago during the volcanic activities on the island.
Ocean water flows over the rocks and fills up the pools, sometimes carrying fish and shrimp with it. Swimming in these volcanic pools is one of the most fun things to do in Gran Canaria.
The natural pools are not known to many international travellers and mostly locals from nearby towns come here for a swim or sunbathe. You can find local shops and restaurants within walking distance in the fishing village of Puerto de Las Nieves.
Best Hotels at Agaete Natural Pools
Occidental Roca Negra is located a short walk from the natural pools, offering a beautiful outdoor swimming pool and a well-equipped spa. All rooms have balconies overlooking the ocean.
Villas Sicilia is an ideal place for couples and families. This three-bedroom luxury house offers a shared outdoor pool, a large garden and views of the mountains and the sea.
5. Visit the Fascinating Ancient Burial Mounds
On the northwest of Gran Canaria, not far from the stunning valley of Agaete, you will find the Maipés Archaeological Park. It is a unique cemetery, home to almost 700 tombs in burial mounds built with volcanic stones. Some tombs date back to 1300 years.
The burial mounds are spread over one square kilometre. This ancient burial ground has been recognised as an archaeological site since 1974. Maipés de Agaete is one of the best off-the-beaten-path places to visit in Gran Canaria. You can visit it from Tuesday to Sunday from 10 am to 5 pm. There are several paths on the site suitable for everyone.
6. Go for Wine and Cheese Tasting at Casa Romantica
Located in the Agaete Valley, Casa Romantica has to be one of the best well-kept secrets on the island of Gran Canaria. It is only a short drive from the Maipés Archaeological Park. Basically, you can visit the park and head to Casa Romantica for your lunch break.
Casa Romantica, which translates to Romantic House, is a cosy restaurant built in 1976. Going to this restaurant is not just about having local wines and food, but it is an experience. You can also visit the garden where the restaurant grows its own products, such as bananas, coffee, oranges and other vegetables. Let's not forget that Gran Canaria is the only place in Europe to grow coffee.
7. Drive to the Beautiful Village of Tejeda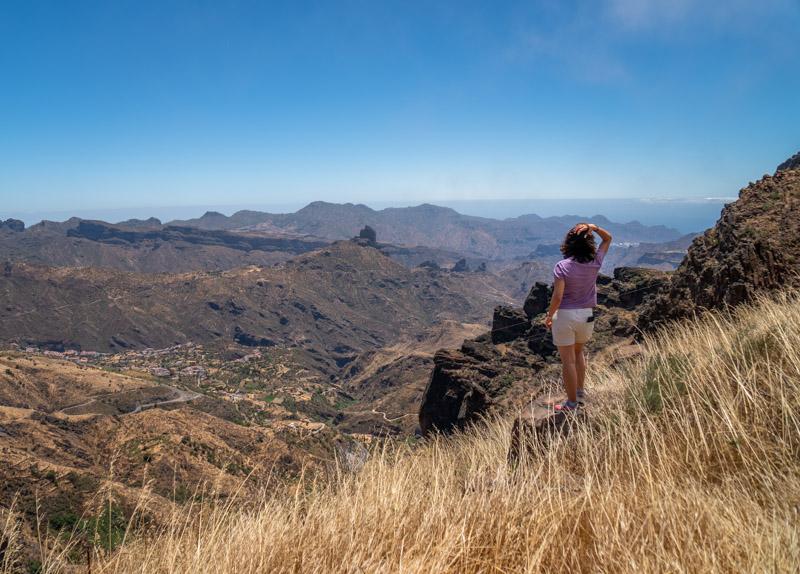 Tejeda is a charming Spanish village situated in the middle of the island at an altitude of 1000 meters. Tejeda is also known as an almond town since there are many almond trees here. During February and March, you can appreciate their blossoms. This village is famous for its traditional desserts and ice cream made with almonds.
The best way to get to Tejeda is by driving. The road takes you to some of the most breathtaking views on the island. You can stop at Pico de Los Pozos de Las Nieves's viewpoint to admire the beauty of the areas and take photos of the famous Roque Nublo.
Best Hotels in Tejeda
Parador de Cruz de Tejeda sits on the highest points of Gran Canaria, offering an infinity pool with panoramic views of the surrounding mountains. This hotel can also be an ideal dining place, the restaurant serves traditional Canarian cuisine.
El Rinconcito de Tejeda is a cosy holiday home located in Tejeda. This two-bedroom house is suitable for couples or small families.
8. Go for a Hike in Gran Canaria
Gran Canaria is a volcanic island and it is home to some striking landscapes, rugged mountains and the deep canyon of Barranco de Barafonso. Gran Canaria might not be established as a hiking destination, but with a remarkable network of trails, it is actually a perfect place for hikers and mountain bikers.
You can go hiking almost all year round in Gran Canaria, but the best time and peak season for hiking is between November and May. There are many short and long trails on the island, you can get a paper map covering 60 walks.
Perhaps Roque Nublo is the most popular and shortest hike in Gran Canaria. Roque Nublo, which translates to Cloud Rock, is a 75-meter tall volcanic rock at an altitude of 1813 meters. It was formed by a volcanic eruption around 4.5 million years ago. You can drive to Degollada de La Goleta and from there walk for 1 mile to the rock.
Both Tejeda and Agaete can be a great base for people who love outdoor activities and hiking.
9. Visit the unique Maspalomas Dunes
Probably the most beautiful place in the south of the island is the Maspalomas Sand Dunes, covering over 400 hectares. Some people might say the sand arrived here from Sahara, but that is not true. The sand was washed up during the ice age and the wind created the dunes you see today.
The dune system is one of the most important natural spots in Gran Canaria and it has suffered degradation with a constant loss of sand, mainly due to urban development and human impact. To protect the dunes, Gran Canaria is limiting access to the public. People can still visit the dunes but only via the marked walking paths.
Best Hotels Near Maspalomas Dunes
Seaside Palm Beach sits only 100 yards from Gran Canaria's Maspalomas Beach, offering celebrity treatment. This 5-star hotel has a lagoon-style swimming pool, a spa and tropical gardens.
Bohemia Suites & Spa is an adult-only hotel located near Maspalomas Dunes and just a 5-minute walk from the beach. There are outdoor pools and two outdoor jacuzzis.
10. Diving in Gran Canaria
Gran Canaria is one of the best places for scuba diving in Europe. The water temperatures never drop much below 18° C and the visibility is pretty good, usually around 30 meters. You can comfortably dive all year round, while the best time for scuba diving here is between September to February.
While scuba diving in Gran Canaria you can see a variety of marine life such as parrotfish, barracudas, wrasse, pufferfish, and moray eels. If you are lucky you might be able to spot an angel shark.
Gran Canaria has all types of dive sites from shipwrecks, caves and reefs. The most famous site is El Cabron Marine Reserve, which was voted as one of the top ten scuba diving sites in Europe. It is a great dive site for both beginners and advanced divers. If you are an experienced diver, go to the Arona Shipwreck.
If you are not a certified diver, you can go on a 3-hour scuba diving tour, where you can learn the basics, get the chance to dive at a Puerto Rico site and explore the amazing underwater world.
You can also read: Best Gifts for Scuba Divers
11. Go Dolphin and Whale Watching
The other way to see marine life without getting wet is to hup up on a boat and search for dolphins and whales. Without a doubt seeing these fascinating marine mammals in their natural habitat is one of the most unforgettable experiences you can have in Gran Canaria.
Gran Canaria has the perfect conditions for dolphins and whales to live here all year round. This means that no matter when you travel to Gran Canaria, you can always have a chance to see them by taking the dolphin and whale watching tour. One of the best tours is Glass Bottom Boat which takes you around the island on a 2.5-hour journey.
12. Have a Laidback Day at Perchel Beach Club
One of the best things to do in Gran Canaria is to treat yourself to a fun and relaxing day at the gorgeous Perchel Beach Club. Let's not forget that you are on holiday and what beats having a laidback day with cocktails next to an infinity pool?
This beach club is a perfect place for groups of friends, couples and families with children. There is a fantastic Splash Park and playground for children. You can purchase the day ticket, which includes lunch, a hammock, an umbrella and some snacks.
13. Visit the Banana Plantations at the La ReKompensa
Just a 15-minute drive from Las Palmas de Gran Canaria, you will find the banana plantations at the La ReKompensa. It is located in a rural area around Arucas town in the north of the island. Banana trees require 20 to 40 litres of water daily to sustain the large tropical leaves and produce sweet fruits. That is why they can grow only in the north of the island since the south is suffering from a water shortage.
Gran Canaria and the other Canary Islands have grown bananas for almost 100 years for export. You probably heard that Canarian bananas are tastier and sweeter than other bananas. It is because of the combination of the Canary's climate and the type of bananas that can grow here. You can visit the plantations and try a fresh Canarian banana yourself.
Visiting the banana plantations is one of the unique things to do in Gran Canaria, and the good news is that you can actually stay at RK Hacienda La ReKompensa. This 3-bedroom property used to be a home for locals who worked at the plantations, but it is now a beautiful holiday home.
14. Go for an Authentic Experience at Bodega Señorío de Cabrera
Gran Canaria like other parts of Spain produces some of the finest wines in Europe. Wine tasting is one of the popular things to do here, so why not visit a unique local vineyard?
Bodega Señorío de Cabrera is a small hillside vineyard located on the outskirts of Telde on the east side of the island. What makes this vineyard special is the story behind it. Felisa and Augustin Cabrera are a married couple who bought a piece of land for their retirement and started producing their own wines and products.
Felisa and Augustin are both dreamers with big ambitions and keen to face new challenges, which is why they began to expand their vineyard and business. They now accept visitors, but only a small group of people.
By visiting Bodega Señorío de Cabrera, you not only get a chance to sample some delicious artisanal wines but you also get to eat traditional homemade food.
I have visited many vineyards in my travels but Bodega Señorío de Cabrera was something else. Here we felt like we were part of Cabrera's family. Felisa and Augustin not only shared their food and their stories with us but also shared their kindness, love and inspiration.
15. Sample Delicious Rum at Arehucas Rum Distillery
Located next to the Arucas town, you will find Arehucas Rum Distillery, one of the oldest rum cellars in Europe which has been producing rum since 1884. It started as the sugar factory of San Pedro and later became a distillery.
Arehucas Rum Distillery now produces some of the finest rums in Europe and it is worth a visit. The guided tour takes you through the history of rum in Gran Canaria. At the end of the tour, you can taste some of the local rums and you can purchase the Destilerias Arehucas products.