When it comes to travelling to Greece, most people plan to go to the iconic Greek islands. I can't blame them since the islands are dreamy, but this doesn't mean mainland Greece has less to offer.
Let's not forget that some of the most magical and exotic places are hidden on the mainland where you can enjoy the raw natural beauty, admire ancient ruins with buzzing contemporary life and try some delicious traditional Greek food.
In this post, my fellow travel bloggers and I share the list of the best places to visit in mainland Greece when planing a Mediterranean break while avoiding the crowds.
This post contains affiliate links and if you click one I may receive a small commission at no extra cost to you.
Meteora
Recommended by Mansoureh from Travel with Mansoureh
Meteora in Greek means "place suspended in the air", it is a must-see in mainland Greece. This UNESCO World Heritage site is one of the most magical places I have been to in this world.
When planning a trip to Meteora, be prepared to be amazed by a magnificent complex of enormous rock formations. But what is going to astonish you the most is the groups of Eastern Orthodox monasteries built on top of these rising rocks.
There is no accurate information about how these giant rock pillars were formed, but it is estimated that the age of the rocks is more than 50 million years old, which means older than human existence on our planet.
Taking a sunset tour, going on a guided mountain biking tour and hiking in the rock forest to find great spots for photography are the best things to do in Meteora.
One of the best ways to get to Meteora is to fly to Thessaloniki and rent a car and drive 200 km to Meteora or if you are in Athens, you can take a 5-hour train ride.
Lefkada
Recommended by Ania from The Travelling Twins
Fact about Greece: Greece has over 6000 Islands, but only two are connected by bridge to the mainland. One of them is Lefkada which is famous for its stunning beaches and is known as the Caribbean of Greece.
The most famous beaches are Porto Katsiki, Egremni and Kathisma. All of them have smooth, soft sands and light blue water. And they are perfect for diving, surfing and other water sports.
Because we visited Lefkada in January, we were mostly exploring towns and inland mountain villages. We discovered on a hill above Lefkada Town a monastery of Panagia Faneromeni from the 17th century. The monastery is small and charming with majestic views. It has a tiny rescue Zoo with good selections of birds and other animals, which was a high point for our kids.
Another less known but worth hiking place to visit on Island is Nydri waterfall. In the summer the waterfall is almost dry, but in winter it was quite impressive. Here is where you can stay in some of the amazing hotels and resorts with amazing views over the sea.
Tzoumerka
Recommended by Mansoureh from Travel with Mansoureh
The Tzoumerka mountains with its 47 unique villages are Greece mainland's best-kept secret. If you haven't heard of Tzoumerka before, don't worry, many Greeks also don't know much about this part of the country.
If you are searching for some unique experiences, natural beauty and adventure, this is your place. You can visit Tzoumerka, unlike Greek islands, any time of the year. During the summers you can go swimming in the natural Papingo Rock Pools or rafting in River Voidomatis, a river with one of the cleanest waters in Europe. During winters, you can go hiking or sometimes even skiing.
The most convenient way to go around Tzoumerka is by car. Most of the hotels provide free parking. If you want to have a better understanding of village life while enjoying the view of the mountains, you can stay in the beautiful Rouista Tzoumerka Resort in central Tzoumerka, but if you prefer to go to the north you can stay in Hotel Xenion tou Georgiou Merantza or Lakmos.
While in Tzoumerka, make sure to go for a hike in Rema Marks and Souda Waterfalls, visit Kipinna's Monastery which is built inside a rock, and eat at Napoleon's Traditional Restaurant, one of the oldest restaurants in Greece.
Pella
Recommended by Amber from Provocolate
Most travellers from abroad know Pella in northern Greece (just west of Thessaloniki) as the heartland of Ancient Macedonia. It's true, there are many treasures here from the kingdom we know best from Alexander the Great. But to Greeks, this region centred around beautiful Edessa is also famous for being a great destination for nature and adventure, in all seasons.
Mt. Kaimaktsalan - Greece's 3rd highest peak at 2,528 meters - is an extremely popular ski destination. Its enchanting name comes from Kaimak - the Turkish word for "cream" (= snow!). You can lodge in traditional cosy style in the stone lodge Rouga, in the charming village of Agios Athanasios.
In the other three seasons, this is, of course, prime hiking territory. There are hiking trails to suit all levels of skill and stamina. Panagitsa, at the base of Mt. Kaimaktsalan is one spot, and another is along the Thermopotamos river.
Bird watchers will enjoy going to Lake Vritta. This glassy lake is a protected wetland and habitat that's home to over 250 species of birds throughout the course of the year. You can visit them discretely with organised rafting and bird watching excursions.
There's more water still at Greece's most impressive waterfall. In Edessa, the Karanos waterfall cascades from a height of 70 meters onto the fertile plain below. The sound is wonderful, and the air is charged with energy.
And saving the best for last - Pozar Springs. Summer and winter, 365 days a year, you can visit these therapeutic hot springs. There are indoor facilities and even private bathing facilities, but the outdoor natural pools are the most spectacular, under the trees, with the cool waterfall of the Thermopotamos beside you.
Athens
Recommended by Mansoureh from Travel with Mansoureh
When it comes to travel to mainland Greece, having a stopover in Athens is sometimes unavoidable. Some tourists will skip exploring the capital of Greece and head directly to other Greek destinations, but they don't know they are missing the best part of the country.
Athen is surprisingly modern with so much history. By walking around the city you might think that you are in a historical theme park full of life and positive vibe. Not far from the main historical attractions you will be able to find contemporary street arts.
Athens has a lot to offer for any type of travellers. Here you can go for sightseeing and visit some of the most amazing archaeological sites in the world or just go next to the beaches and relax. This Greek city is a paradise for food lovers. While you are in Athens, make sure to sign up for a food tour, where you can try some traditional Greek style dishes and feta cheese.
Make your trip even more magical by going to the Temple of Poseidon where you can watch the sun setting down over the Aegean Sea.
Corinth
Recommended by Monique from TripAnthropologist
Corinth is a town in central Greece, located on the Isthmus of Corinth, the narrow neck of land that joins central Greece to the Peloponnese. No one cared much about Corinth until 657 BCE, when Cylepsu the tyrant seized power, turning Corinth into the greatest city-state in Greece. Ancient Corinth had its own currency, a mighty trading empire and majestic temples built to the Greeks gods. The Temple of Apollo is the main building still standing in Ancient Corinth.
A map is included with the entrance fee to the site and you can wander around the ruined city without a guide as there are display posts explaining the main buildings and streets.
A museum is located at the centre of the site that contains the treasures found in Corinth and you can climb the mount above Ancient Corinth to arrive at the Acrocorinth – there are a ruined castle and wonderful views out to sea and of the surrounding countryside. The Corinth Canal is also worth visiting and is a short walk from Ancient Corinth.
There is a train from Athens to Corinth and it is possible to do a day trip but there are also many hotels, guest houses and resorts located on the beach close to the ruins of Ancient Corinth.
Thessaloniki
Recommended by Nisha from Nerdy Footsteps
Thessaloniki, the underrated gem, is one of my favourite destinations in mainland Greece. While most of the tourists flock Santorini and Mykonos, we loved spending our epic weekend in Thessaloniki.
A long promenade along the sea offers a calm walk with the beautiful sunset views. No wonder it is lined up with pretty cafes, restaurants, and stores to offer this view with good food and drinks.
Yes, food! I love greek food and what better place to enjoy it in this beautiful seaside city. Ladadika, the area famous for great food and nightlife is definitely a favourite for locals and tourists alike.
Thessaloniki is a convenient size city to walk around and keep exploring the historical monuments at every corner. Some of the highlights are Orthodox churches, Archaeology museum, Byzantine museum, and the ruins from different eras.
Must-know tips: If you are a student, I recommend bringing your student ID as most of the attractions have reduced prices for students.
Vikos Gorge
Recommended by Wendy from The Nomadic Vegan
According to the Guinness Book of World Records, Vikos Gorge is officially the deepest gorge in relative to its width in the world. And yet, it sees only a tiny fraction of the tourists that visit Samariá Gorge on Crete. This is probably because it's in a pretty remote part of Greece, up near the border with Albania. Getting here by public transport is possible, but buses from Ioannina are infrequent, so be sure to check the schedule carefully.
For outdoor sports enthusiasts, the best way to experience Vikos Gorge is by hiking all the way through it. In one day, you'll be able to hike from the picturesque village of Monodendri to the even more beautiful village of Mikro Papigko. Accommodation is available in both villages; I recommend Archontiko Zarkada in Monodendri and the Dias Guesthouse and Restaurant in Mikro Papigko.
This is a fairly strenuous hike, but there are several other easier options. Alternatively, if you rent a car you'll be able to visit the various lookout points to see the gorge from different angles without even breaking a sweat.
Nafplio
Recommended by Nina from Lemons and Luggage
Too often travellers to Greece overlook the mainland for the islands. But there are so many fantastic places to visit in mainland Greece. That includes Nafplio which was the capital of Greece between 1821 and 1834.
Nafplio is located on the Peloponnese peninsula in the south of Greece. The best way to get there from Athens is to rent a car. This will also give you the flexibility to visit the archaeological sites in the surrounding area. Nafplio is one of the most popular day trips from Athens for locals, but you could stay even longer.
Nafplio is a great town to explore if you like to combine history and hiking. The best place to experience the beauty of Nafplio is by climbing atop the Palamidi fortress. From there, you have the most amazing view of the Mediterranean Sea and Nafplio town. But don't worry, if you're not up for climbing up the hundreds of steps, you can always go by car.
Other significant fortresses in Nafplio are Bourtzi and Akronafplia. But don't miss out on a stroll through the quaint alleys of the town itself.
With all the hiking and walking you will do, note that the tap water in Nafplio is not safe to drink so make sure to keep a bottle of water on you.
Delphi
Recommended by Elisa from World in Paris
Delphi is one of the most amazing archaeological sites in Greece mainland, both for its historical importance and stunning setting. It is also an easy day trip from Athens so if you are visiting the Greek capital you cannot miss Delphi.
Delphi is located on the southwestern slope of Mount Parnassus, at 185 km north of Athens. This is a 2-hour drive by private car or a 3-hour ride on a local bus.
In ancient times Delphi was the sanctuary dedicated to the God Apollo, the Sun God, and one of the most important gods in Greek mythology. It was also the seat of Pythia, the oracle who was consulted about important decisions throughout the ancient classical world. The Delphi sanctuary was so important that the Greeks considered it the centre of the world.
Today visitors will find a very rich archaeological site, consisting of the temple of Apollo, some altars and secondary temples, and other structures to support the activity of this sanctuary. Near the site, there is the Delphi Archaeological Museum that displays interesting objects found during the excavations of the site.
Volos
Recommended by Maria & Katerina from It's All Trip To Me
Volos is one of the most special destinations in Central Greece. Situated 330km north of Athens, Volos is a unique city which combines a marvellous beachfront location with easy access to one of the most gorgeous Greek mountains, Pelion. You can get to Volos by bus from Athens or by plane from many European cities.
Unlike other Greek cities, Volos has managed to retain its old-fashioned charm. A walk along its lovely promenade is enough to feel the city's vintage ambience while a stop at Minerva Cafe for a scrumptious Chicago ice-cream will make you feel as though you've taken a trip back to the 80s. Another amazing way to spend your time in Volos is to walk around Palia, which is the oldest district in Volos.
No trip to Volos is complete without a taste of the city's traditional Tsipouradika. The latter are no-frills restaurants where the only thing you order is your drink of choice (either wine or local tsipouro) and food comes along in meze dishes. This is the best value-for-money way to enjoy a fun night out and have dinner at the same time in Volos.
Volos is a really diverse destination so choosing where to stay is a matter of personal priorities. If you're dreaming of an urban getaway, then you should definitely choose one of the city's central hotels. For a stay in the mountains, go for either Portaria or Makrinitsa villages while the best choice for a beach holiday is the quaint town of Kato Gatzea.
Olympia
Recommend by Maggie from Pink Caddy Travelogue
Greece is the birthplace of a lot of important things such as democracy, philosophy, feta cheese, and the world's greatest sports competition: the Olympics.
Located about 3 hours from Athens, the site of Ancient Olympia is a fascinating stop for any visitor to mainland Greece. It was here in the 8th century BC that the first-ever Olympic Games were held. The original games were held in honour of Zeus, and the site was once home to a massive temple to the king of Greek gods.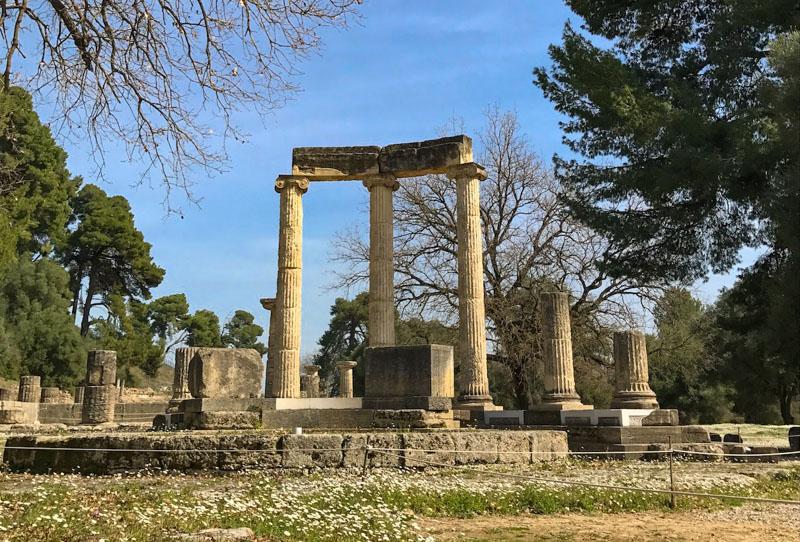 Visitors can walk through the temple's ruins. Another must-visit is the remains of the Temple of Hera, where the torch is lit every four years for the modem Olympic games.
The archaeological museum at Ancient Olympia is also worth visiting, as it holds some of Greece's most famous statues, such as Hermes of Praxiteles and Nike of Paionios.
The easiest way to get to Olympia is to drive, but there are also regular buses from Athens. If you want something more organised, there are many day tour options to Olympia from Athens as well.
Ancient Olympia is the actual archaeological site of the original games, but the town of Olympia is modern and has plenty of restaurants and hotels to stay in you're doing more than just a day trip.
Halkidiki
Recommended by Inma from A World to Travel
Famous tourist attractions such as the sacred Mount Athos (that women can not visit, only appreciate from a distance jumping on one of the boat tours that daily approach their coasts), the dwarf population of Stagira (where Aristoteles, the classic Greek philosopher was born) and the beaches of the Kassandra and Sithonia peninsulas bathed by the warm waters of the Aegean Sea; the Halkidiki region is historically and culturally relevant from ancient Greece.
It offers a balance to the wildness and exorbitant summer prices of some of the Greek islands and the same - if not more - the quality of landscapes with crystal clear waters and beaches for days. Without forgetting the Greek cuisine - after all, Greece is one of the best countries in the world for foodies, the friendly locals, and the unique laid-back feel of the Mediterranean nations.
To visit it, it is best to travel to Thessalonika, one of the most important cities in the country.
Mycenae
Recommended by Chrysoula from Athenes & Beyond
Greece is renowned for its famous archaeological sites and Mycenae in north-east of the Peloponnese is one such site that is well worth a visit.
In the second millennium BC, Mycenae was at the heart of Ancient Greek civilisation, so much so that the whole period from 1600 to 1100BC was called the Mycenaean Age. This region was home to the military stronghold that controlled the Greek islands and beyond and was a dominant hub of trade and commerce.
This fortified Bronze Age city featured a grand acropolis, Lion Gate, the Treasury of Atreus and many ancient burial chambers. Today there is also a museum on site which tells you all about this UNESCO World Heritage Site and is a good place to start your visit.
The history of Mycenae is a mix of myth, legend and fact, the lines of which are somewhat blurry due to the tales in Homer's Iliad in comparison to archaeological records. Some of these tales match up to historical records while others are still unknown.
Located around 75 miles south-west of Athens, 30 miles south of Corinth, Mycenae could be visited on a day trip from Athens (around a 2-hour drive) or as part of a visit to the lovely town of Nafplio on the Peloponnese coast. I recommend visiting while staying on the Peloponnese as this allows you the freedom to arrive earlier than the tour buses from Athens and then you can enjoy an evening on the coast too!
Parga
Recommended by Inna from Planet Dreaming
The city of Parga, built in the shape of an amphitheatre, is a picturesque resort located between the coastal areas of Preveza and Igoumenitsa. Parga uniquely combines picturesque mountains and crystal clear sea.
The city is located 65 km from away from Aktion Preveza Airport, and in the summer months, ferries connect Parga with the nearby islands of Paxos, Antipaxos, and Corfu.
The city has preserved many attractions and monuments. For example, the castle built with the help of the Normans on a small hill in the 14th century, and the Ali Pasha Palace, built on a high hill with a breathtaking view. While climbing the narrow streets, you feel like you are transported to another time, to a different era. Upon reaching the highest point on the hill, you can enjoy stunning views of the city and its surroundings, as well as the Ionian Sea.
Most of Parga's beaches are well organised and have everything you need to have a great time on the water: jet skiing, water skiing, windsurfing, parasailing, scuba diving (diving near the Castle and Agios Sostis Caves is especially interesting). The seashore of Parga is perhaps the best part of the Ionian Sea coastline.
Ioannina
Recommended by Kamila from My Wanderlust
Ioannina is not the most obvious choice when planning a trip to mainland Greece yet the place is full of attractions. This mid-size city is located in the north-west part of the country, near the border with Albania (and with good connections to the neighbouring country).
For the Greek standards, Ioannina is a fairly new city, founded in the 9th century. One of the main attractions of the city is the castle from the 6th century, the oldest Byzantine fortress in Greece that is still inhabited today. Besides old houses, you can find there the Its Kale Acropolis with Fetiche Mosque.
Ioannina is located at the shore of Lake Pamvotis and that's where you will find many of the cafes, a perfect place to relax and enjoy the city's vibrant life. You can also use Ioannina as a base for some day trips in the Epirus region, such as Nisi island with 13th-century monasteries or Pindus National Park with breathtaking views.
you can stay in the Kamares Boutique Hotel & Spa which is a renovated 18th-century mansion with a traditional architecture offering modern comfort.
Mount Olympus National Park
Recommended by Helena from Just For One Summer
Mount Olympus is best known as the mythological seat of the ancient Greek gods. But it is a paradise for mountaineers, hikers, and nature lovers as well. It is home to Greece's highest peak, Mytikas (2.917 meters), and was the first area in Greece established as a national park.
The most popular base for exploring Mount Olympus National Park is a village called Litochoro on the eastern foothills of the mountain. It offers plenty of accommodation, cafes, taverns, shops and a small information centre. Litochoro can be reached by bus or train from Athens or Thessaloniki as well as by car. This makes Mount Olympus one of the easiest Greek mountains to visit.
Hiking is by far the best way to experience the varied nature of Mount Olympus National Park. There are many well-marked hiking trails leading to the summits of Mount Olympus or through the shady gorges of the park. Some require a great level of fitness and at least a bit of mountaineering experience others will take you to hidden pools and waterfalls in just a few minutes.
Enipeas Gorge, stretching between Litochoro and Prionia on the eastern side of the mountain, is one of the most popular destinations in the park. You'll find many amazing waterfalls through the gorge as well as historic monasteries and the charming Agio Spilaio chapel hiding in a cave deep in the canyon. But no matter if you decide to conquer one of Olympus' rugged peaks or just relax next to a bubbling stream you are guaranteed to see a side of Greece you never even knew about.
Karpenisi
Recommended by Melissa from High Heels & a Backpack
Karpenisi is a charming town set on the slopes of Mount Timfristos in Evritania, Central Greece. Young Athenians flock here during the winter months to enjoy romantic getaways in cosy wooden lodges and sip warm honey wine (Oinomelo) by the fireplaces of local tavernas.
The town's resident ski resort of Velouchiou is widely regarded as being one of the very best places for skiing in all of Greece. However, Karpenisi is so much more than just a place to brush up on your ski skills. This area is often referred to as being the "Switzerland of Greece" on account of its breathtaking beauty and mountain scenery.
There are KTEL buses that run frequently between Athens and Karpenisi. You can also consider renting a car and driving here so that you have more freedom and flexibility to explore the surrounding towns. Many hiking trails lead through the woodlands that surround the town and take you to the roaring rivers and hidden caves and waterfalls.
A short drive or taxi ride out of the centre of Karpenisi takes you to Proussos Monastery. This dramatic structure is perched on the edge of a cliff face and is considered one of the most important monasteries in Greece.
If you happen to be in Karpenisi on the 15th of August, you will catch devout pilgrims completing their annual trek to the monastery in honour of Ascension Day.
Hosios Loukas
Recommended by Bhushavali from My Travelogue by Bhushavali
Hosios Loukas is one of the 3 Byzantine churches that is listed together under UNESCO World Heritage Sites of Greece. Its located in Distomo, a bit before Arachova. Ideally, it is a perfect stop-over on your day-trip from Athens to Delphi or a skiing weekend in Arachova!
The setting of Hosios Loukas is mesmerising, located in the west slope of Mt.Helikon. It's a complex of two churches, one monastery, a crypt and more. Today, the monastery is defunct and a museum exists there that gives an insight about the lives of the monks who lived there! The churches and crypt are so ornate and a stunning example of later Byzantine art!
The crypt is filled with frescoes of 11th C CE and the churches are filled with unbelievable mosaic work including 'Jesus of Navi'! The whole place glistens with golden sparkle!
There is a small olive-oil press cum museum that makes oil from the local olive trees in the traditional way just like how the monks would have made it! Today, it is possible to buy a couple of bottles as authentic souvenirs! The holy offering given to visitors is the Loukoumi (the Greek version of Turkish Delight). That's also cooked in the traditional way without the gelatin!
Epidaurus
Recommended by Stephanie from Sofia Adventures
One place in Greece that absolutely takes my breath away is Epidaurus. Protected today as a UNESCO World Heritage Site, this ancient city was a centre of healing for millennia. For the ancient Greeks, it was a shrine to Asclepius, the Greek god of Medicine. However, it was actually connected with health and wellness even before the ancient Greeks, and the Romans would carry this tradition on after.
While in Epidaurus, you will want to visit the shrine, the museum, and the stunning preserved ancient Greek theatre. Epidaurus is a popular day trip from Athens, but if you want to experience the theatre in all its glory then try to get performance tickets and stay in the area overnight. That's right! Performances are still held at this theatre that's been in existence for over two thousand years.
Another great thing to do in Epidaurus if you're in the area for more than an afternoon is to head to the closest beach. Called Gialasi, this beach is just a kilometre from the city centre. The views are protected by pine trees, and you'll find this beach much less crowded than island beaches.
Mani
Recommended by Chrysoula from Travel Passionate
The region of Mani in the Peloponnese on Greece's mainland is an underrated destination among tourists but it's definitely one that I would suggest putting on your bucket list.
The area known as Mani is the middle of the three peninsulas (or finger-like stretches of land) located in the Peloponnese, and starts from Kalamata in the north and continues down as far as the Tenaro Lighthouse in the south.
Mani is a wonderful destination for a road trip, weekend break, or full vacation as you can stop off at different beaches, towns, and other sites such as the Diros Cave and The Church of St. Spyridon in Kardamyli along the way.
Mani is a fascinating destination for many reasons, not least because it placed an important role in the Greek fight for independence against the Ottoman Empire (despite the area and the Maniot people never having been fully occupied by the Ottomans). There are therefore a number of cultural monuments and sites that hark back to this era that is worth a visit.
Mani is also famed for its rugged natural landscape and beautiful coastal towns, so your trip to this peninsula should include Gythio Town, the Dimitrios shipwreck on Valtaki Beach, the Chalikia Vatta Beach en route to Porto Kagio and Cape Tainaron, the southernmost point of mainland Greece.
Travellers can visit Mani by driving from Athens to Gytheio (approx. 3.5hrs) or by driving to Kalamata (approx. 2h40) or can travel to one of these destinations by public transport and hire a car from there.
As Mani is not a very busy spot with tourists there aren't that many accommodation options away from the main towns, but one of the best places to stay during your trip to the region is Pyrgos 1869 a renovated stone tower that is now a self-catered, two-bedroom house!
Pelion Mountains
Recommended by Nisha from Nerdy Footsteps
I did not know about the beautiful Pelion mountains and Tsagkarada village before my Greek friend recommended me to go there. I could not even imagine these beautiful Greek mountain villages far away from the tourist beaches and crowds existed.
Located near Volos, these beautiful tiny villages are a must-visit in mainland Greece. You can go for trekking between different villages and of course the beaches near the mountain feet.
Here are some tips. Beware of the mountain dogs, they can be scary, and if possible, have a local guide. We booked our guide after reaching Tsagkarada and it was the best decision we made. Public transport is not very frequent, so, if you are planning to use the bus, make sure you check the bus timetable before heading to the bus stop.
We stayed at a small Airbnb in Volos and took a couple of day trips to the Kala Nera beach and the Tsagkarada village.