We usually associate Athens with its rich history and its historical attractions, but we should also remind ourselves that Athens is also a heaven for food lovers like us.
Traditional Greek food is one of the most popular cuisines in the world but choosing where and what to eat in Athens can be difficult as you should try to avoid tourist traps.
We have been to Athens a few times and we always got help from the locals in order to find the best food in Athens. We enjoyed every single greek dish we tried, but you know, the stomach has its limits, you can't just eat everything that is available at a restaurant. This is why we decided to take a four-hour walking food tour with greeking.me to try out more traditional Greek food in Athens while exploring the places where locals eat.
Traditional Breakfast in Greece: Koulouri
Greeks are not big on breakfast. Most of them enjoy starting their day with a Koulouri and some Greek coffee.
What is Koulouri? Koulouri is a circular bread topped with sesame seeds, it's sold on most street corners in Athens.
We started our walking food tour by getting a plain Koulouri from one of the venders in Syntagma Square, the main square in Athens. As soon as I had my first bite, I realised why greeks love the fresh bread ring. It is delicious, cheap, healthy and rich in nutrition.
Nowadays, in addition to the traditional plain ones, vendors sell Koulouri stuffed with chocolate, feta cheese, and black or green olives.
Tips: Koulouri is not only for breakfast, but you can also have it in between meals with a coffee or another hot drink, like the locals.
Traditional Greek Pies
By talking to some Greeks you will realise how much they love traditional savoury pies. Making pies is part of their culture and in the past farmers used to make pies with leftovers of cheese and spinach. Nowadays you can find different types of pies in Greece, either sweet or savoury.
There are a lot of bakeries in Athens where you can buy pies. During our food tour, we went to the pie shop Ariston. This shop opened back in 1910 by a family and it's popular for its Kourou pies. Kourou phyllo is a type of dough that contains yoghurt and butter.
The shop offers Kourou pies with different fillings including mushroom, spinach, feta and zucchini.
We tried this traditional greek cheese pie and it melted in our mouth.
Tips: You can have Greek pies for breakfast or as a pre-lunch snack.
Feta Cheese Tasting
Any trip to Athens can't be considered complete without tasting some traditional Greek cheeses, especially the most famous one, Greek feta cheese.
We headed to a local cheese shop, Strougka Tou Moria in the centre of Athens, where we tasted a few types of cheese and learned about their differences.
We tried the feta cheese Tripolis, which is popular amongst Greeks. It was indeed really tasty. The best feta is made with sheep's milk or with a mixture of sheep's and goat's milk, and should never be made with cow's milk. When you go out to buy feta, keep in mind that if the feta is harder, it is usually of better quality.
We all have tried feta and we are familiar with it, but there are various types of delicious Greek cheese like Graviera, Metsovone, Kasseri, Ladotyri Mytilinis and Manouri.
Note: we tried Graviera cheese (made with cow's milk) from Naxos, Graviera cheese (made with sheep's milk) from Crete, Ladotyri Mytilinis and of course some feta cheese.
Olive Tasting
There is a huge variety of olives in the world, and they all have a unique appearance, texture, and taste. There is no doubt that Mediterranean olives are some of the best, and Greek olives are no exception.
We went to a popular olive shop in Athens, Ariana, to taste a few types of Greek olives.
We got a selection of Kalamata, Halkidiki, Tsakistes olives. The dark purple Kalamata olive is one of the most popular ones in Greece. It is meaty and has a tangy taste. You can find Kalamata on many restaurants' tables.
The green oval-shaped Halkidiki Olives are native to the Halkidiki and some other parts of Northern Greece.
Tips: you can opt for a wider selection when you are on the food tour. You can also use the opportunity to taste different olives and purchase the ones that you like.
Pastourma platter and Raki
Pastourma or Pastirma is a typical Anatolian air-dried cured meat. In the past, the best Pastourma was prepared with camel's meat, but nowadays it is made of beef.
If you are wondering why I am talking about food that is not originally from Greece, I must say you are not alone. When we went to Miran shop, we didn't know much about the history of the shop and Pastourma.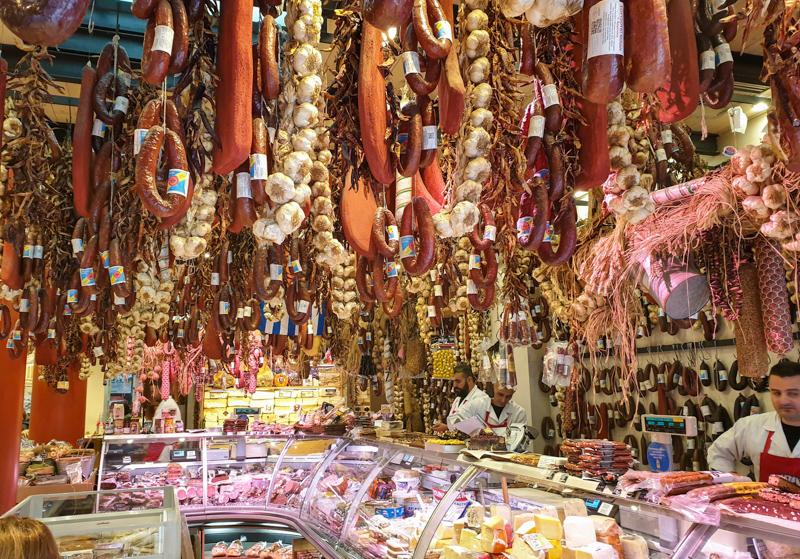 Miran Shop in Athens was opened by Kouroulian Miran, an Armenian refugee who fled from Turkey to Greece after the Armenian Genocide. He is the one who introduced Pastourma to Athens and the rest of Greece.
The shop itself looks pretty and smells delicious. Our table was booked in the corner of the shop where we were greeted by a platter of selections of beef Pastourma, Dolmathakis, stuffed vine leaves, Cretan Rusks (also called Paximadia in Greek), Metsovone, smoked cheese, and some Xirotiri cheese which is made with sheep's and goat's milk.
Each platter comes with Raki, a traditional Greek drink, which is also known as Tsipouro. It is very strong, but greeks love it and drink it in almost any occasion.
Tips: You don't have to finish the entire platter, but you can taste everything on it. If you can't drink Raki, just take a sip to make the host happy.
Delicious food in Athens Central Market, Athinas
Visiting local markets when you travel to a new destination is a must if you want to learn about the locals' lives and culture. I am glad that visiting Athens Central Market was part of our walking food tour.
We walked through the hectic and vibrant market of Varvakeios, which offers fresh fruits, vegetables, meat, fish and seafood. Many locals buy fresh olives and cheeses in this market. There are also some small restaurants, or rather, some cafeteria-style places.
We went to Epirus Tavern, where its menu and food can change daily based on the products they get. For our meal, we tried a selection of dishes including Soutzoukakia which is Greek meatballs cooked in tomato sauce, Arakas (a tasty Greek vegetable stew), Ratatouille (a vegetable dish), vegan pasta with tomato sauce, Fava, and Tarama.
Note: Our favourite dishes were Soutzoukakia and Arakas.
Loukoumathes, Traditional Greek Doughnut
Loukoumathes, also known as Loukoumades, are traditional Greek balls of fried dough, soaked in honey and cinnamon. They are also called traditional Greek doughnuts.
In the past, they were only served to the athletes who won the Olympic Games, but nowadays they are served as a dessert everywhere in Greece and everyone can enjoy them.
We tried Loukoumathes in the traditional bakery of Krinos in the centre of Athens. There are enough tables for desserts lovers, so you can sit and have a drink with your Greek doughnuts.
Tips: you can add a sprinkle of powdered sugar instead of honey syrup if you prefer a less sweet version of it.
Traditional Greek Coffee
Drinking coffee is a vital part of daily Greek life. Greeks use any opportunity to have some coffee, this is why there are various traditional cafes around the country.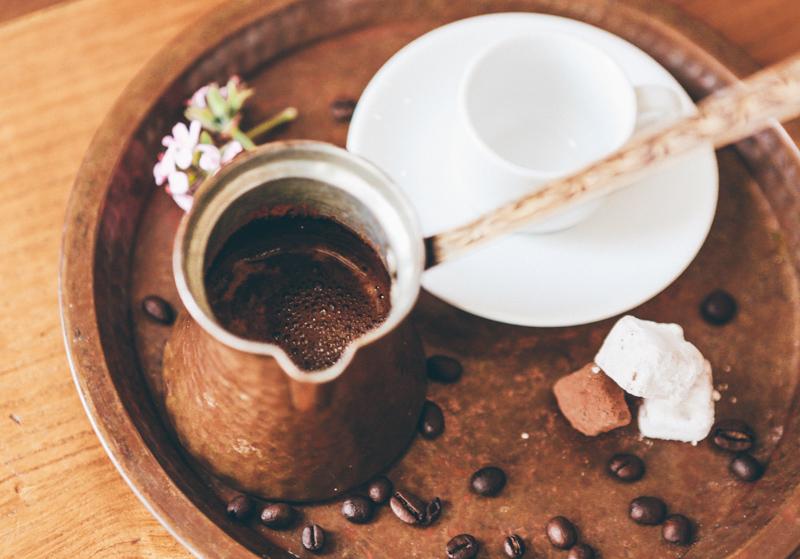 When I say coffee, I don't mean just any coffee. Greeks, like Italians, like their own traditional coffee, which is a strong black brewed coffee served with foam on the top and coffee grounds at the bottom of the small china cup.
It was pretty nice to end our tour having some traditional Greek coffee in the cosy cafe of Kafeneio Oraia Ellas.
Tips: Greek coffee is similar to Turkish coffee and it is nice to have it with Loukoumi or I should probably call it Turkish delight.
You can also read:
One day in Athens: from the Acropolis to the lovely Riviera
Day cruise from Athens to three Greek Islands
This post contains affiliate links and if you click one I may receive a small commission at no extra cost to you.