Nestled along the north coast of Cornwall, St Ives is a charming fishing town that exudes natural beauty. St Ives boasts stunning beaches, cobbled streets, and a thriving arts scene and it is one of the most popular and prettiest towns in Cornwall.
It's no wonder that St Ives has been named the "Best Seaside Town" by the British Travel Awards. But beyond its stunning scenery, St Ives offers a variety of fun and exciting activities.
Plus, St Ives makes an ideal base for those looking to explore other picturesque destinations along the south coast of England such as the nearby quaint villages of Mousehole and Marazion or the stunning beaches of Hayle Beach and Mexico Towans Beach.
In this article, we'll be taking a closer look at the top 10 things to do in St Ives, from exploring this idyllic English town to lounging on the beaches and enjoying the local cuisine.
This post contains affiliate links and if you click one I may receive a small commission at no extra cost to you.
History of St Ives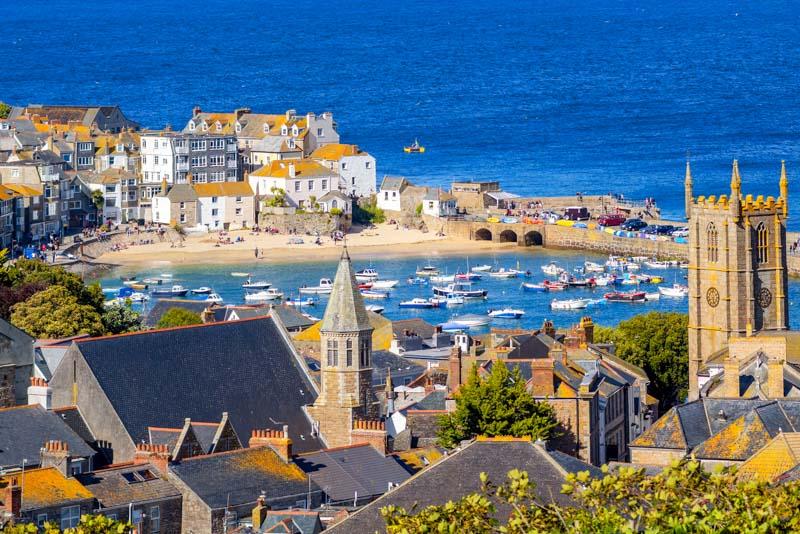 St Ives has a fascinating history dating back to its namesake, St Ia, an Irish princess and Christian missionary who arrived there by boat. The town began as a small fishing village, but in the 1800s, it became a hub for artists such as J. M. W. Turner who were drawn to its unique pink light.
The arrival of the Great Western Railway in 1877 brought an influx of tourists to the town. In the mid-1900s, artists like Barbara Hepworth flocked to St Ives, and her sculptures can still be seen in the town's sculpture garden.
Today, St Ives is known for its artistic heritage and is one of the most popular tourist destinations in Cornwall and South West England.
Best Things to Do in St Ives
1. Surfing in St Ives
Without any doubt, surfing is one of the fun things to do in Cornwall and St Ives is no exception. This seaside town is an ideal place for surfing enthusiasts of all levels.
With the stunning Porthmeor Beach, which is considered the best spot for catching waves, you can experience the excitement of surfing even if you are a complete beginner. St Ives Surf School is based on Porthmeor Beach and provides friendly and experienced instructors who offer surf lessons for all skill levels.
Hawke Point and Break Water are other popular surfing spots in St Ives.
2. Take a Boat Trip to Seal Island
Taking a boat trip to Seal Island is one of the best things to do in St Ives. The island is home to a colony of Grey Atlantic seals and is part of a group of islands called The Carracks. These curious creatures are known for their playful antics and are a joy to watch as they bask in the sun.
Located just 3.5 miles west of St Ives, Seal Island is easily accessible via boat cruises that run throughout the day during the summer. You don't need to book in advance, there are several companies offering boat cruises to Seal Island, so you'll have plenty of options to choose from. Many of the tours also include a trip around the Godrevy Lighthouse, weather permitting, which provides a stunning view of the coastline.
There is the possibility of spotting basking sharks, dolphins, porpoises, and even humpback whales if you're lucky. Even though we didn't see any of these animals, seeing the grey seals alone was worth the journey. The playful antics of these creatures brought us great joy, and we couldn't help but feel grateful for the experience.
3. Walk to the Island
One of the fun things to do in St Ives is walk to the Island, which is not technically an island but a grassy peninsula. It is connected to the town centre by a historic alley called the Down a Long.
The Island is a popular attraction for nature enthusiasts, beach lovers, and walkers, offering stunning views of Porthmeor beach and St Ives Bay.
At the top of The Island, you will find Nicholas Chapel, which dates back to the 15th century or possibly even earlier. It is believed that the chapel was used more as a lookout post in the 18th century.
While walking around the island, you might spot a seal or if you are lucky you might see a pod of dolphins.
4. Relax on the Beach
One of the top things to do in St Ives is to simply relax on the beach and take a refreshing swim in the crystal-clear waters. With 7 beaches all within walking distance of the town, you're spoiled for choice.
While Harbour Beach is known as the main beach in St Ives, Porthmeor Beach is the go-to destination for surfers. With its half-mile-wide stretch of golden sand, Porthmeor Beach offers plenty of space for everyone, even during high tide.
One of the lesser-known beaches is Breakwater Beach, located behind Smeaton's Pier. This secluded beach is only accessible at low tide and is perfect for those who want to avoid the crowds. It's also a great spot for dog walking, with plenty of space to roam and play.
Another must-visit beach in St Ives is Porthminster Beach. With its stunning views, fringed with palm trees, and crystal-clear waters, it often looks like a slice of the Caribbean. Located right beneath St Ives Train Station, it's the first glimpse train travellers see when arriving in St Ives. This sheltered beach is ideal for families and offers a range of activities, including swimming, paddleboarding, and kayaking.
5. Stroll around the Town
Strolling around the town and its charming harbour is undoubtedly one of the best things to do in St Ives. The town has a dynamic character that is evident in every corner you explore.
As you walk around the harbour, you'll find chic eateries and seaside cafes that offer the perfect respite from your stroll. But the real charm of St Ives lies in its historic streets, with their cobbled lanes and whitewashed cottages that are typical of Cornwall.
Be sure to check out Fore Street, where you'll find a plethora of fantastic independent shops. Whether you're looking for a piece of art or a unique souvenir, this street has something for everyone. And don't forget to take a walk along Smeatons Pier to capture the perfect Instagram shot of this picturesque seaside town.
6. Try Cornish Pasty
Cornwall is known for its famous Cornish Pasty, so when you are in St Ives, you must try local Cornish cuisine. Cornish pasties are large, baked pastries traditionally filled with beef and vegetables, with crimped edges that are characteristic of the region.
If you're looking for the best places to try Cornish pasties in St Ives, there are a few options to consider. St Ives Bakery, located on the corner of Fore Street and The Digey, is a great choice for traditional Cornish pasties.
The Makers, another popular spot, is also known for their perfect sausage rolls. Yellow Canary, also situated on Fore Street near The Castle Inn, offers delicious Cornish pasties in a variety of flavours to enjoy either eat-in or takeaway. For a lovely sit-in experience, check out Sky's Diner, where you can savour their Cornish pasties.
7. Enjoy a Cornish Cream Tea
No trip to St Ives is complete without indulging in a classic cream tea, an iconic food symbol of Cornwall. And when it comes to cream teas, St Ives has it down to beautiful art. But before you begin your cream tea journey, remember this: in Cornwall, the jam goes first, then cream on top. Any other way simply won't do unless you are in Devon.
Cream tea is a great snack for the afternoon, but I personally enjoy having it for breakfast. A good one consists of a nice freshly baked scone, jam and clotted cream. It should also be accompanied by a nice pot of tea.
If you're looking for the best places to have a cream tea in St Ives, there are several excellent options to consider. Olives is a hidden gem tucked away on Island Square just off Back Road East and is known for its aromatic baking smells and delicious cream teas.
The Market Place Tea Rooms, located at the top of Lifeboat Hill, is a super pretty tea room that serves a range of amazing treats, including cream teas. Scoff Troff, a brilliant cafe located in Market Place, also offers a superb range of food, including classic cream tea.
8. Check out the Barbara Hepworth Museum & Sculpture Garden
The Barbara Hepworth Museum and Sculpture Garden is a must-see attraction for those who have an interest in modern British art.
This museum is a preserved studio and garden of the 20th-century sculptor Barbara Hepworth. She purchased the site in 1949 and lived and worked there for 26 years until her death in a fire on the premises in 1975.
Today, the museum offers visitors a unique opportunity to experience the studio and garden much as Hepworth did during her life, preserving the largest collection of Hepworth's works on permanent display.
The sculpture garden is the highlight of the museum, showcasing a meticulously manicured landscape filled with towering sculptures. The combination of the sculptures and diverse plant life creates a breathtaking experience.
Visitors to the museum can also explore the artist's house and studio, gaining insight into her life, artistic influences, and creative process. Despite suffering from arthritis and cancer, Hepworth continued to create art in unique ways, making her an inspiration to many.
Note: since 1980, the museum has been owned and run by Tate, so adding it to your admission ticket for the Tate Museum can save you a bit on entrance fees.
9. Visit Tate Museum
The Tate in St Ives is a stunning art galley which has a strong focus on St Ives and Cornwall's art, showcasing pieces by artists who have called this town their home.
It was built in the late 1980s on the site of a former gasworks overlooking Porthmeor Beach and the Atlantic Ocean. The exterior of the building responds to the natural forms of the coastline, and the building is clad in ceramic tiles as a reference to the history of ceramicists in St Ives.
The museum was opened to the public in 1993. It underwent a major refurbishment and expansion in 2017, with the new galleries designed by architect Jamie Fobert.
With its impressive collection and stunning location, the Tate Museum in St Ives is a true gem of the South West.
10. Hike to Zennor
Hiking the South West Coast Path is a great way to experience the natural beauty of Cornwall's coastline, but if you don't have the time, you can hike a short part from St Ives to Zennor.
The hike starts in the Ayr district of St Ives and passes Porthmeor beach and the Tate Gallery. From there, the path leads to Zennor Head passing Hor Point, Pen Enys Point, Carn Naun Point, and Gala Rocks. The return leg takes you from Zennor back to St Ives via some beautiful countryside, passing Tremedda and Trevalgan.
The route requires some climbing and scrambling, so it is important to wear hiking shoes. The trail offers stunning views of dramatic cliffs, beautiful beaches, and delightful coves.
Where to Stay in St Ives
Unlike some other seaside destinations, St Ives may not have an abundance of luxury hotels and resorts. However, it compensates for it by offering an array of stunning and comfortable hotels, bed and breakfasts, and unique cottages that won't hurt your wallet.
Whether you're looking for great service, spectacular views, or delicious food, St Ives has got you covered. So, if you want to make the most of your stay in this coastal paradise, check out these charming accommodations.
Best Luxury Hotels in St Ives
Boskerris Hotel is a lovely 4-star hotel in St Ives, located 450 yards from Carbis Bay Beach. The elevated terrace area offered breathtaking views of the surrounding sea, showcasing the stunning hues of the sky and water all the way to St Ives.
Located just a 5-minute walk from the centre of St Ives, Harbour Hotel St Ives is a luxury 4-star hotel with a spa that boasts an idyllic location overlooking Porthminster Beach. The traditional restaurant at the hotel offers an exquisite dining experience where guests can enjoy fresh, locally sourced seafood dishes while taking in breathtaking views.
Primrose House is a luxury boutique hotel in ST Ives, offering stunning views across the Celtic Sea. It is 350 yards from the St Ives train station and just a 15-minute walk from the Tate Gallery.
Self-Catering accommodation in St Ives
Breakers Point is a delightful 4-star holiday home situated in the heart of St Ives. The property is located just 650 yards from Porthmeor Beach. The holiday home features two tastefully decorated bedrooms, offering comfortable and spacious accommodation for up to four guests.
Leo's Cottage is a stunning beachfront holiday home located in the heart of St Ives. The property boasts three beautifully decorated bedrooms, providing comfortable and spacious accommodation for up to seven guests. The location of the property is ideal for beach lovers, with Bamaluz Beach just a few steps away.
What to Pack for Your Trip to St Ives
Sun protection: Cornwall is known for its long, sunny days, so pack sunscreen with a high SPF, sunglasses, and a hat to protect your skin from the sun's rays. Heliocare 360 Mineral Tolerance Fluid SPF50 is one of the best sunscreens, which I personally use.
Clothing: pack comfortable, waterproof clothing, including a raincoat, waterproof trousers, and sturdy footwear. Pack warm layers for cooler evenings and mornings, such as a fleece or jumper.
Beachwear: if you plan on spending time at the beach, pack swimwear, a beach towel, and flip-flops or sandals. For a comfortable swim, you might need to wear a wet suit. You can buy the Osprey Women's Full Length 3mm Summer Wetsuit for women and Osprey Men's Wetsuit Full Length on Amazon.
Outdoor gear: if you plan on hiking or walking, pack waterproof hiking shoes and a backpack with essentials like a water bottle, snacks, and a map.