On the most south-westerly tip of the UK lies Cornwall, one of the most beautiful counties in England. It is famous for its picturesque beaches, dramatic sea cliffs and cute fishing villages.
After my first trip to Cornwall, I already knew that I would go back again and again. There is so much to do and see here. Cornwall is a perfect destination for a romantic holiday, an adventure weekend getaway or a family trip. It is also home to some of the most beautiful villages in England. Undeniably, there are plenty of amazing places and fun things to do in Cornwall. Here is the list of the prettiest towns and villages in the county to add to your list and explore.
You can also read: Most beautiful villages and towns in Kent.
This post contains affiliate links and if you click one I may receive a small commission at no extra cost to you.
Fowey
Between Plymouth and Falmouth on the mouth of the River Fowey, lies Fowey, one of the prettiest towns in Cornwall. Its colourful harbour is a popular destination for holidaymakers, locals and sailing fanatics.
The first inhabitants of Fowey can be traced back to the 14th century when a local priory granted a charter to the people living with Fowey itself. This historical town is filled with Georgian buildings, cute boutique shops, pubs, cafes and restaurants.
The best way to explore the town centre is on foot. After visiting the main attractions of Fowey Museum and Fowey Aquarium in the centre, you can walk on the narrow street of Esplanade, towards Readymoney Cove and St Catherine's Castle, where you will be rewarded with great views across the Fowey Estuary.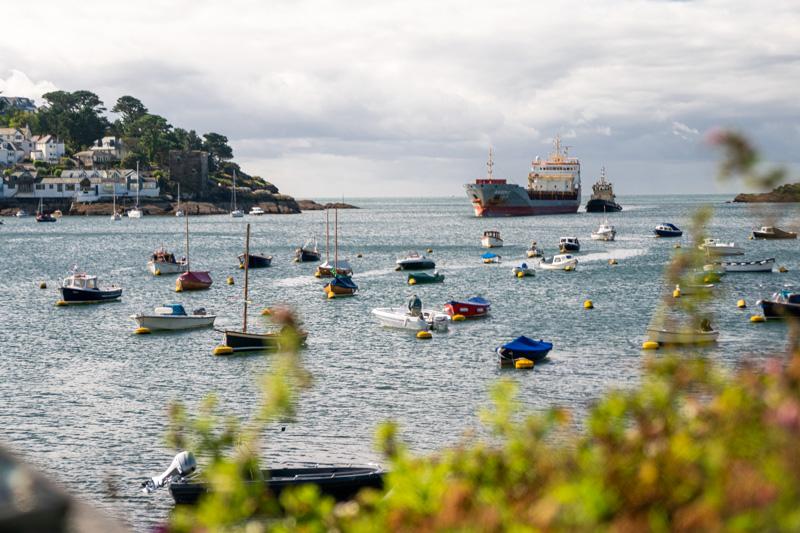 A nice place to stay in Fowey is Fowey Harbour Hotel, located only a 5-minute walk from the town centre. It offers an amazing view of the harbour, private parking and free WiFi. Most of the guests rated this hotel as "excellent" on TripAdvisor. Check the prices and availability on Hotels.com or Booking.com.
You can also read: Best Seaview Airbnbs in Cornwall
Polperro
Recommended by Joanna from The World In My Pocket
Polperro is one of the most charming fishing villages and should be added to every Cornwall itinerary. The village is dotted around the main road, which goes downhill towards the harbour. This is where most of the shops and restaurants are. However, for a special experience, try the Blue Peter Inn, a local pub homed by a quirky house with low ceilings and woodwork décor. They serve fresh fish "catch of the day" dishes and pub classics.
The village has a harbour which, at low tide, dries up, leaving the boats laying directly on the sand. There are quite a few things to do in Polperro besides walking around its narrow streets and gazing at its cute houses. The South West Coastal Path passes by Polperro, and you can follow it to the nearby village of Looe, for some amazing cliff scenery. Polperro also has a small sandy beach, which is accessible only at low tide.
If you want to spend the night, you must know that all accommodation options are small B&Bs and holiday cottages. There is no hotel here. Also, keep in mind that the access inside the village by car is restricted to residents only. There is a large parking lot just outside the village.
St Ives
One of the most picturesque places in Cornwall is the seaside town of St Ives. It is surrounded by stunning beaches and amazing landscapes. If you are keen to learn surfing, St Ives is your place, especially during the summer. But if you are an experienced surfer, and love challenges, you might come here during the winter. Overall, you can surf here all year round.
Apart from surfers, St Ives attracts artists and art lovers as it is home to the Barbara Hepworth Museum and Sculpture Garden and Tate Gallery St Ives, where you can find an amazing collection of contemporary art.
St Ives is a charming town with narrow winding cobbled streets lined with fishermen's cottages. Only a block behind the harbour, you will find Fore Street, the main thoroughfare, where there are small independent shops. Here you can shop and buy anything from designer clothing to sweets and some classic fudge. You can also check my article about the top 10 things to do in St Ives.
It is highly recommended to stay in St Ives at least for a couple of days to be able to take a boat trip to Seal Island.
Trevose Harbor House located between Harbor Beach and Porthminster Beach in the town centre is a fantastic place to stay. It offers individually designed rooms with views of the harbour. Read the guest reviews here. Check the prices and availability on Booking.com or Hotels.com.
Mousehole
On the south coast of Cornwall between Penzance and Land's End lies Mousehole, a quaint fishing village. Mousehole was one of the main ports in Cornwall until the 16th century when the Spaniards burned the entire village to the ground. The only surviving building, the Keigwin Arms, still stands today. This is the oldest building in Mousehole and it was featured in the Poldark TV series.
By strolling around Its narrow streets, you will find beautiful galleries, small independent shops and cute restaurants. Mousehole is a small village but has plenty to do and see. It attracts all types of travellers, from holidaymakers to photographers and history lovers.
The main attraction is the Mousehole Harbour, where you can walk along the harbour wall to enjoy the spectacular views of Mount's Bay. Another interesting place to visit is Harbour Beach, located inside the harbour and it is better to go there at low tide.
By staying at The Ship Inn, you can have scenic views over Mousehole Harbour. It also has a traditional pub and Cornish restaurant. Read the guest reviews here. Check the prices on Hotels.com.
Marazion
On the shore of Mount's Bay lies Marazion, the oldest town in Cornwall. When in the town, visiting the hilltop castle at St Michael's Mount is a must-do. This ancient castle is one of the most beautiful landmarks in Cornwall, and it is accessible by foot at low tide or you can take a boat trip at high tide.
Marazion is famous for its castle, which is absolutely stunning, but certainly not the only attraction around. Walking on the quaint streets, lined with lovely old cottages and merchants' houses is the best way to explore the town. You will find restaurants, cafes and small shops selling from ceramics to jewellery. If you are interested in art, you can head to one of the art galleries in the centre.
Playing on Marazion's sandy beach on a warm sunny day is a delight. Here you can find crabs and starfish on rock pools, or if you are lucky you can spot seals. You can also take a boat and go dolphin watching.
You can stay in the Marazion Hotel close to the shops and restaurants, which offers stylish rooms and a full English breakfast. Make sure to book a room with a view of the sea. Read the guests reviews here. Check the prices and availability on Hotels.com or Booking.com.
St Mawes
The small village of St Mawes has been ranked as the UK's best coastal destination in 2020. It is easy to guess why. This charming village surrounded by the sea and gentle hills has everything holidaymakers expect from a seaside town: beach, good food, peace and value for money.
St Mawes has been a favourite place for holiday homes and retirement amongst the British, but it has become a popular tourist destination in the past years. The village with its cute cobbled streets, small independent shops, galleries and good restaurants is a perfect place to enjoy the sea and relax.
The main attraction is St Mawes Castle, which was built in the 16th century as part of the coastal defences. Its location is pretty amazing since it stands solidly above the rocky coast on the opposite side of the river to Falmouth.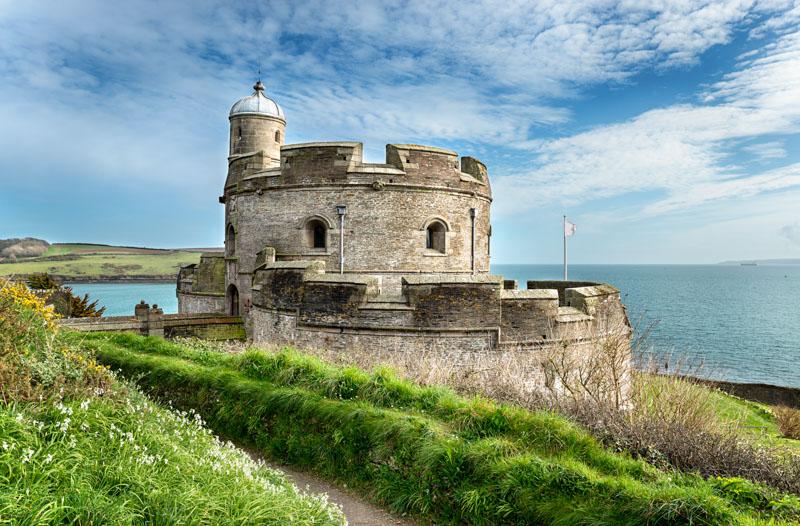 By staying in St Mawes, you have easy access to some of the prettiest landmarks including St Anthony Lighthouse and Fisherman's Shelter in Portscatho.
There are a variety of accommodation options in St Mawes. One of the best hotels here is the Idle Rocks with great sea views. Read the reviews on TripAdvisor. Check the prices and availability on Hotels.com or Booking.com. If you are looking for something more classic you can stay in Hotel Tresanton which is located only a 4-minute walk from St Mawes Castle. Read the guests reviews here. Check the prices and availability on Hotels.com or Booking.com.
Truro
Recommended by Lotte from Gezond Weekmenu
One of the most beautiful towns in Cornwall is Truro, Cornwall's only city. Turonian, as the people living in Truro are called, are very proud of their lovely town. Truro may be small but it has plenty to offer!
Truro has a beautiful old town centre with cobblestoned streets, Gothic and Georgian style houses, and cute boutique stores. One of the best places to visit in Truro is the Royal Cornwall Museum, where you can learn about Cornwall's mining and engineering history. Truro Cathedral is another highlight with its stained-glass windows and a black ebony statue of Madonna and Child.
If you are looking for a nice place to have an afternoon tea, visit Charlotte's Teahouse, one of Truro's authentic Cornish tea rooms. The interior will make you feel like you have stepped into your grandmother's living room. A nice place to stay is The Alverton, this hotel is located in a beautiful 18th-century building in the heart of town. Guests love staying in this hotel, read their reviews on TripAdvisor. Check the prices on Booking.com or Hotels.com.
Boscastle
Recommended by Jamie from Travel-Addict.net
The small fishing village of Boscastle is located just 10 minutes away from Tintagel Castle. The two destinations can be combined together for a fabulous day out during your next road trip in Cornwall. In 2004 the village was horrendously flooded and has been rebuilt to the original specifications.
Boscastle has a charming harbour and visitors can walk the length of the harbour for fantastic views either on the left-hand roadside or the right-hand harbour wall path. For the more adventurous there are coastal paths that involve more of a hike but are well worth the effort.
No visit to a National Trust site, Boscastle Harbour, is complete without a visit to their cafe and shop. Both are located just before the harbour itself. There is a museum of Witchcraft for those looking for something different. The village also has several local shops, restaurants, and some gorgeous pottery shops. The local artisan pottery is absolutely gorgeous and a great souvenir or gift when visiting this village.
Tintagel Village
Recommended by Kat from Wandering Bird
If you're looking for a beautiful village in Cornwall, you need to head to Tintagel on the North Coast. This village is famous for being the home of King Arthur's Tintagel Castle and Merlin's cave, but there is so much more to it than that.
The village is built from traditional Cornish stone and is full of cute houses, boutique shops and delightful tea rooms (as is most of Cornwall!) There are also a couple of decent pubs too, including the Cornishman Inn which has a pub garden and serves great food.
Don't miss King Arthur's Great Halls in the village itself (the stained glass window is incredible) or the old Post office The fitter of you must make the walk up to St Materiana's Church, which stands proudly on the headland overlooking the Castle and the breathtaking views out to sea.
Talking of sea views, if you'd like to stay in Tintagel for a night, head to the Camelot Hotel. Its building looks impressive, the decor is opulent and the views from the bedrooms are insane. Well worth the (admittedly steep!) price. Don't forget to check the reviews on TripAdvisor. Check the price on Booking.com or Hotels.com.
Charlestown
Recommended by Nichola from Family Hotel Expert
Charlestown is one of the most beautiful villages in the whole of Cornwall, if not the UK. Nestled east of St Austell on the south coast of the county. It feels like a little hidden fishing port full of history and intrigue.
Most of the harbour you see today dates from the 18th century and it's one of the best examples of a late Georgian fishing port. Its picturesque, unspoilt nature is highlighted by the fact it is often used as a filming location, most notably for Poldark, Hornblower and Mansfield Park.
There's a brilliant museum here full of shipwrecked items and the beach is lovely to paddle by the sea. There are also some lovely little independent shops to enjoy in the village. If you are looking for family hotels in Cornwall, Pier House in Charlestown is great for a stay, overlooking the sea and full of history and character. Read the guests reviews here. Check the price and availability on Hotels.com.
Perranporth
Recommended by Ella from Many More Maps
If you're looking for a surfer's paradise, Perranporth in North Cornwall will tick all your boxes. With three miles of golden sandy beach, some of the best surfing conditions in the country, and a bar on the beach, Perranporth is totally unique.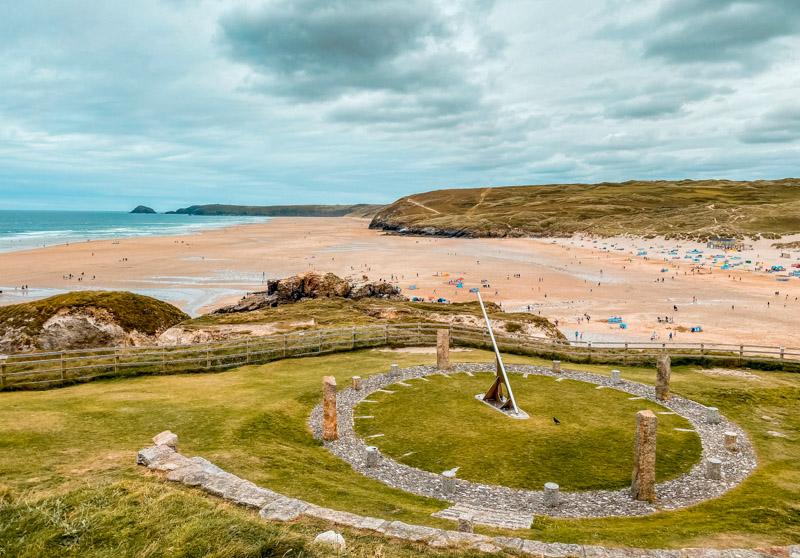 Perranporth is just 8 miles away from Newquay, and since Perranporth doesn't have its own train station, you can catch the bus from Newquay train station. If you're planning to stay in Perranporth for a while, you'll be blown away by the huge variety of accommodation in Perranporth!
The Watering Hole, a bar right on the beach, is one of the most popular places to visit in Perranporth and offers up insane sunset views over the sea. With frequent live music performances, a chilled vibe and delicious food, a visit here is a definite Cornwall bucket list experience.
Aside from the Watering Hole and surfing, you absolutely can't miss the Perranporth to St Agnes coastal walk on your trip to Perranporth. The walk is a 4.5-mile chunk of the massive South West Coast Path, and the scenery along it is breathtaking.
Cadgwith Cove
Recommended by Annabel from Smudged Postcard
Of all the things to do on the Lizard Peninsula in Cornwall, a trip to the fishing harbour of Cadgwith Cove is essential. This pretty seaside village offers a warren of narrow streets lined with old stone thatched cottages which have beautiful gardens full of colourful blooms in the summer months.
One of the highlights of a trip to Cadgwith Cove is visiting during the summer BBQ nights. Locals and visitors alike come together and enjoy locally caught grilled fish. Proceeds from the event go to a local charity. If you visit on a different occasion, fear not, there are excellent refreshments available at the characterful Cadgwith Cove Inn. This old pub also has live singing of old Cornish songs on a Friday evening.
There's an enjoyable walk along the coast to the Devil's Frying Pan, a 200 foot collapsed cave. The village beach is shingle with rocks at either end.