On the south-west coast of the UK, lies one of the most popular holiday destinations in England. Cornwall with its stunning sandy beaches, breathtaking sea cliffs and pretty villages, is an ideal staycation destination, to feel like you are abroad. Whether you are looking for a romantic getaway, a holiday with the whole family or an adventure trip, Cornwall has it all.
If you are looking for a self-catering stay in a sea-view cottage, lodge or an apartment, you've come to the right place. Luckily for you, I have put together a list of amazing Airbnbs in Cornwall offering stunning views across the ocean. If you haven't signed up on Airbnb, you can join now and get up to £50 off your first stay by clicking here.
This post contains affiliate links and if you click one I may receive a small commission at no extra cost to you.

Top Airbnbs in Cornwall by the beach
Awesome BeachHouse - Dog-Friendly Airbnb
If you are looking for a romantic place to stay right next to the beach, this Awesome BeachHouse is your place. It is situated right next to the sandy cove of Porthgwarra. From your private garden, you can go straight down to the beach or walk up to Hella Point. This place is pretty special, you can relax on the Muskoka chairs in your garden and watch seals playing around.
This cute Airbnb is dog-friendly and there is no extra charge for your dogs.
Location: Porthgwarra
Sleep: 2
Price: From £145 per night
Guest review: "We've just had a wonderful long weekend here. A perfect haven for relaxation, bird/seal watching, long coastal walks. The location could not be more perfect - the beach and SW coast path literally on your doorstep. Watching the waves, and the seals bobbing in the sea, from the comfort of the cottage, just amazing. The cottage is warm, clean, comfortable, well equipped and welcoming….We bought our 2 dogs with us, and there were no difficulties or issues - it lives up to it's status as dog friendly. A big thumbs up from us. We would love to return'' Lisa, December 2020.
The Penthouse Fistral Beach
Now, this is what I'd call a dream holiday home. It is affordable, modern, and with ocean views. This lovely and bright 3-bedroom Airbnb is laid out over the third floor of a luxury development in Newquay. The open plan living area with its full-length windows offers fantastic views over the Fistral beach and the sea. Here is where I could sit for hours without getting bored. To watch the beautiful sunset you can head to the furnished terrace or walk a few minutes to the beach.
You can cook delicious meals in the well-equipped kitchen or dine at close-by restaurants in Newquay town. There are also some surfing schools around as Newquay is one of the top surfing hot spots in the UK.
Location: Fistral Beach in Newquay,
Sleep: 6
Price: From £100 per night
Guest review: "Had a fantastic stay at Phil's penthouse apartment. Had fantastic views of both the beach and the sea! Lovely restaurants in walking distance. Bonus having underfloor heating at this time of year! Great sound system if you want to sit down with hot chocolate and a Christmas movie. Will definitely be returning soon" Ayesha, December 2020.
Harbour Views
This amazing Airbnb with incredible sea and harbour views is only 100 meters from the beach and less than ten minutes walk to the St Ives town centre. St Ives, one of the prettiest towns in Cornwall, is known for its surf beaches and art galleries. Staying in this apartment means you have access to the centre and the beaches on foot. While in the property, you will find plenty of entertainment including a Wii Console and books.
Location: St Ives
Sleep: 6
Price: £99 per night
Guest review: "Barrie's place is a lovely apartment with an outstanding view of St Ives. We found the apartment to be very well equipped, clean and just as described." Steve, January 2021.
Perranporth Beach View from Apartment by The Sea
This beautiful coastal apartment, located just a stone's throw from the beach, offers you a relaxing and comfortable stay with an amazing sea view. You can find the coastal footpath right at the front gate. You are also only a short walk from the town centre, where you can find eateries, shops and pubs.
The good news is that there is no cleaning fee and since this property has central heating, you can stay here any time of the year.
Location: Perranporth
Sleep: 4
Price: £110 per night
Guest review: "The apartment has everything and more that you need, with the most amazing view over Perranporth Bay. The host is thoughtful, communicative and friendly. We cannot wait to go back." Cloggy, November 2020.
Cosy Cottages in Cornwall
Lovely quiet, cosy cottage with sea views
If you are looking to stay in a traditional and cosy cottage in Cornwall, Morgelyn Cottage is the perfect place. It was originally a granite miner's cottage, but it has been furnished and redecorated to a very high standard.
From the cottage, you have beautiful sea views and during the night, you will be able to see the light coming from Pendeen Lighthouse. This is a dog-friendly Airbnb, so your dogs are welcome.
This cute cottage is located in the heart of West Cornwall within walking distance of the coast. It is a perfect place to explore the area of Penwith.
Location: Pendeen, West Cornwall
Sleep: 4
Price: £100 per night
Guest review: "We have just had the most romantic dream break ever in this gorgeous gem of a cottage, perfect for couples, Holly always on hand to provide any info we needed to make our stay complete, truly an outstanding host, and a cottage to die for, we will be back." Phil, October 2020.
Little Rocks Surf Cottage
This cottage is an ideal place for couples who are looking for a break from the chaos of modern life to enjoy the Cornish seaside. This cosy cottage is beautifully decorated and the fireplace in the living room creates a warm and rustic vibe.
The location is ideal for a rural retreat and only a 15-minute walk to the golden Sennen Cove Beach. There are various walking paths around the cottage, make sure you have the right footwear with you.
Location: Sennen
Sleep: 2
Price: From £115 per night
Guest review: "Little Rock's is an extremely cosy cabin, the bed is so comfortable and the fireplace is brilliant and so easy to use. Lovely big shower room with a heated towel rail, perfect after wet and windy walks or surfing. The location is brilliant, it was great to be able to walk down to the beach or to the headland to watch the sunset. We could definitely go back." Emily, December 2020
Amazing sea views cottage, large terrace & lush gardens
Located in lush sub-tropical Cot Valley, this charming cottage looks like the most family-friendly place to stay in Cornwall. There is plenty of outdoor furniture on the terrace, where you have incredible sea views. In the garden, you can find a running stream and hidden corners to explore.
A 10-minute stroll takes you to the outstanding Porth Nanven beach, perfect for a morning dip or an evening BBQ. St Just town is also just a 15-minute walk away, where you can find pubs, cafes and galleries.
Location: Saint Just
Sleep: 5
Price: From £96 per night
Guest review: "Beautiful, cosy cottage in an unbelievably beautiful location. Really enjoyed our time here and enjoyed exploring the surrounding area. Could not recommend enough!". Caitriona, August 2020
Romantic Aribnbs in Cornwall
Coastal Studio Loft Apartment
What could be more romantic than waking up to dreamy sea views? This gorgeous studio loft apartment is located only 200 metres from the beach. Offering its guests an unforgettable romantic break and one of the best sea views in Cornwall. The kitchen has everything you need. You can eat your meal in front of the window while enjoying the view.
Location: Downderry
Sleep: 2
Price: From £76 per night
Guest review: "Waking up to that view each morning was perfect! Apartment is in a great spot for local walks and exploring. Car parking isn't far away at all, just a short walk away. Was super clean and the kitchen is well equipped for cooking meals inside. We had a lovely stay and would definitely recommend it." Aimee, January 2021
Hidden gem with panoramic sea views
This duplex one-bedroom Airbnb is situated in the popular coastal village of Perranuthnoe. A short stroll takes you down to the beach. This place is perfect for couples who are looking for a romantic holiday or a relaxing week. The flat is well designed and stylish, offering sea views from both the living room and the bedroom.
Location: Perranuthnoe
Sleep: 2
Price: From £85 per night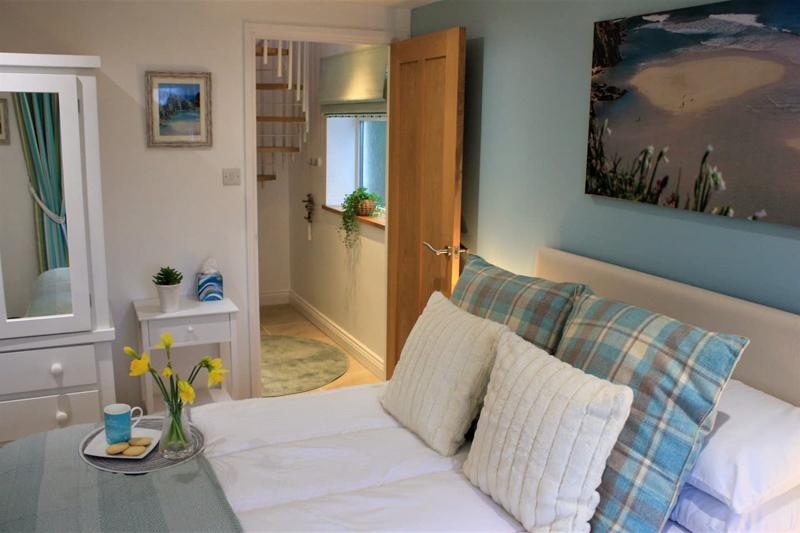 Guest review: "We stayed here for one week in October. We booked Samantha's AirBnB for our honeymoon and it was perfect. The location is beautiful and very close to most of the areas of interest that we wanted to see when we were down there I.e. Penzance, Newquay, St Ives, Marazion. The house itself was spotless and had everything we needed. We spent most evenings in and cooked for ourselves and enjoyed a couple of mornings sat on the balcony eating our breakfast and watching the waves. We would definitely recommend a trip to the Victoria Inn too which is conveniently located at the bottom of the street. The food is incredible. We loved our stay in Perranuthnoe and would definitely go back. In fact we are already making plans for another trip in the summer" Benjamin, October 2020.
Sea View Lodge: Romantic with hot tub
Want a romantic Airbnb with a hot tub in Cornwall? Check out this newly furnished Sea View Lodge. This cabin is secluded in an area surrounded by trees and woods. This place is an ideal place for those who are looking for a rural retreat to find peace. You can simply chill out in the hot tub while watching squirrels running around the garden.
Location: Penzance
Sleep: 2
Price: From £120 per night
Guest review: "We loved staying in the lodge. It's pristine and homely inside, and the hot tub is great fun with an amazing view and lots of birds and squirrels running around the garden. Even in winter weather it is so cosy! It's a great location to base yourself to explore West Cornwall." Sam, October 2020.
Seaview Penthouse Apartment Watergate Bay
This luxury Airbnb in Cornwall is one for a stylish romantic trip to Newquay. Offering unspoiled sea views of the famous Watergate Bay and beyond. This brand new penthouse is only a few meters away from the beach. You can simply walk to the beach to relax, go surfing, kayaking or try other water sports. There is a fantastic choice of shops and restaurants in the area.
Location: Newquay
Sleep: 2
Price: From £92 per night
Guest review: "The view on this apartment is so beautiful no matter the weather you are given. During the day you can watch the waves come in and the surfers and by evening you can hear the ocean and see the city lights of Newquay in the distance ... the apartment had a brilliant layout and everything you could possibly need" Ruth, November 2020.
Amazing Airbnbs in Cornwall for family holidays
Seaside Fairy Tale Swiss Chalet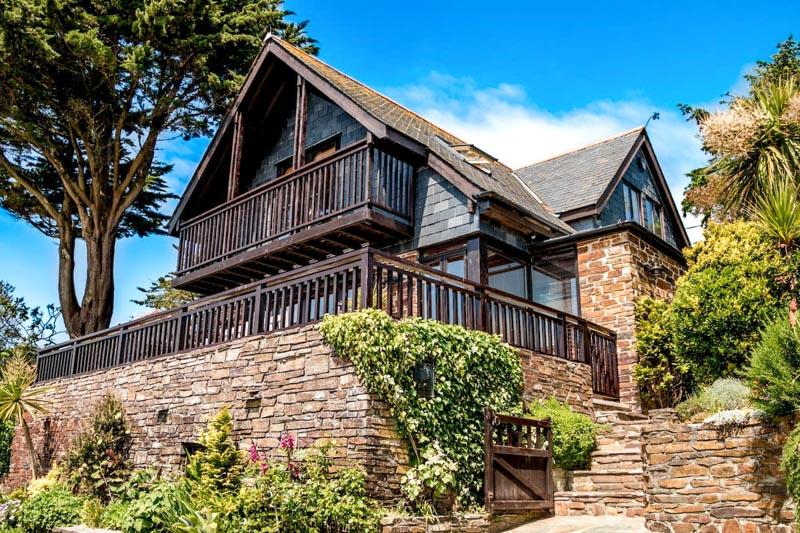 I love how cool this Airbnb is. It looks like a treehouse looking out over the sea. This 5-bedroom Swiss Chalet sits on the crest of Looe Hill above Seaton Beach offering a spectacular panoramic sea view. Just a 3-minute stroll takes you to the beach, but if you are up to a longer walk you can follow the coastal path in both directions to either Looe or Portwrinkle.
This Airbnb is dog-friendly and close to the beach, so you are welcome to bring your dogs, bikes and surfboards.
Location: Seaton in Cornwall
Sleep: 10
Price: From £84 per night
Guest review: "Our stay at the Seaside Fairy Tale Swiss Chalet was amazing, it is a fantastic house with amazing views over the ocean, lovely garden and seating areas and it was very well equipped with absolutely everything you might need. The host left a lovely hamper for us which was a very nice touch. I would definitely recommend this accommodation, I know we will book again, it is amazing!!" Linda, October 2020.
Emerald Seas
Looking for an Airbnb in Cornwall with an unbeatable sea view? This luxury two-bedroom with amazing views across Carbis Bay to St Ives allows you to relax and unwind. It sits just a few minutes walk from the train station and the beach. This property is well equipped and has what you need from a self-catering holiday home.
Location: Carbis Bay
Sleep: 4
Price: From £76 per night
Guest review: "Emerald Seas has the most amazing views over Carbis Bay and we couldn't have asked for a better place to stay for our break. The beach and train station are just a few minutes walk away and you can be in St Ives within 5 minutes on the £1 train The kitchen has every utensil you could imagine and the bed linen and pillows are luxurious. The shower is top-notch and there is great space throughout the apartment. Elaine is a great host and was responsive to all requests and queries. We would thoroughly recommend this stunning apartment for anyone looking for a cosy getaway to Cornwall." Donna, December 2020.
Adanac House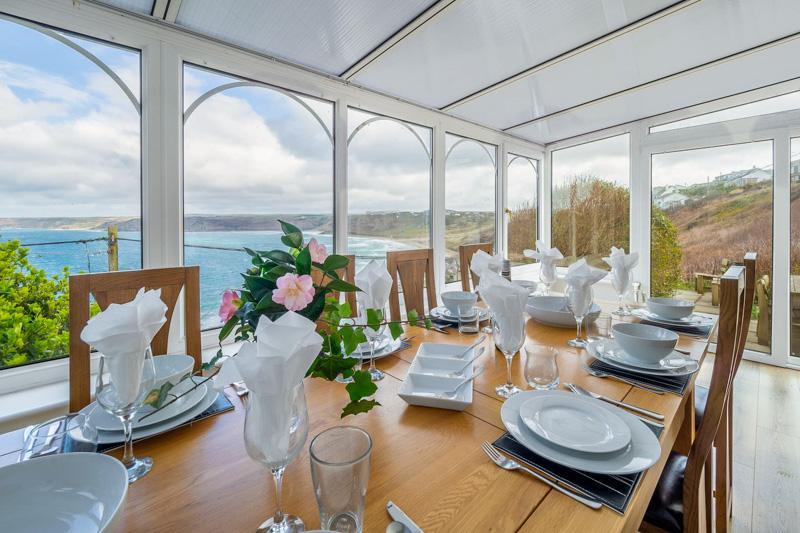 Adance House is a lovely four-bedroom property situated just above Sennen Cove. Offering a modern comfort stay with a spectacular seaside location. On a warm sunny day, you can dine on the beautiful private balcony and enjoy the incredible views. If you don't feel like eating outside, you can still admire the views from the full-length windows in the dining area.
Location: Sennen Cove
Sleep: 10
Price: From £142 per night
Guest review: "Beautiful house and location. Everything we needed for enjoying nights in and lots of places close by to explore for days and nights out. The walk to Sennen Cove was lovely and the walk back up definitely got the blood pumping. Lovely relaxing stay." Deborah, October 2020.
Jacob's View: Luxury townhouse, panoramic views
If you are looking for a base to explore Cornwall, this luxury Airbnb is perfect for you. This lovely and renovated townhouse sits in the pretty Cornish town of Falmouth. It is perfect for a family holiday or a break with friends. The entire 4-level house is well decorated and gives you the coastal vibes. All 3 bedrooms have balconies with stunning views across the sea.
Location: Falmouth
Sleep: 6
Price: From £140 per night
Guest review: "It's a simply stunning house and location is incredible with views to match from every balcony! Totally awesome. I would highly recommend this stay to anyone heading to Falmouth you will not regret it."Jason, October 2020.
You can also read: Best lodges with hot tubs in Kent