This former independent medieval Anglo-Saxon kingdom is now divided into the counties of East Sussex and West Sussex, covering the coastal area along the English Channel. The historic county of Sussex, with the chalky hills of the South Downs Way, is rich in heritage, culture and landscapes.
Both East Sussex and West Sussex from Camber Sands to the forests of neighbouring Hampshire are home to some of the most beautiful places in England and unique scenery. Sussex is one of the most popular holiday destinations in the UK, and for good reason.
There are various types of fantastic holiday homes in Sussex, so why not stay in an amazing self-catering lodge with a hot tub? I know that choosing the right place can be overwhelming, and this is why we put together a list of the best lodges in Sussex offering outdoor hot tubs including the best log cabins for couples, unique cottages for families and the most luxurious homes for big groups.
You can also read: Best Places to Visit in East Sussex
You might be interested in Best Lodges with Hot Tubs in Kent
This post contains affiliate links and if you click one I may receive a small commission at no extra cost to you.

Most Romantic Log Cabins in Sussex with Hot Tubs
Duck Lodge B&B with Hot Tub
Located in the Mid Sussex District of West Sussex, Duck Lodge offers a relaxing stay with an outdoor private hot tub. This cosy wood log cabin sits in the South Downs National Park only 6 miles from the famous coastal city of Brighton. There are plenty of walking paths in the area and you can also rent a bike and cycle around.
Inside the cabin, you will find a double bed in the bedroom, a sofa in the lounge and a walk-in shower in the bathroom with a couple of bathrobes.
Location: Pyecombe, West Sussex
Sleeps: 2
Pets: No
Price: from £150 per night
Guest Review: "What a beautiful lodge. Me and my partner stayed for the night and were blown away by how delightful the lodge is, and how attentive Kieth was as a host. Extremely friendly and made us feel so welcome.
The hot tub was perfect and the breakfast was even better. Thank you so much, and I can't recommend this lodge enough for couples looking for a getaway!", James, July 2022.
A Romantic Cottage with Hot Tub and Swimming Pool
Perched between two historical towns of Hastings and Rye, you will find this luxurious self-catering cottage surrounded by beautiful and peaceful Sussex countryside. This lodge in East Sussex is an ideal place for couples who are looking for a romantic holiday.
Blackthorn is a spacious and well-equipped lodge offering amazing views. Here you have access to a private hot tub and heated indoor swimming pool.
Location: Icklesham, East Sussex
Sleeps: 2
Pets: No
Price: From £100 per night
Guest Review: "We stayed here for 2 nights we wish we booked an extra day as it wasn't long enough, a lovely area and not too far from the main town.
The jacuzzi and pool were lovely and Peter was such a lovely host, made us feel so welcome and was very informative about all information and things to do in the area. I would defo stay again", Paige, December 2021.
Goldings Lodge in Sussex with Hot Tub for Two
Looking for a cosy log cabin in Sussex for a romantic gateway with your loved one? Goldings Lodge is your place. This lodge is located in the heart of the East Sussex countryside, offering stunning rural views.
Here you can chill out in the garden or soak in the outdoor hot tub. There are pubs, cafes and shops within walking distance. You can also visit Bodiam Castle, one of the most beautiful castles in England.
Location: Bodiam, East Sussex
Sleeps: 2
Pets: Yes
Price: From £130 per night
Guest Review: "Fabulous quirky, romantic lodge. The garden/outside space/decking and the hot tub are what make this property but the inside is equally well thought out and well equipped, with a fabulous bathroom.
Great location for exploring with a castle, pub, steam train and kayaking within a 5-10 minute walk across the fields Great on side cafe serving fab breakfasts The owner ( and his dogs) are all really friendly and helpful", Helen, July 2022.
The White House Retreat
The White House Retreat is an ideal place for a romantic gateway. This holiday home has been recently renovated by the owners to an exceptionally high level throughout. You can enjoy cycling around the area or soak your cares away in the hot tub.
This property is located on the edge of the National Trust Cissbury Ring and it is just over 4 miles away from Worthing Beach.
Location: Worthing, West Sussex
Sleeps: 2
Pets: No
Price: £130 per night
Luxury Shepherd's Hut with Hot Tub
This quaint Shepherd's Hut is the perfect setting for a romantic retreat. Heartsease is located in a beautiful rural garden, overlooking miles of rolling countryside.
This hut has all the amenities you could possibly need for a peaceful break. Its outdoor hot tub is ideal for watching the stars above in the evening.
Location: Herstmonceux, East Sussex
Sleeps: 2
Pets: No
Price: £95 per night
Guest Review: "Myself and my partner booked this getaway last minute. We are both front liners and haven't had the chance to spend time together properly. The Hut is cosy, even during the winter months it was nice and warm.
The Hut had all of the essentials and Sam was so helpful in getting us settled in. We were greeted by Ziggy every morning and it always brought a smile to our faces. There are really lovely walks nearby and many things to do within the area even on a rainy day. Would definitely recommend and stay here again.", Annie, November 2021.
Best Sussex Lodges with Private Hot Tubs for Family
New Eco Beach House with Hot Tub and Bikes in Sussex
Cranmer is a stone's throw away from the famous Camber Sands beach and a short drive away from both Rye and Hastings. This lodge uses solar power to generate electricity and boasts underfloor heating.
This green eco-friendly holiday home features 4 bedrooms, 4 bathrooms, a fully equipped kitchen, a spacious living room, and an outdoor hot tub.
One of the best things to do here is going for a stroll on the beach, apart from that, there are various walking paths and cycling trails in the area. There are 4 bicycles included for the guests at the property.
Location: Camber, East Sussex
Sleeps: 8
Pets: Yes
Price: From £400 per night
Guest Review: "A beautiful and interesting house to stay in! Excellent location for the beach (3 minutes walk), as well as a safe path for a nice cycle, rides or walks all the way to Rye (about 25 minutes cycle ride).
And plenty to keep the family occupied if you wish to stay in, between the hot tub, wii, games, fire and BBQ. Overall an excellent stay with any minor problems or queries dealt with swiftly, even out of hours", Marianne, May 2022
Horsemen Pass By A Luxury Lodge with Hot Tub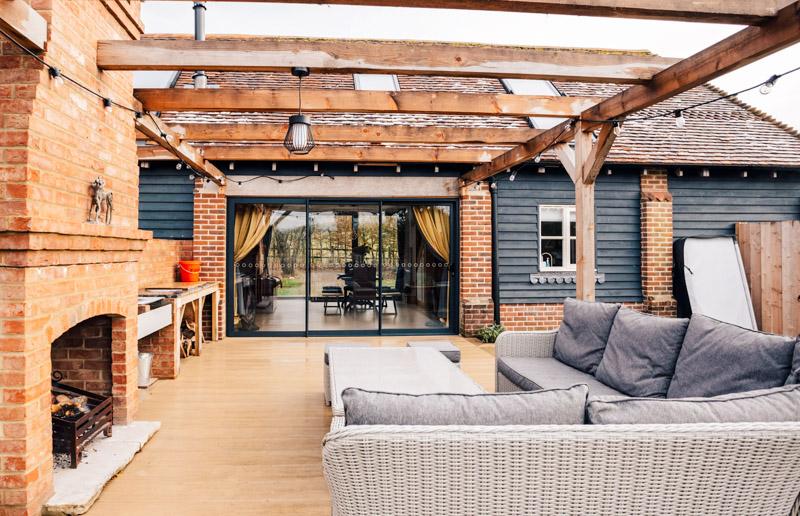 Horsemen Pass By with 3 bedrooms and 2 bathrooms is a perfect place for a family holiday in Sussex. This self-catering cottage has been converted from a stable to a luxury well decorated home with amazing outdoor space for relaxing and unwinding.
Inside, you will find a large country-style kitchen with a big range cooker that offers a reminder of the building's former life. During the evenings you and your family can sit back on the tufted leather sofas and light on the wood-burning stove in the living room.
There are rural walking trails in the surrounding hills, and you can find cafes, local pubs and shops in Bosham village within walking distance. The centre of Chichester is just a ten-minute drive away too.
Location: Chichester in West Sussex
Sleeps: 6
Pets: Yes
Price: £300 per night
Unique Lodge in West Sussex with Hot Tub
Located in the heart of the Sussex countryside, you will find Meadow Hide, a unique characterful two-bedroom cottage. If you are looking to escape the bustle of everyday life, this place will certainly help you to unwind.
In the morning, you can simply enjoy sitting on the outdoor swing chair while drinking your coffee or reading a book. In the evening, soak in the outdoor hot tub and enjoy the sunset.
Location: Funtington in West Sussex
Sleeps: 4
Pets: No
Price: £199 per night
Guest Review: "We had a truly tremendous stay at Meadow Hide. We were greeted by Sarah who showed us around and gave us some top tips for good walks (with a nice pub on the route).
The accommodation was faultless. Every minor detail in the lodge had been carefully thought out and it created such a lovely atmosphere to be in.
The location was ideal and so close to many amenities.
We had the most relaxing weekend as a family and we couldn't want for any more. It was just perfect! Thank you so much. We would 100% recommend it!!," May 2022
Shore Cottage with Hot Tub
Panning to go near the beach in Sussex for your family holiday? This beautiful beachside four-bedroom property might be what you are looking for. Shore Cottage is located in a vibrant family holiday park on the south coast. The beach is a short walk away, where you might get lucky and spot some seals or even some dolphins.
You can enjoy your own private hot tub or take advantage of the holiday park facilities including an indoor swimming pool, multi-sports court and indoor play areas.
Location: Selsey, West Sussex
Sleeps: 8
Pets: No
Price: £220 per night
Guest Review: "Spacious and comfy accommodation. Good access to the benefits of the holiday park.", Joanne October 2021.
The Hobbit Hole in Sussex
Calling all Tolkien fans, we've found you the most realistic Hobbit home. The Hobbit Hole is a quaint and quirky place to stay in Sussex offering a unique stay. This is a fun place for couples and small families.
After entering through the round wooden door, you will yourself in a distinctive living room with a blue ceiling covered in golden stars. This two-bedroom house has all to make you feel that you are in the Shire, but you have what Frodo didn't have, a private hot tub in the garden.
Location: Bodiam
Sleeps: 4
Pets: No
Price: £580 per night
Guest Review: "I had reservations that the pictures were too good to be true… but I was completely wrong. The Hobbit House is like a fairytale with all the mod cons. Everywhere you look there are details designed to make your stay extra comfortable, and no expense has been spared. We were incredibly impressed.
Looking out over the vineyard from the charming cottage garden (or sizeable hot tub!) with a delicious glass of Oastbrook wine was nothing short of blissful, and as a certified workaholic, I can honestly say I quickly relaxed and didn't think about the office once. America and her gorgeous Golden Retriever sidekick Lora could not have been more wonderful and welcoming hosts. We're already planning our next visit!", Francesca, June 2022.
Best Sussex Lodges with Hot Tubs for Big Groups
Queen of Queens, Luxury Seaview Lodge in Sussex
If you're planning a special occasion and seeking somewhere memorable and luxurious, perhaps Queen of Queens is what you are looking for. Sleeping up to 10, this spacious property has five bedrooms, three bathrooms, a balcony and a beautiful garden.
You can enjoy the stunning views over the English Channel from the balcony or a garden, where you can also find the hot tub. Eat breakfast out on the terrace, walk to the nearby beach and once the sun starts to set, hop in the bubbling hot tub.
Location: Bognor Regis, West Sussex
Sleeps: 10
Pets: Yes
Price: £1400 per night
Oast House With Hot Tub In Sussex
This stylish lodge is perfect for those who are looking for a unique stay in Sussex to celebrate a special occasion with their family and friends. Oast House is located in the countryside, about 3 miles away from Battle Abbey and 5 miles from Bexhill Beach.
The property has five bedrooms, five bathrooms, a large living room, a fully equipped kitchen and a large garden. The Hot tub is available for a fee of £100 per stay.
Location: Battle, East Sussex
Sleeps: 10
Pets: No
Price: £590 per night
Guest Review: "We rented Ashbourne Oast for our mum's 70th birthday weekend and the accommodation is just perfect. Huge amount of space, which can be split into 2 separate dwellings if needed (or even 3 because of an additional stairwell) but is easily opened up to one.
It's perfect if you are searching for somewhere for multiple generations. The location is just fantastic and even when the weather isn't great you can still get in the hot tub and chill out. We also found an amazing pub, The Ashtree Inn, which is an absolute must just 5 minutes up the road. A really great weekend", Keith, March 2022
Outstanding Luxury Beachfront Lodge in Sussex with Hot Tub
The Pevensey Bay Beach House is a newly built four-bedroom luxury holiday home on the beach in East Sussex. The owner worked hard to make sure that the amazing location is reflected in the layout of this unique pet-friendly lodge.
This is a great place for children since it has direct access to the beach and there are plenty of child-friendly attractions around. It is also perfect for adults, featuring a well-equipped kitchen, spacious living room, comfortable beds and a hot tub.
Location: Pevensey, East Sussex
Sleeps: 10
Pets: Yes
Price: £350 per night
Guest Review: "8 friends, 4 couples - aged 55-65, 2 dogs - best weekend ever! Totally magical, even the two of us sleeping in the bunks worked out fine. Lots more space if also had children with us!
So fantastically well equipped. View to die for never want to stop looking at it! Jacuzzi additional and wonderful bonus!", Debbie, June 2022.
Large Beach Front Mansion with Sea Views & Hot Tub
Located in the seaside town of Littlehampton in West Sussex, you will find this luxury beachfront house, offering celebrity treatment with world-class service. The seven-bedroom mansion with eight bathrooms is ideal for a family gathering or a big group of friends.
The house is situated directly on a quiet beach, offering uninterrupted sea views. You have stunning panoramic beach and sea views from the first-floor balcony and the beachside garden, where you can also find the hot tub.
Location: Littlehampton, West Sussex
Sleeps: 20
Pets: yes
Price: £1950 per night
Guest Review: "What a lovely house this is! Fabulous for a large family holiday. All our family came together here to celebrate my husband's 60th birthday last July .. we stayed for a week and had such an amazing time that we rebooked for this year.
We've just returned from another fantastic week and have already booked for next year.
Facilities at the house are great, and the location and the local area are beautiful .. simply stunning all around", Kristy, June 2022.